I was trying to look up something, and this Google auto-suggest intrigued me. Here is a screen-shot.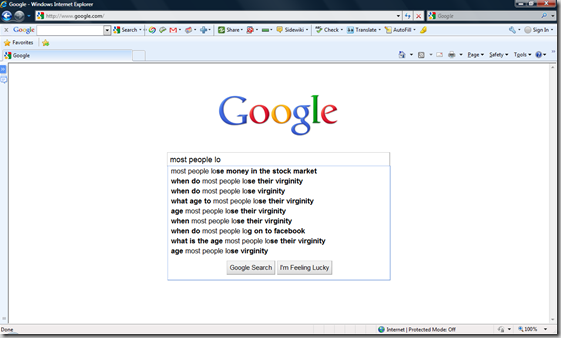 Really? stock market and virginity?
While I have no interest in knowing when most people lose their virginity, I do have a lot of interest in knowing if most people are in fact losing money in the stock market.
Personally,  I do believe that most people lose money in the stock market, but I don't have any data to back it up. I loosely define "most" as more than 60%, and my sample set is the people I have known over the years.
I created a poll to test this out, and if you have a few seconds – please answer this small poll located at the bottom of the right sidebar of the site.
You have to answer with a Yes or No, to this question: "Have you made money in the stock market?"
It is anonymous, so no one will know your answers. Please vote now, and in the meantime I will look for other information around this.