Business Standard has an article today about how salaried individuals may be spared from filing tax returns.
It says that the Income Tax department is contemplating a proposal to make filing taxes exempt for salaried taxpayers who don't have any other source of income.
So, a salaried individual will of course pay taxes, but won't have to go through the hassles of filing tax returns. The story goes on to say that banks and employers have the details of salaried people who don't have any other income, so in the future it might be possible to eliminate the need of having the individuals file tax returns, and get this information from other sources.
This will obviously mean a lot less hassle for a lot of folks, and I hope this idea sees the light of day in our lifetime.
What really caught my eye though was the number of people paying income tax in India. The story has this number at 35 million, which is about 3% of our population, and is quite low.
Please note that this is not the total number of taxpayers because you pay indirect taxes on almost everything you use, so in that sense taxpayers will be quite high.
Still, 3% is a very low number, and I thought I'd compare this with the number of people who pay personal income tax in the US.
Here is how that chart looks like.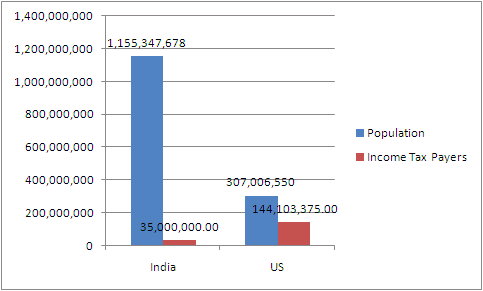 In the US, about 45% of the population pays taxes, as the total population is about 307 million, and the number of returns filed for individual income tax is about 144 million.
That's a huge difference between India and the US, and I'd think an indication of where India is headed in the years to come as more people join the organized labor force, and more electronic transactions bring in greater transparency.