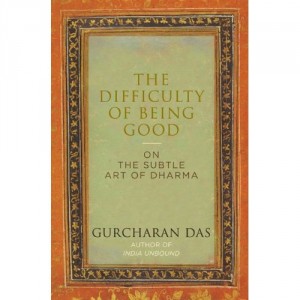 I went to the book fair when I was in Delhi, and picked up "The Difficulty of being Good: On the Subtle Art of Dharma" By Gurcharan Das
.
Gurcharan Das is also the writer of India Unbound
, which I read a few years ago, and liked a lot. I used to be a regular reader of his column in the Times of India as well. I loved India Unbound, and although I don't read a lot pertaining to Dharma or things of that nature, I thought I should give this book a try.
I really liked the book, and read the whole thing in just three or four sittings.
It is about characters from Mahabharata, their stories, actions and moral implications of those. Each chapter focuses on a different character, and examines an episode from the Mahabharata about the character and looks at the morality of the situation. To give you an idea of what I am talking about, here are the names of some chapters:
Duryodhana's envy
Draupadi's courage
Yudhistara's duty
Arjuna's despair
Bhishma's selflessness
I really love the stories from Mahabharata, and found several ones in the book, which I didn't know of before. For example, I didn't know that Krishna dies an ordinary death when a hunter shoots him, or that Arjuna lost his powers sometime after the great battle.
The book looks at the moral dilemmas that various characters faced throughout Mahabharata, and analyzes them from different perspectives.
For example: When Draupadi is first told that Yudhishthira has lost her in the game of dice, she asks:
Whom did you lose first, yourself or me?
The book takes you to the answer of Bhishma who tells Draupadi that it is true that Yudhisthira lost himself first, and so he is not competent to wager Draupadi. A person who has lost himself is no longer free to wager that which doesn't belong to him.  On the other hand, a wife does belong to her husband, and even if he is not free, she is legally his, and he is allowed to stake her. Bhishma concludes that this is a complex matter and he cannot solve Draupadi's dilemma.
He states:
As dharma is subtle, my dear, I fail

To resolve your question in the proper way
The book is filled with such questions, and their probable moral implications, and to me, that's what makes it great.
After going through this book, I realize how much I want to read the Mahabharata. Most of my knowledge of it comes from the TV serial, and an abridged version that I borrowed from a friend many years ago. But there is certainly a lot more to Mahabharata than what I have gathered so far. The book quotes extensively from the Mahabharata, and although the subject itself is not light, the writing makes it clear and easy to read.
I loved The Difficulty of being Good
, but I will not recommend it to everyone. You should only buy this book, if you like the Mahabharata, and are also interested in questions of morality, and sometimes ponder about the questions of right and wrong. Without such interest, I think you will find the book difficult to read and not interesting at all.
Disclaimer: The links to Amazon in this post are affiliate links, which means that if you click them, and buy something from Amazon, I will net a commission.