Gujarat Pipavav Port is coming out with its IPO which will open on 23rd August, and close on 26th August.
The IPO is priced between Rs. 42 – 48, and has been graded 4 out of 5 by CRISIL, which denotes above average fundamentals.
Business of Gujarat Pipavav Port
The company is promoted by APM Terminals which is one of the largest container terminal operators in the world, and currently own 57.9% equity in Gujarat Pipavav.
Gujarat Pipavav operates APM Terminals Pipavav, which is India's first private sector port, and has multi cargo and multi user operations. APM Pipavav is located in the Saurashtra region in Gujarat, and is an all weather port. It provides port handling and marine services for container cargo, bulk cargo, and LPG cargo. It commenced cargo handling operations in 1996, and container handling services in 1998. Their capacity is to handle up to 0.60 million TEUs of container cargo, and approximately 5 million tonnes of bulk cargo per year.
Here is a snapshot of how their volumes grew in the last few years. You can see that the numbers didn't grow much from 2007 – 2008 due to the recession.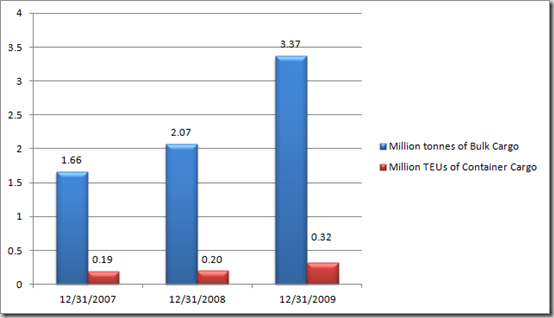 They had revenues of Rs. 2,191.16 million for the year ended December 31 2009, and the contribution of container and cargo was 46.8% and 45.1% respectively.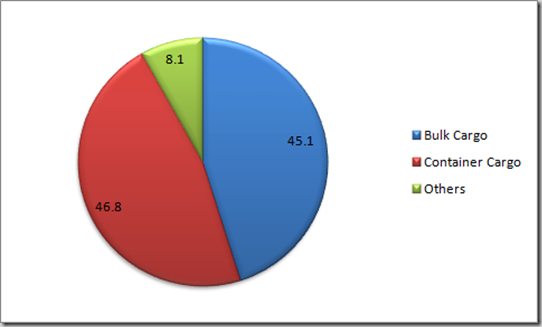 The company has entered into a concession agreement with the Gujarat Maritime Board (GMB), and Government of Gujarat (GoJ) on Sep 2008 to develop this port for the next 30 years. As a result, the company has to pay royalties to GMB, which are calculated based on cargo handled, and amounted to 2.3% of their operating revenue for the year ended December 31st 2009. The royalty fee increases 20% every 3 years.
Financials of Gujarat Pipavav
The thing that jumps at you when you look at the income statement of Gujarat Pipavav is the huge interest expense.  In 2009, they had revenues of Rs. 2,244.98 million, and borrowing cost of Rs. 1,156.78 million, which is about 51.5% of its revenues!
No wonder then that the company has not turned a net profit in any of its past five years (for which I saw numbers in the prospectus).  The company states that Rs. 3 billion raised from this IPO will be used for prepayment of loans, which forms the bulk of its utilization from the IPO proceeds.
There is outstanding debt of Rs. 10,749.53 outstanding as on June 30 2010, so about 28% of that is being pre-paid by the company, and this should reduce the interest payment by a similar ratio.
Here are the Total Income, Borrowing Expenses and Net Loss figures for the past 4 years.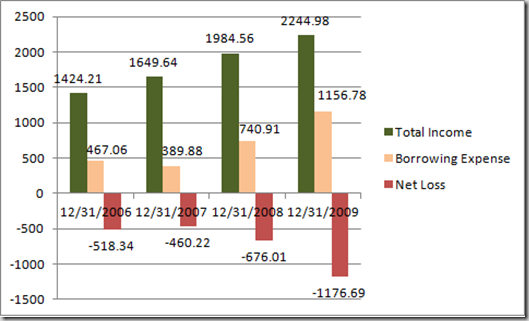 The cash flow statement shows that the company had negative operating cash flows for the past 3 years, but had a positive operating cash flow for 2007, 2006 and 2005.
The company has a book value of Rs. 9.78 as on December 2009, and here is how it stacks up against Mundra Port which it has listed down as its competitor in its prospectus.

Mundra Ports traded for about Rs. 800 last Friday, so you can make a rough comparison based on price to book value from there. Keep in mind though that Mundra is much bigger than Gujarat Pipavav in terms of absolute size.
Interestingly enough the company has a Traffic Guarantee Agreement with the Indian Railways and has not been able to meet the minimum guaranteed traffic and as a result has had to pay Rs. 1076 million in 2008, Rs. 306 million in 2009, and Rs. 54 million in 2010 to them. As you can see these numbers are coming down, and very soon the company could generate enough traffic to bring this number down to 0.
So two big bleeders for the company – borrowing costs and guarantee payments are likely to come down in the future. In fact, CRISIL expects the gearing of the company to come down from 4.7x in Sep 2009 to 0.9x in CY 2012. So, the company could be looking at an improved profitability in the coming years.
This has been an interesting IPO to look at, and these were some points that I found interesting about the company.
Here are some other interesting articles about this IPO at Business Line which states investors can look at investing at cut – off, and at Livemint which reports about the PE funds that are set to book losses in this IPO.