Today I present a guest post from Manish Jain of MProfit, which is a desktop portfolio management software.
His message of thinking about asset allocation is a timely one as the market gets flooded with bond issues, and IPOs, and it gets easy to get immersed in yield calculations and forget about the big picture. So, without any more commentary from me, here are Manish's thoughts.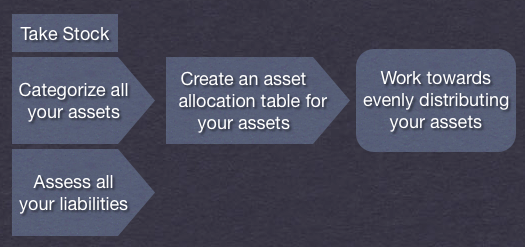 When it comes to finances many people just don't know where to begin. Â You watch CNBC-TV18 for stock tips, you listen to relatives for investment strategies or you read financial blogs for general advice. Â That is the equivalent of getting advice about how to fix your car without a mechanic inspecting your car.
I would suggest you stop everything and first take an inventory of all your financial related instruments – assets and liabilities. Find and categorize all your assets – Â property, equities, fixed deposits, LIC policies, etc.Then take a look at your liabilities.
Next, create an asset allocation table so you can understand where most of your assets are held. This will give you an idea if all your money is in a single asset class or evenly distributed. Asset allocation is a way to spread the risk, imagine you have all your money in a single company and it goes bankrupt or 80% of you money is in property and there is a dispute that may take many years to resolve.
Once you understand your asset allocation you can now decide how to increase your wealth by changing these percentages. Think of your asset allocation mix as a road-map. The first asset class people explore are equities, I always tell people there are 3 stages to equity investing and you have to be comfortable at each stage before going to the next. Â Stage 1 – purchase a Sensex/Nifty Index/ETF Fund that is tracking the whole market. Â Stage 2 – purchase specific mutual funds based on the research you have done. Â Now if you feel you can do better than an index fund or a fund manager then Stage 3 is to purchase direct equities in the companies you have researched.
Equities is one way to diversify and there are risks involved. The most important thing is to be comfortable with the ups and downs of those decisions. Now that you have a guide via your asset allocation table you can now go back to watching CNBC-TV18, listening to relatives and/or reading blogs and deciding whether that information is relevent to your financial situation.