Reader Miteysh H Shah sent me his story about how he developed his investing approach and I was deeply impressed with the depth of the products he covered, and the sincerity with which he took responsibility of his mistakes and decided to do his own research, learn from his mistakes and develop a strategy.
While you may or may not agree with his take on individual assets I am sure you'll agree that all of us can learn from his amazing attitude of deciding to take it upon himself to learn about his finances better and come up with an approach that works for him.
Hats off to him for doing that, and here are his thoughts.
Dear Manshu,
My 1st investment in market was ULIP product bought on 8th Dec 2007; before that I was zero about the markets I was thinking it was just gambling because I heard many stories from people that they lost everything in that.
When I decided to enter I was searching a proper advisor but I didn't know where I could find a decent advisor and I just ended up meeting salesmen who were more interested in commissions rather than showing me options and the right way to enter the markets. At last when I found the right person but was late because the markets had began their downwards march and even I had bought a few products not right for me.
By the time market started upwards in march 2009 – I had tried almost every product available & ways to recover my heavy losses because my family was already against it.
The most important thing I learned is that we have to take care of our own money nobody on earth is interested in the growth of your money, he is just interested until his interest is done.
So from March 2009, I started my research instead of blindly believing to false promises of salesmen in this case if I lose only I will be responsible for that & I will learn from my research.
Now when I'm losing I know where I'm wrong & I can correct that in my next opportunity, but in the salesmen or PMS case you just handover yourself completely to them.
Let me now go on to state my various assets now.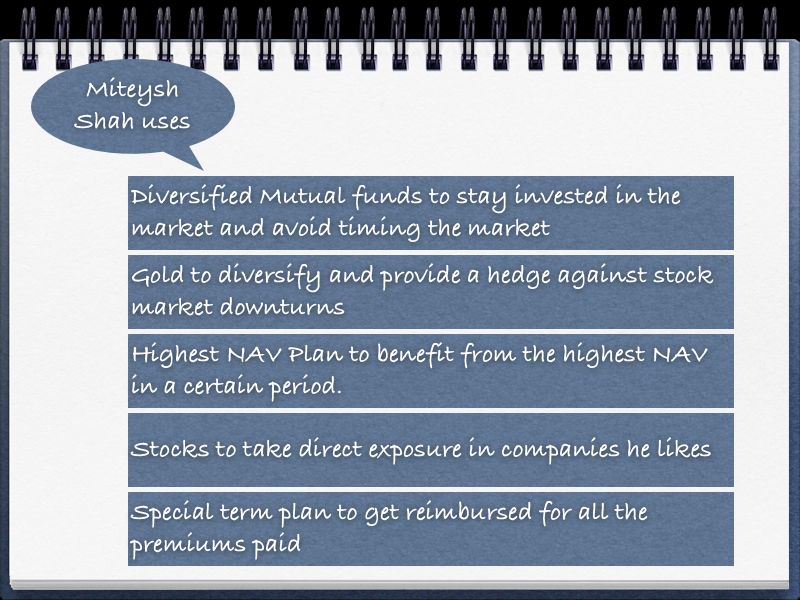 Diversified Mutual funds
Always stay invested in 3-4 good diversified mutual funds through SIP, as we can never time the market. Get an appropriate mixture of large-cap, midcap, small-cap & balanced mutual funds based on your risk – appetite.
Gold
As per 1 of your past articles on gold & its moving 10 years chart – I see that gold is also a good hedging fund, so we can keep buying a few units of GOLD ETFs regularly.
I have also noted that whenever market moves downwards – gold begins its upward journey, so this can be 1 advantage of it. You can regularly invest like this by opting for your broker's facility of auto transfer to create a SIP for your gold ETF purchase.
Highest NAV Plan
Although I don't expect a highest NAV return plan to match a good mutual fund return I've still invested a part of my portfolio in it to gain some benefit of this product, which gives the benefit of the highest market level traded in the specified period.
In this I like Birla platinum ULIP plan because they provide highest NAV returns based on all the trading days in a year so you can't miss any of the highest level on any day like in others as I know highest NAV is provided only on few dates in a month but what if the markets hits all time high on a non-record date of plan?
Reliance Super Automatic Investment Plan
I like Reliance Super Automatic Investment plan because of its advantage of 52 free switches in many of the funds available in the plan like equity fund, infra fund, energy fund, gilt, midcap, money market.
We can switch the funds as per the market movements; can book profit in down turn & reinvesting in equity at lower levels. This is a free service without any cost that too we can do online at our convenience. Also you can opt for single premium.
This fund is good to gain in such a volatile markets where in 1 day it can swing up to 500~600 points & down up to 400 points, we can take advantage of both the sides of market without getting nervous in -ve or +ve
Stocks
I have my own watch-list of stocks based on research & studies I have done myself and I have rated them myself as well. I keep accumulating the good ones at every dip but you have to be very much updated in primary equity before every buy or sell.
To select the right stocks from the various scripts, I think the right way is to think yourself what business you like to enter, what business you would invest if you have a chance… my meaning is investing in stock – take it as your own business – not just for trading then you will enjoy the earnings & you will automatically have that confidence on that scrips rather than listening on TV shows.
One more thing I would like to add here is when we feel the market is at peak & fear of down turn we can start booking profit by moving our money to balanced fund & in raising market start shifting to equity. Balanced because we cannot judge the bottom & peak point & also somewhere we believe in the India growth story.
MIP
Youngsters can use MIP which is available with 10~20% equity to gain markets exposure on +ve side. However MIP has exit load for 6~12 months in that case we can select STP to save entry/exit loads wherein you can switch to the all types of funds available with same AMC- Equity diversified, balanced, liquid, MIP, etc. for investors who don't want to take risk at all can go with various liquid funds with no equity portion.
Now-a-days MIP is also available with debt+equity+gold such as Religare MIP plus this way you can cover all sides of safety instruments.
Insurance
For insurance we can go for special term plan wherein we get reimbursement of all the paid premiums & can fix our premium till the age we have opted for.
In fact technically if we do the math normal term plan is cheaper than special term plan considering the balance premium to be invested in MIP or debt or equity because the reimbursed amount we will get at the end of special term plan is without interest.
So overall as per my views we can be rest assured of any movement in the market. We can take every fall or rise as an opportunity to gain. This is better way to do it ourselves rather than giving our money blindly & to follow-up even though paying him the fees & charges. In all this product you don't need to sit in front of the TV or markets you can just do it at your convenience.
There you have it, this is my approach – please leave a comment to let me know what you think!