The SCI FPO dates and pricing are out; in fact the first day is already over, but there hasn't been much activity on the subscription front probably because people were too busy with the MOIL IPO.
SCI FPO Price Band
The price band has been fixed between Rs. 135 and 140, and the EPS last year was Rs. Rs. 9.29 which was down from Rs. 22.66 EPS in 2009, and Rs. 17.82 EPS in 2008.
The stock closed at Rs. 143.65 on the NSE on Tuesday, which means that a price of Rs. 140 is not all that attractive for people. The subscription numbers are pretty low but that could also be because this is the first day, and the other disinvestment IPO – MOIL has generated a lot of interest today.
Here are the subscription numbers at the end of Day 1 of the SCI FPO. I will update this post with new numbers as each day progresses.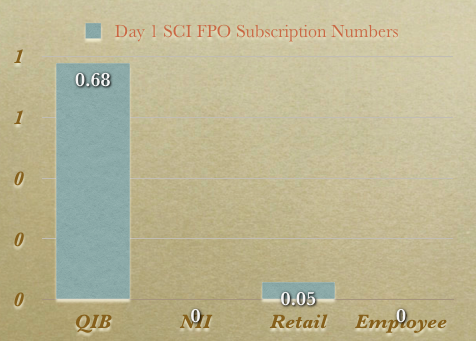 All data from NSE.
Also read the detailed SCI FPO post.