The MOIL IPO subscription closed with a bang yesterday, and I think it's a very good example of why investors should be really careful and skeptical while investing in IPOs, especially if you're new to the market.
Before I get to the MOIL numbers, let's revisit a chart I have used here earlier.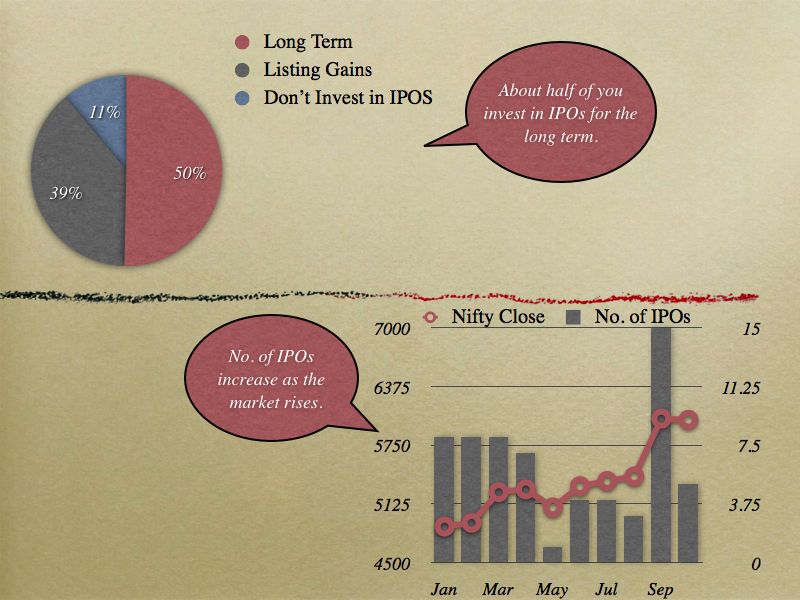 The graph on the lower right corner of the image shows you that the number of IPOs rose in September when the market itself was doing quite well.
This makes sense when you think about it because promoters of companies want to sell their stock when the sentiment is up, and when they can extract the maximum price – there's nothing wrong with that, just the way markets, and people work.
A couple of days ago Khalid posted the returns of IPOs launched in September of this year, and I was amazed to see the number of companies that are currently trading below their offer price.
A quick look at that table shows that only Career Point, VA Tech Wabag, and Tecpro are trading above their listing price! That's just 3 out of 16!
I think a large part of this can be attributed to pricing the IPOs to the full, and not leaving anything on the table for retail investors, and to that extent it is easy for long term investors to take a look at IPO grades, and decide that the fundamentals don't excite them, or that the pricing is too high based on comparison with peers, and this way you can avoid most of the high priced IPOs.
But, what when fundamentally good companies that have been decently priced hit the markets?
They get oversubscribed to insane levels, and the number of shares that you get allocated is so less that the whole exercise itself doesn't seem worth it's time. Here is how MOIL IPO over-subscription looked just for the retail category.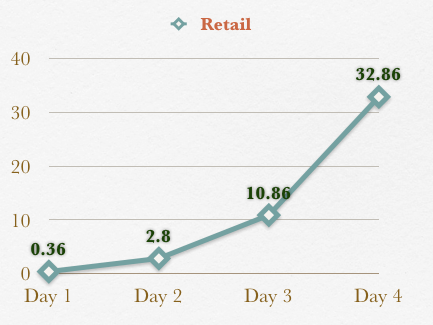 When the IPO is over-subscribed so many times then you hardly get any shares at all.
So, at one hand you have IPOs that are already priced fully, and you'll probably be able to buy them later at a much cheaper price, and at the other hand you have IPOs that are decently priced, but will get over-subscribed so much that you will not get any significant amount of stock at all.
What does this mean to you?
It means that while there are opportunities to initiate positions in fundamentally good stocks at decent prices, the positions themselves may not be as significant, and in terms of absolute numbers – IPOs can lead to losses much more often than the other way round.
Also, if you are drawn towards the stock market for the first time by IPOs – know that there is a lot of excitement around them, but they may not help you build as much wealth as boring concepts like saving and investing regularly will.
Don't be turned away from them completely, but don't be dazzled by them either. They are just one of the many ways of investing in the stock market, and are in no way a sure shot way of making money.
If you're punting and want to sell to make a quick buck – all the best to you – you will probably lose in the long run because that's what happens to most retail investors who engage in trading and punting. I understand that you are probably not going to be convinced to stay away from IPO punting because some random blogger on the internet told you so, but I ask you to be cautious because it's your hard earned money after all.