Yesterday we looked at the where the government gets its revenue from, and today we're going to look at how this money is spent.
There are two heads for spending:
Plan Expenditure: This is the good stuff in the sense that it's the money spent on building roads, irrigation systems etc.
Non Plan Expenditure: This is the money spent on defense, police, petroleum subsidy, postal deficit, and basically all the stuff that needs to sustain the country.
Like yesterday, let's start off with how the two stand relative to one another.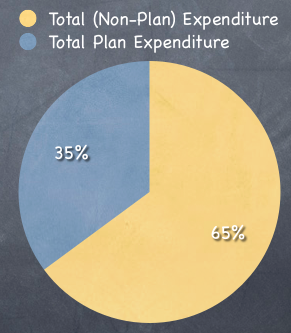 As you can see the total non plan expenditure is way more than the plan expenditure, which means that we spend a fairly large amount on sustaining ourselves, and the larger that amount is – the lesser remains for spending on infrastructure building, and boosting growth.
Here is what the absolute numbers look like (pdf).
| | |
| --- | --- |
| Heads | In Rs. Cr. |
| Total Plan Expenditure | 441,547.00 |
| Total (Non-Plan) Expenditure | 816,182.00 |
Now, let's take a look at how we're spending the money to sustain ourselves.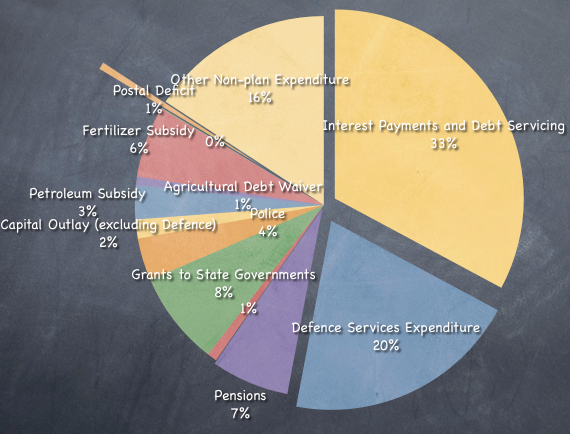 Look at how big the interest and debt servicing piece is! Defence is big as expected, and look at the petroleum subsidy piece as well. For all those who complain about the government not subsidizing enough – nothing comes for free, and what doesn't go directly from your pocket goes indirectly because the government has to borrow to pay for it.
Here's what the absolute numbers look like.
| | |
| --- | --- |
| Heads | Expenses |
| Interest Payments and Debt Servicing | 267,986.00 |
| Defence Services Expenditure | 164,415.00 |
| Pensions | 54,521.00 |
| Interest Subsidies | 6,868.00 |
| Grants to State Governments | 65,466.00 |
| Police | 29,685.00 |
| Capital Outlay (excluding Defence) | 13,212.00 |
| Petroleum Subsidy | 23,640.00 |
| Agricultural Debt Waiver | 6,000.00 |
| Fertilizer Subsidy | 49,998.00 |
| Grants and Loans to Public Enterprises | 514.00 |
| Postal Deficit | 5,018.00 |
| Other Non-plan Expenditure | 128,859.00 |
| Total (Non-Plan) Expenditure | 816,182.00 |
What is the fiscal deficit?
Now, let me build on the revenue and expenses data that we have so far seen and look at what the fiscal deficit is.
Simply put – it is the amount of money the government needs to borrow in any year.
The fiscal deficit is projected to be 4.60% of GDP for next year. The GDP is estimated to be Rs. 89,80,860 cr. (pdf) for next year, and based on that the fiscal deficit amounts to Rs. 4,13,119.56 crores.
This is roughly the sum of the Total Debt Receipts (Rs. 392,816.57 crores) and the Net Market Stabilization Scheme (Rs. 20,000 crores).
You can also arrive at this figure by taking all revenue figures from yesterday adding the net recoveries of loans and advances, and the misc. capital receipts and subtracting it from the total expenses.
So when you hear or read someone express their skepticism on the fiscal deficit number you can easily see why that is.
If there isn't enough disinvestment then the fiscal deficit will suffer, if there aren't enough tax collections then the fiscal deficit will suffer, even if the post office spends more the fiscal deficit suffers! These are all projected numbers, and any project going wrong unfavorably will mean a worse than predicted fiscal deficit.
Do all the pieces fit together now?
Looking at revenue and expenses figure, and especially the part where you see how much of the expenses are attributed to interest payments, and how that will further lead to borrowing more money shows why a government can't fully subsidize petrol, or fertilizer or just give away food like that.
Ultimately if the government's money is spent in paying interest instead of building roads then that's bad for the entire nation.
For me, the biggest takeaway from this exercise was that like personal finance, there are no shortcuts for a country's finance also – even if it has a printing press at its disposal.