The world of fixed income has been made slightly more complex with the issue of infrastructure bonds and SBI retail bonds.
And then there is one infrastructure mutual fund NFO, which is adding to the confusion for a few people as well.
I've answered a few questions on the important distinctions between these instruments, and I thought I'd illustrate them with the help of some Venn diagrams.
Infrastructure Bonds, SBI Bonds and Fixed Deposits
First off, what's the similarity between infrastructure bonds, SBI bonds and fixed deposits?
The only similarity between them is that they are debt instruments.
And what about infra bonds and SBI bonds? Just that both of them will list in addition to being fixed income instruments.
In the diagram below I've put a little star against "Listed" though because SBI Bonds will list quite quickly after allotment, while the infrastructure bonds will list only after their lock in period which will be at least 5 years.
Look at the image below and see if the similarities and differences are clear or not.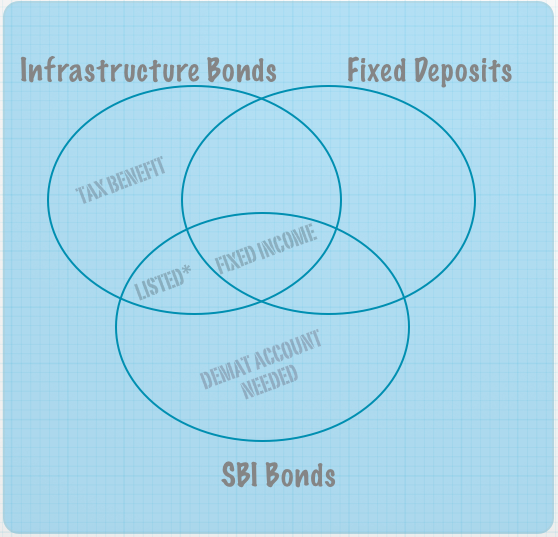 The question that I notice pops up often is whether the SBI bond issue will give tax saving or not.
The answer to that is a big NO. Only infrastructure bonds get you tax benefit, not retail bonds like the SBI bonds.
Infrastructure bonds and Infrastructure Mutual Funds
Next up, let's deal with a simple question now.
Will I get tax benefit if I invest in an infrastructure mutual fund?
The people who ask this question are in all likelihood looking for infrastructure bonds which is the instrument that gives you the extra Rs. 20,000 tax benefit, but unfortunately for them infrastructure bonds and infrastructure mutual funds are two completely different things.
Infra bonds are a debt product while infra mutual funds are an equity product, and you can read the difference between bond and equity products here.
There is tax benefit on bonds, but not on mutual funds.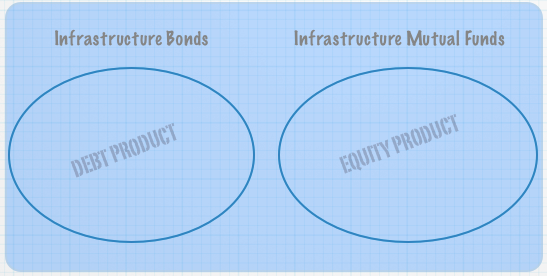 Tax Saver Fixed Deposits, Normal Fixed Deposits and Infra Bonds
The last Venn is with tax saving fixed deposits, normal fixed deposits, and infrastructure bonds, and I'll let you take a look at it without explanation.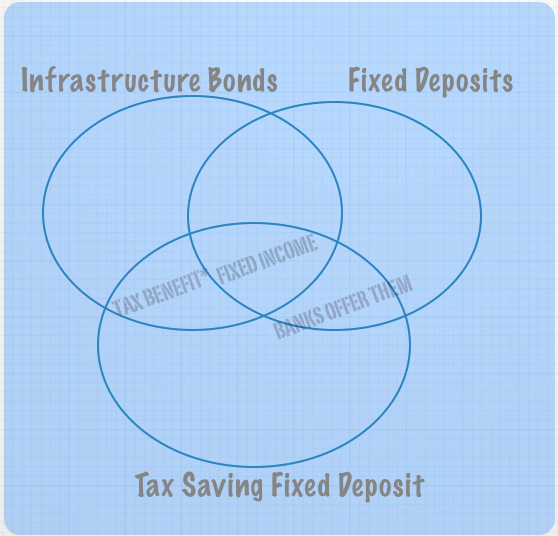 Notice that there is a star on tax saving because the tax saving fixed deposit comes under Section 80C, while the infra bonds save Rs. 20,000 under Section 80CCF, and while there are tax benefits, those are two different type of tax benefits.
So, there you are – a simple post with some straightforward distinctions.
Do you think I missed any questions in this post? Anything you'd like to add?