This is another post from the Suggest a Topic page, and in this post we're going to take a look at top up medical insurance policies.
Before I start, I must admit that I came to know about the existence of this product only after the comment was left here, so I'm still learning about them.
What is a Top Up Medical Insurance Policy?
Top Up Medical Policies are offered to supplement your existing health insurance, and kick in where the current medical insurance policy stops.
So, if you have medical insurance for Rs. 4 lacs, and take a top up policy of another Rs. 6 lacs, then the insurance company will pay you anything over the initial Rs. 4 lacs that you insured for.
If you get a hospital bill for Rs. 6 lacs, then you will get Rs. 4 lacs from your first insurance, and Rs. 2 lacs from the top up medical insurance.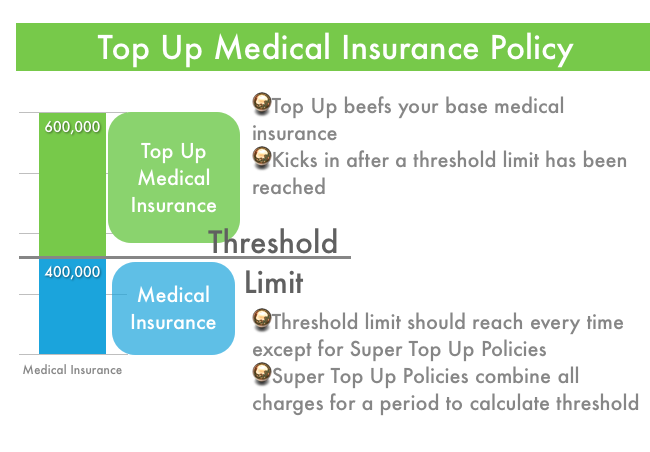 Every top up medical insurance policy comes with a "Threshold Limit". The threshold limit is the limit after which the policy starts paying you. In the case I took above the threshold limit was Rs. 4 lacs – this means that your top up policy will only start paying you if your hospital bill is more than Rs. 4 lacs or the threshold level.
In the case of the top up medical insurance – you should reach the threshold every time to be eligible for payment.
So, if you have a second hospitalization, and you get a bill of only Rs. 3.5 lacs, you will not be eligible for claiming the top up insurance because each bill should exceed the threshold level.
There is however, another version of top up medical insurance called the super top up medical insurance which sums up what you have already paid in your multiple treatments, and then considers that value. So, if you went to the hospital twice, and paid Rs. 2 lacs each time, then it will consider that you have already paid Rs. 4 lacs, and if that was your threshold level, then you will start getting paid from the super top up policy from the next time. The time frame for this is usually a year after which the clock resets.
Now let's take a look at some other points about them.
Top Up Insurance Policy Covered Under Section 80D
The top up policy is also covered Section 80D. It covers hospitalization expenses, and generally excludes things that aren't covered in your primary insurance policy.
You Can Buy Top Up Insurance From Any Company
You don't have to be a customer of the same company's primary insurance to buy a top up insurance. This means that you can buy top up medical insurance from United India even if your base medical insurance is from some other company.
It is not clear to me if you need any base medical insurance at all or not, but from what I read it seemed to me that you can buy top up insurance even if you don't have primary medical insurance. That doesn't sound right, but based on what I read this is what I think is the case.
Rationale Behind the Introduction of Top Up Medical Policy
They were introduced in India in 2009, and the rationale was fairly straightforward. Not many companies offered a big amount of medical insurance, and the top up policy gave you a way to get medical insurance in addition to what you already have.
Since then, the limits have been raised, and to the best of my knowledge the top up products still remain relatively lesser known.
The reason for this could be their lower premiums, which means that they are not pushed by agents as much as other products, or it could mean that it is cheaper to buy a Rs. 10 lac medical insurance policy than it is to buy a Rs. 5 lac medical insurance policy, and then top it up with another Rs. 5 lacs.
I don't know the answer to that, and it's probably not even a right comparison because of the way the threshold limit works.
The premiums that I saw on the prospectus of a few sites seemed low, but that's just based on a cursory glance, and I haven't done any research about them.
My initial feeling about this product is that it can be a good idea for someone who has a somewhat low medical insurance like say Rs. 5 lacs. Most of you are probably covered by your employers to some level, but it might make sense to beef that up if that's the only medical you have, and especially if your parents or kids also come under the same thing.
List of companies offering Top Up Insurance
This is probably not the complete list, and if you know of other companies that offer this type of insurance then please do leave a message and I'll update the post.
ICICI Lombard Health Care Plus
Your thoughts?
Finally, I'll be interested to hear if any of you have a top up medical insurance policy, and want to share your rationale, experience, or anything else that may be of benefit to others.