Mithlesh, Jay and Ravikumar left comments yesterday informing everyone that the Shriram Transport Finance NCDs have been allotted and can be seen in their demat account now.
I know that people who apply for bonds are often looking for this kind of information, so I thought of doing a post about it.
The good news is that bonds have been allotted and people are seeing them in their demat account, but the the bad news is that the ratio of allotment has been quite low for retail investors.
The ever reliable Shiv left a comment with the link to where you can check the allotment detail, and the ratio in which the allotment has been done.
Check Shriram Transport NCD Allotment here.
Here is the allotment ratio.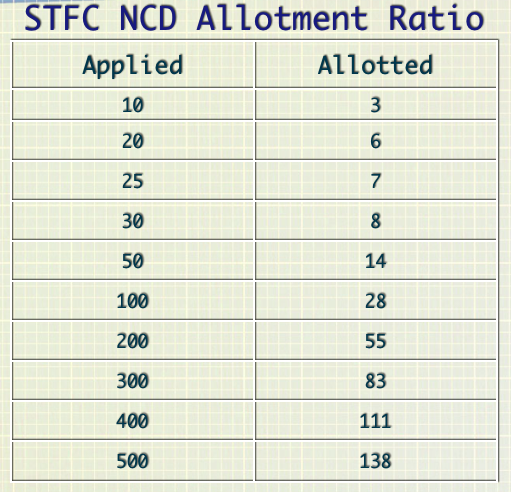 I think people who applied for these bonds to hold them for the long run will be fairly disappointed with these low numbers, and especially so because there were news reports of gray market activity on the bonds due to which brokers and speculators applied through the retail segment, and crowded out the genuine retail investors.
It will be interesting to see how much premium do these list at, and if they list at a substantial premium then it will be proof that the gray market game is working in the favor of the brokers. I hope that doesn't happen because it will only encourage more gray market activity in future NCD issues, crowd out the retail investors, and as in the case of IPOs, we've seen that these things don't end well and it's the small guy that loses out in the end.
P.S. This is not the website of Shriram Transport Finance – this is like a news website, and I can't send your bonds to you.

P.P.S. Here is a link to Shiv's profile and contact numbers if you're interested in these kind of bonds in the future, and are in the NCR region.