This is a very common question here, and a lot of people are confused about what you need to do if you want to buy a gold ETF. An ETF trades like a share in the stock exchange, and if you want to invest in an ETF – you can buy it from your share broker.
It doesn't matter that this ETF is a gold ETF – it's all the same – you can still buy it from a share broker. You will be charged the same commission that is charged when you buy any other share, and you will continue to hold it in your Demat account.
You don't need a separate Demat account or a trading account with the commodities exchange or anything like that – just your regular share trading and Demat account will do.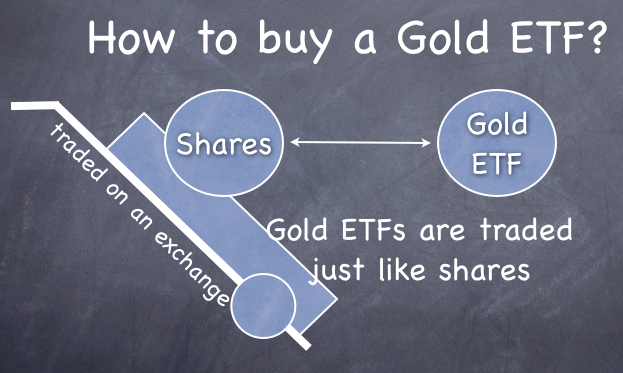 The difference comes in the way shares are taxed and gold ETFs are taxed. For starters, you pay Securities Transaction Tax (STT) on share transactions but you don't have to pay that on gold ETFs.
Capital gains are also treated differently – shares attract a short term capital gains of 15% whereas short term capital gains on gold ETFs will be added to your income and then taxed according to your slab.
Long term capital gains are tax free for shares, but you will have to pay 10% without indexation or 20% with indexation whichever is lower plus surcharge and cess in the case of gold ETFs. Gold ETFs are still more tax efficient than holding physical gold.
So, in conclusion – as far as buying and holding of a gold ETF is concerned – it's exactly like a share, but the tax treatment is different.