I wrote about PFC infrastructure bonds earlier in the week, and today it is the turn of the IFCI 80CCF infrastructure bonds.
The terms of the IFCI issue are exactly the same as the PFC one, and the issue has already opened on the September 21 2011, and will close on the November 14 2011. However, the bond issue itself is an unsecured one whereas the issue was a secured one in the case of PFC.
Here are the major terms of the IFCI 80CCF bonds.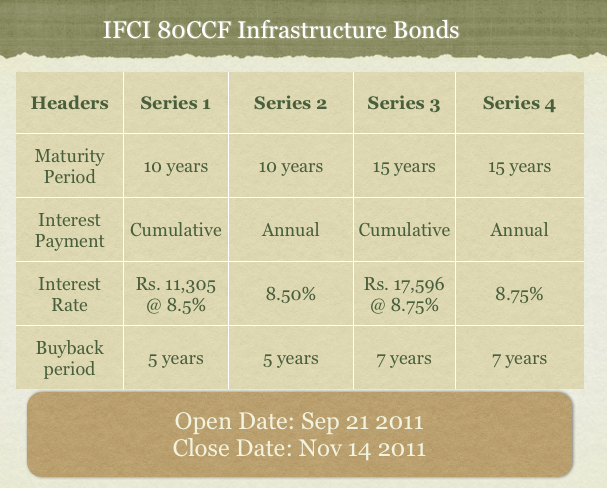 I didn't explain the buyback option in the PFC 80CCF post, and there was a question on that so let me address that topic here.
The buyback will be initiated at your choice, and if you tell IFCI that you want to sell back the bonds to them after 5 / 7 years then they will redeem your bonds at that time.
So, in that sense even though these bonds mature in 10 and 15 years, the maturity comes down to 5 and 7 years because you can ask the company to redeem them early.
You will be paid full interest and this is more of a facility to you than anything else. It is not necessary to initiate the buyback at the end of either the 5 or 7 year period rather you can initiate any time after that time period.
Also, bear in mind that after the lock in period these bonds will be listed on the stock exchange so if interest rates are lower at the time then you should be able to sell the bonds at a higher price in the market and can take that route instead of selling it back to the company.
I can't think of anything more to add to this IFCI bond review, and if you have any questions or comments please leave them below and we can discuss.
If you haven't already read it then please read my PFC Infrastructure Bond Review here.