After creating the Nifty Index Funds list, it was only natural to create a Sensex ETF and Index Fund list. For some reason, there are a lot less Sensex funds than there are Nifty Index funds.
I could only find a couple of Sensex ETFs, and 5 Sensex Index funds as opposed to over 15 Nifty Index funds.
Of these funds, Franklin Sensex fund is the biggest with about Rs. 58 crores in asset under management, and Kotak is the next with Rs. 36 crores, LIC has 25 crores, and after that all of the funds are fairly small.
Here is a chart that shows the asset under management of these Sensex funds and ETFs.
It's clear from the above chart that Nifty Index funds are a lot more popular than Sensex funds and the biggest Sensex fund – Franklin doesn't even have a tenth of the assets that the biggest Nifty fund GS Nifty BeeS has.
Now, here is a chart that shows their performance in the last 3 years.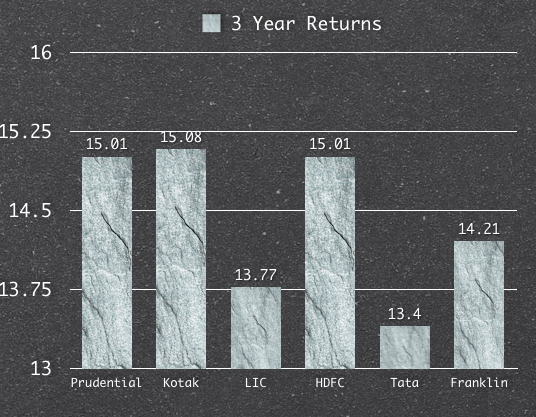 Kotak is the best performing of these funds, and even when you look at the one year return data it has fallen less than the other funds. That combined with the fact that it has a low expense ratio of 0.50% makes it a good option among these funds.
Here is the table that shows the 1 year returns, 3 year returns, AUM as well as expense ratios of all these funds.
Looking at these numbers, and data I feel that if I had to take a position in a Sensex fund – I would get into the Kotak Sensex ETF, but then if I had to take a position in an index fund at all – I'd probably choose a Nifty Index ETF or fund rather than one on the Sensex because of the higher liquidity and volumes on those.