DSP Blackrock has launched a new fund of fund called DSP Blackrock World Agriculture fund, and it has just closed the NFO period on the 14th October 2011.
DSP Blackrock has a few other unique fund of funds, and this adds to that basket by introducing a fund that invests in global agriculture businesses.
Since this is a fund of funds – all of its investments will be made in the units of BGF World Agriculture Fund. The BGF World Agriculture Fund was launched in Feb 2010, and had assets under management of $475 million on September 2011, so it's much smaller than the other similar funds they have like the World Gold Fund, World Mining Fund, New Energy Fund, and World Energy fund which have assets in excess of a billion dollars.
The big idea behind this fund is that the companies that are engaged in agriculture related businesses will benefit as the world population grows and more and more countries industrialize improving the standard of living of their people and making them demand more food.
Indians can probably easily relate to this theme because of the high inflation experienced over the past couple of years, and the RBI repeatedly saying that a big part of that has been the shift to protein rich foods, and increased demand for those pushing up prices.
The BlackRock Agriculture Fund builds on this theme by investing in global companies involved in agriculture related companies all over the world.
In fact, the fund invests in so many countries that it will have exposure to assets in more than 7 currencies, and a breakup of those is shown below.
As is evident, the USD is the biggie with Singapore Dollar coming in second, and then you have exposure in currencies of other industrialized countries.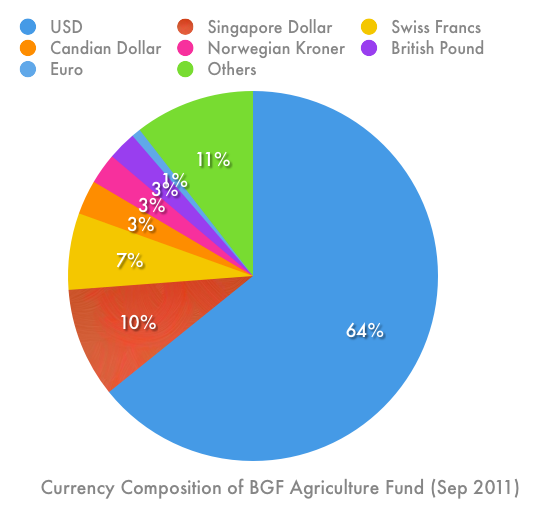 The DSP Blackrock Agriculture Fund will of course add one more currency to the equation because that will trade in India, and buy units in the US based mutual fund, and therefore the USD INR exchange rate will also affect the returns of this fund.
Here is a look at the fund's top ten holdings which show that a lot of the companies they are invested in are primarily US companies. In fact, the top 10 has only three companies outside of the US.
| | | |
| --- | --- | --- |
| Company | % of Assets | Country |
| Monsanto | 9.10% | USA |
| Potash Corp | 8.20% | USA |
| Deere | 7.20% | USA |
| Syngenta | 6.70% | Switzerland |
| Wilmar International Ltd. | 6.00% | Singapore |
| Archer-Daniels-Midland | 5.00% | USA |
| Brazil Foods | 4.30% | Brazil |
| Mosaic | 3.90% | USA |
| Agrium | 3.80% | USA |
| Bunge Ltd | 3.40% | USA |
| Total | 57.60% | |
The good thing about this is that the fund is heavily invested in large companies with 62.5% of its assets in companies that have a market capitalization of more than $10 billion, and 32.6% of its assets in companies with market cap of more than $1 billion. Only 4.9% of its assets are in companies smaller than a billion dollars.
The scheme information document shows recurring expenses of 2.50%, and the expenses as on August 31 2011 were 2.10% which are fairly high. You lose about 10% of your money if you just held the fund for 5 years, and that's not a good thing.
While this fund gives people who are so inclined an opportunity to invest in global agriculture stocks or primarily American agriculture related stocks  – I don't really see anyone set up a SIP in this fund, and my guess is that most people who do buy the fund will only buy it as a means to diversify and hold an asset that they couldn't own prior to this launch.
The thing to keep in mind in that case is the current Rupee Dollar Exchange rate, and recognize that a depreciated Rupee isn't good for foreign investments (the USDINR rate breached 50 last Friday). That's simply because you will get lesser units for the same amount of money now than if the exchange rate were 40 Rupees to a Dollar.
On October 21st, the NAV of the Blackrock World Agriculture Fund was $10.77 and at the current exchange rate of Rs. 50, you could only buy $200 if you had Rs. 10,000 and about 18.57 units of the fund. But, if the exchange rate were to move to Rs. 40 to a Dollar – the same Rs. 10,000 could buy you $250, and about 23.2 units of the fund if the fund itself didn't move at all.
So, if you were interested in the fund, it might still make sense to wait a bit and let the current uncertainty recede which should help the Rupee get back to stronger footing.
I don't think people should have a lot of such expensive, and fairly complicated investments in their portfolio – if you own a little for diversification then that's fine, but if your portfolio has many of these fund of funds then fees are gnawing into your returns, and in many cases you are even uncertain on what needs to go well for these funds to perform well because they are spread out in so many countries with exposure to multiple exchange rates, and can get fairly complicated to get a grasp of.
That was all that I wanted to cover about this fund – what do you make of it and do you have many such other fund of funds in your portfolio?
This post was from the Suggest a Topic page.