Please go here for the latest post on the Muthoot NCD which opened on March 2 2012 and will close on March 17 2012. 
Muthoot Finance has raised quite a stir by coming up with a non convertible debenture (NCD) offer that's offering upwards of 13% to investors. Â This issue is quite different from the last Muthoot Finance NCD issue where the minimum investment amount was Rs. 1 lakh and there was just one option with a 2 year maturity.
In this issue, the minimum investment is Rs. 5,000 and they have four investment options.
The offer opens on December 22, 2011 and will close on January 7 2012. The lead managers are ICICI Securities Limited, AK Capital Services Limited, HDFC Bank Limited, and Karvy Investor Services Limited.
The NCD issue has been rated 'CRISIL AA-/Stable' by CRISIL and '[ICRA] AA- (stable)' by ICRA, which is a good credit rating from both of these issuers.
Here are details on the four options that the Muthoot NCD has on offer.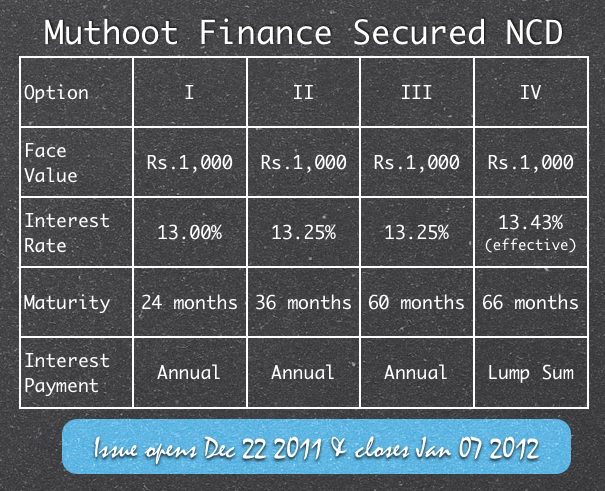 The minimum investment is Rs. 5,000 which means you will have to buy 5 of these bonds at the minimum and they will list on the BSE after the issue closes.
Muthoot Finance's latest quarterly report shows that the company has made consistent profits, and this is a secured NCD issue which means that certain assets of the company will be attached to the NCD in case of default. However, this doesn't mean a guarantee of any kind, and if it comes to a default then investors might get less than the face value of the bonds.
I would say what I said the last time they came up with a NCD, which is that you shouldn't be exposed to a lot of this in your debt portfolio. The yield is good, the company is currently doing well,  and that makes it easy to get swayed by the high yield and put in a big sum in it, but I think that won't be wise.
You don't want a lot of your money in just one type of debt instrument simply because if anything were to go wrong with that one thing – it will be devastating for your portfolio. I know it doesn't look probable right now, but it didn't seem probable that the Sensex will close near 15,000 at the beginning of the year either.
This post is from the Suggest a Topic page.