SBI Mutual Fund has come up with a new fund offer for SBI Tax Advantage Fund Series II which is a 10 year closed ended ELSS (Equity Linked Savings Scheme) fund.
It's an equity mutual fund which means that it will invest primarily in shares listed on the stock exchange. It's an ELSS which means that it will give you tax benefits under section 80C. So, the money you invest in this fund will be reduced from your taxable income thereby reducing your tax liability.
The NFO has opened for subscription on December 22nd 2011, and will close on March 21st 2012. The minimum application is Rs. 500, and you can invest in multiples of Rs. 500 after that. Since this is a closed ended fund – you will be able to buy it only during the NFO period, and once the NFO closes units won't be available for purchase.
The fund has a dividend and growth option, and since it is an ELSS fund – your fund will be locked in for 3 years in which period you won't be able to redeem it.
The information document says that redemption or repurchase facility will be available after the 3 year lock in period. I have no experience buying into closed ended funds, so I don't know how the redemption of these work – if anyone has any practical experience or insights on this then please do share that in comments.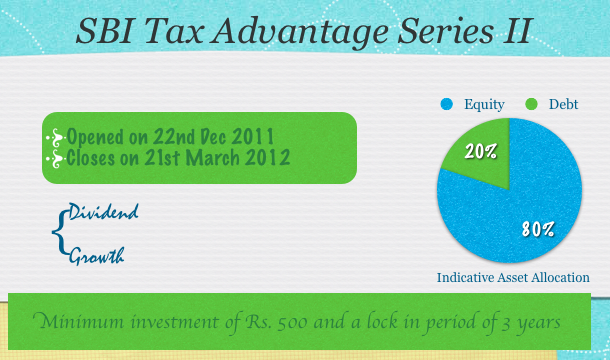 This fund doesn't offer any differentiation from the plenty of other ELSS funds that exist today, and I was hoping that they offer a lower expense ratio to lure in customers but that's not the case.
The recurring expenses are going to be 2.50% for the first 100 crores of assets, 2.25% for the next 300 crores, 2.00% for the next 300 crores, and then 1.75% for the balance. I see that the series I of this fund has an asset under management of Rs. 550 crores so that could be a potential pointer on how much Series II could amass, and based on that it looks like the expenses will be relatively high. Expenses of the fund eat into the returns so you want them to be as little as possible.
I think ELSS funds are a great way to utilize the 80C limit because they are equity instruments and have the shortest lock in period among the 80C options, but for this particular fund – I don't see any reason to invest in it at all.
There are plenty of other ELSS funds that have a fairly long track record, have lower expenses and buying one of those makes more sense to me than getting into this one.
This post is from the Suggest a Topic page.