Last week I wrote about the heavy imports from Switzerland and how gold forms the majority of it, and I went to look for the other countries that India imports its gold from.
Switzerland is by far the biggest exporter of gold and the next biggest exporter – UAE is just about a third of Switzerland.
South Africa, Australia and USA are the other big exporters but when compared with Switzerland – they are quite small.
Here is a chart that shows the top 5 countries that India imports its gold from, the figures are for 2010 – 11 and the numbers are in millions of dollars.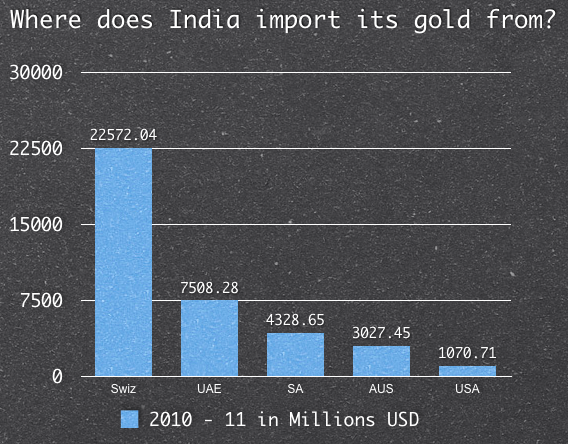 As you can see Switzerland exports more gold than the other 4 combined, and  the countries after that are even smaller.
Here is a list of the top 1o countries that India imports its gold from.
| | |
| --- | --- |
| SWITZERLAND | 22,572.04 |
| U ARAB EMTS | 7,508.28 |
| SOUTH AFRICA | 4,328.65 |
| AUSTRALIA | 3,027.45 |
| U S A | 1,070.71 |
| HONG KONG | 402.54 |
| U K | 386.17 |
| GERMANY | 180.12 |
| CHINA P RP | 147.58 |
| NETHERLAND | 68.24 |
Now, here is a pie chart that shows the relative share of some of the biggest gold exporters to India.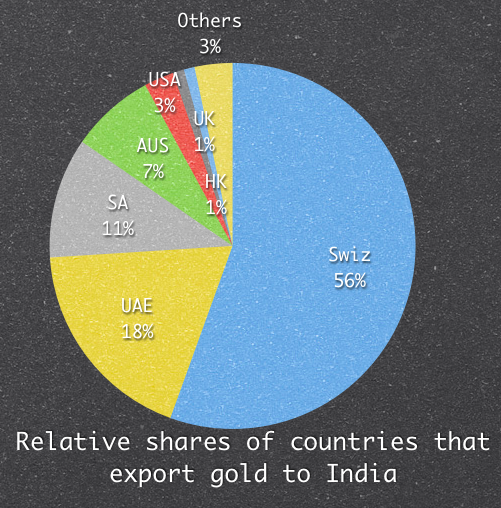 India of course has very negligible gold production, but more than a year ago I wrote a post about gold mining in India and while researching that I was surprised to find that the Ministry of Mines estimates quite a high amount of gold ores in India. With soaring gold prices, it is perhaps time for some tax sops in this sector and allowing the private sector to try to develop gold mines in India.