It seems that every newspaper in the country used the exact same headline to describe that March 2012 had record FDI inflows of $8.1 billion which is 8 times the figures last March and this great number makes all the fuss about the Vodafone issue irrelevant
This is great news right? The country is doing so great that investors are falling head over heels to invest in the country despite all the flip flops that the government has done over policy issues in the recent past.
You should really be happy about this and stop reading beyond the headline.
Because if you read beyond the headline you will notice the following paragraph:
The USD 7.2 billion Reliance Industries-British Petroleum (BP) deal, announced in February 2011 contributed significantly to the inflows, even though funds from the UK oil major would have come in phases, they said.
Given that this deal was done in February of 2011, and that the statement clearly implies that BP hasn't paid the entire $7.2 billion in March – how can you juxtapose this number against the Vodafone issue and say that it proves anything at all?
On the contrary I'd say that if you remove the $7.2 billion, then March FDI only amounts to 0.9 billion and that's less than what they managed in March of last year!
Anyhow, since we are talking about FDI, here are the annual FDI inflows since the beginning of 2000 and that shows that there has been a gradual uptick in FDI over the years, and that's something to be happy about, but at the same time, you can't take this for granted as there are a lot of other great opportunities worldwide that investors have access to.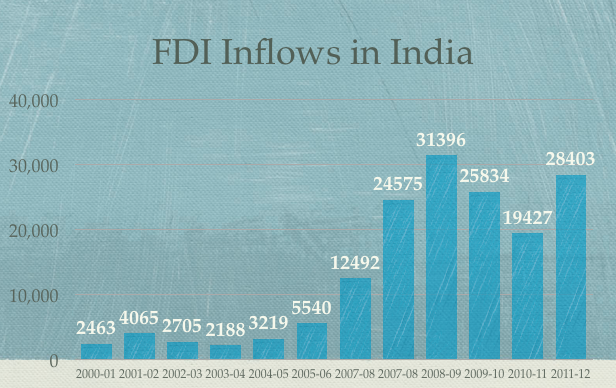 The numbers are in millions of dollars; here is the spreadsheet with the data and here is the source of the data. If you follow the stock market much (which you probably do) you may even be inclined to say – hey we haven't beaten the 2008 highs yet!
Correction: Changed the deal month from March of 2011 to February of 2011.