Petrol prices have been in the limelight for quite a few days now, and people are naturally concerned about the rise in prices. While no one denies that if international crude prices go up, India has no option but to raise prices, a lot of people feel frustrated with the high taxation that is present in petrol prices.
The petrol pricing structure is so convoluted that it is hard to understand how all the pieces fit together, and I've tried to answer some questions that help take a holistic view of the situation.
How big is the subsidy?
Reuters reported a few days ago that the total fuel subsidy is Rs. 1.38 trillion this year, and the budget said that the total subsidies are going to be Rs. 1.90 trillion so you feel that the fuel subsidy is about 73% of the total subsidy bill of the government. However, this percentage is not accurate because the government doesn't bear all the subsidies. The upstream oil companies will bear 40% of these and we'll talk about them in detail later on.
How does this Rs. 1.38 trillion number compare to revenues? The total tax revenue for this fiscal is expected to be Rs. 7.7 trillion so the subsidy is about 18% of the total tax revenue.
This is huge of course, and leaves no doubt that this problem is very real and not an eyewash by the government.
The under recoveries on oil products makes a huge hole in the government's pocket that has to be filled up some how and to understand how it is filled, we need to look at the four major players in this equation. First, the two type of oil companies.
Upstream and Downstream Oil Companies
You will normally hear of oil companies as either upstream companies or downstream companies. Upstream companies are involved in the exploration and extraction of crude oil and downstream companies are involved in selling and distribution of  oil products to end customers, these are also called oil marketing companies.
The oil marketing companies – Indian Oil (the biggest of the lot), HPCL (Hindustan Petroleum Corporation) and BPCL (Bharat Petroleum Corporation Limited) buy crude from downstream companies and then sell that at discounted rates, and in the process they incur huge losses.
These losses are subsidized by the government directly in the form of cash subsidy, and grants and by upstream oil companies – OIL (Oil India Limited), ONGC (Oil and Natural Gas Corporation) and GAIL (Gas Authority of India Limited). There is no fixed formula for deciding any of this, and periodic announcements tell people what the subsidy is going to be and who is going to share how much.
If you're worried that the oil companies are screwing you, well, Indian Oil is India's biggest company by sales, and it couldn't even make a profit if it weren't for the government grants, well that's true for all oil marketing companies.
In fact, here is a chart based on data from IOC press release that details out how much profit oil marketing companies made last year, and how much assistance they got. The numbers speak for themselves.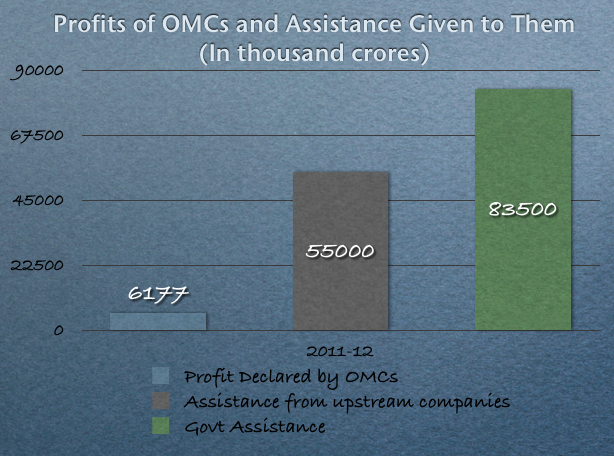 Now, let's look at the other two players.
Central and State Governments
The central and state governments come into play because of the taxes on petrol. There are many different forms of taxes, and I'm listing below the ones I could find. There may be others.
Excise Duty
There is excise duty which is Rs. 14.45 per liter regardless of price of petrol and there were some noises earlier that the government might reduce excise duty to bring down the price of petrol but that never materialized.
VAT / Sales Tax
There is VAT as well which depends from one state to the other and Goa reduced this by Rs. 11 or the entire 20% in March this year. Then there is Sales tax and Entry tax in some states and I found a link which says that these amount to Rs. 19 in Karnataka. The rate of Sales tax / VAT which varies from 15% to 33% on the states.
Customs Duty
There used to be a 5% Customs duty on crude oil but that was eliminated last year due to the heavy under recoveries faced by the oil companies.
Import Duty
There is however a 2.5% Import duty that is levied on crude oil which was reduced from 5% to 2.5% two years ago, and there were some murmurs that it will be reduced to zero but that didn't happen.
Here is a chart that shows how much do taxes roughly account for as price of petrol.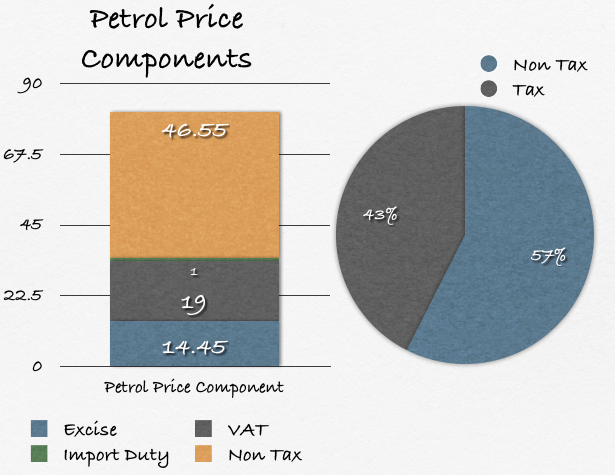 Before you go on to say the taxes are very high, keep in mind that the government is running huge deficits, and if they reduce taxes they have to raise money from somewhere else, so it's not a conspiracy by the government but a stark reality that the money has to come from somewhere. Having said that, with only 3% of the people paying taxes and huge under reporting going on in tax payments everywhere, petrol is not the only place where this money can come from. There are several other sources as well.
Conclusion
We have a very unusual and complex environment where diesel, LPG and Kerosene are hugely subsidized, cause a lot of losses to oil companies but it's hard to decontrol their prices because of the "poor people" argument which it is quite hard to see how much of that is true, especially when you see pricy luxury diesel cars plying the road.
Then there are these companies that would have been making losses had it not been for government grants, but incredibly enough, they pay dividends too! The government gives them grants, and then they pay out dividends, and it has all gotten incredibly messy and hard to understand.
It doesn't help that petrol is taxed so much and that can create an illusion that the government is stuffing people with these high prices.
I think it is best to look at all these players as separate entities if you really want to understand the situation rather than just lumping them together and calling them the big bad evil government.