RBI surprised a lot of people by keeping the Repo rate unchanged, and after the terribly slow GDP growth last quarter I thought the central bank will decrease the rates to help boost the economy. But they didn't do that and judging the by the reaction of markets and industry players, this was a big disappointment for everyone.
The thing about market reaction though is that it is such a fickle and short term thing that you can't rely on it for anything, so the market going down because RBI not cutting rates doesn't mean anything at all.
In fact if you recall what happened three months ago in April, you will see that the RBI then surprised everyone by reducing the rates by 50 bps whereas everyone expected them to only reduce by 25 bps and to that extent – what's the big deal if they keep the rate unchanged now?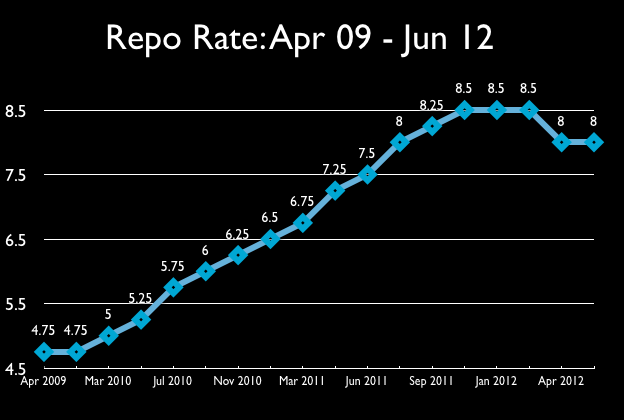 Getting to the review statement itself, it is quite interesting and strong worded (like the last time) and is a clear signal to the government that the RBI has done its part but the government needs to do its part as well if there is any hope of the revival of the economy.
Last time, they mentioned the current account deficit very specifically and called it unsustainable, and this time too they referred to the current account deficit and honed in on the oil subsidy part of it. Here is the relevant excerpt.
Also, in the absence of pass-through from international crude oil prices to domestic prices, the consumption of petroleum products remains strong distorting price signals and preventing the much needed adjustment in aggregate demand. The consequent subsidy burden on the Government is crowding out public investment at a time when reviving investment, both public and private, is a critical imperative. The widening current account deficit (CAD), despite the slowdown in growth, is symptomatic of demand-supply imbalances and a pointer to the urgent need to resolve the supply bottlenecks.
What this means is that since people don't pay market prices for oil products, especially diesel, the demand for these products don't come down when the international price goes up. The demand doesn't go down because the domestic prices are kept the same using government subsidies and this means that the government runs a bigger deficit than they would have if they had allowed the market to determine prices. When they run larger deficits, they have to finance those deficits by borrowing in the market, and that increases interest rates and doesn't leave room for private players to borrow.
Here are three other notable things from the statement.
Role of interest rates in slowing growth is relatively small
They emphasize that while high interest rates may be affecting growth, they are a small part of the equation and other factors such as fiscal consolidation by the government and helping ease the supply bottlenecks are much bigger factors than interest rates.
Rupee depreciation to help exporters
An interesting thing in the statement and I think this is the first that anyone has talked about it in this context is that the Rupee depreciation will make exporters competitive and this should help exporters grow and boost GDP in the time to come. I think this implies that they expect the Rupee to be in the current range for some time to come, and don't think it's going below 50 any time soon. This is just my guess though.
Inflation is still high
They talk about both the WPI and CPI and how it indicates that though inflation is not at the scary levels we saw in 2011, there is no definite downtrend and lowering rates risks letting inflation go up even more in the future.
Recurring Themes
Inflation, and especially inflation led by protein rich foods which is a sort of a structural change has figured in RBI statements time and again, and they've emphasized that unless you take care of the supply side using policy measures you can't bring this under control just by tinkering with rates.
They talked about this yet again, but nothing has been done on the policy front to address this.
The concern about current account deficit has also been voiced earlier and the specific focus on oil subsidies shows that that's an area of concern as well and since diesel prices are a big contributor to those subsidies, something needs to be done in that regard.
I'm obviously not knowledgeable enough to say whether RBI's decision is good or bad, but I'm fairly certain that you can't get back to the earlier growth trajectory just by lowering interest rates.
You need action on multiple fronts and good domestic economic policies that are the domain of the government to get back to those days.