I spent the last hour noting down all my recurring monthly expenses in Google Calendar after I forgot to pay two bills this month, and finally admitted that I can't keep it all in my head all the time and be okay.
I started using Google Calendar because of two main reasons – you can synch it with your phone to get reminders and you can create recurring events that go on forever.
In the end however, there were four things that I found answers for, and I feel this is the best and easiest way to keep track of these four questions.
What are the recurring payments that I have to make every month?
When are each of these due?
If they are automatically charged, which credit card or bank account do they use?
What is my monthly recurring expense?
 Set up Google Calendar Events
The first step is to log in to your Google account and go to Google Calendar. After that click on the 'Month' view on the top right of the calendar to make it easier to add events.
Once you see the view, you can enter three pieces of information about every event.
What the bill is about?
How much is charged?
Where it is deducted from?
I did a few sample entries, and after you make all entries, your calendar should look like this (click to enlarge).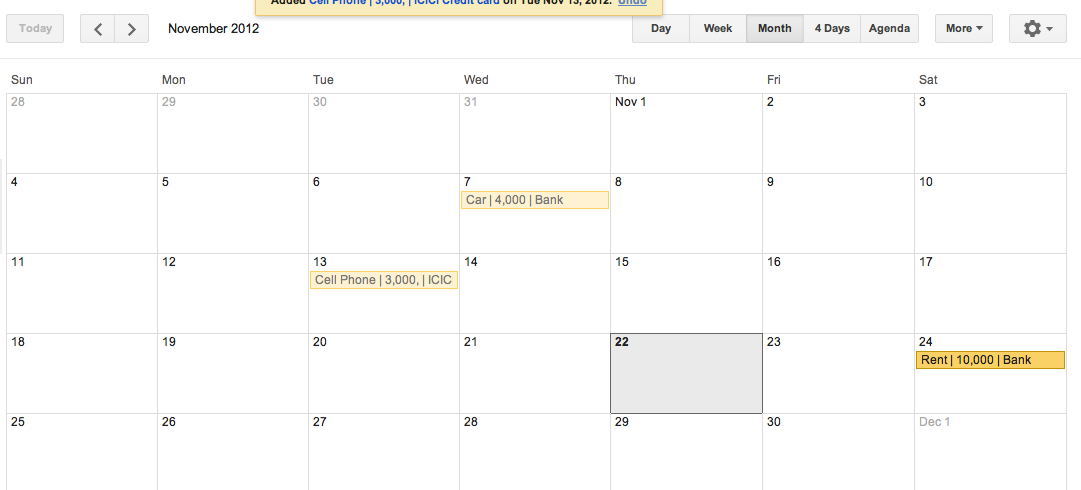 Remember, while adding an event there will be a bold blue hyperlink 'Edit event' and you need to click that to open up another screen that allows you make this event recurring.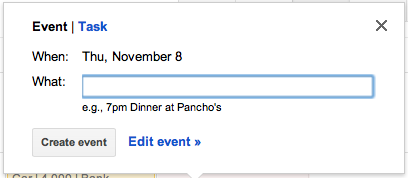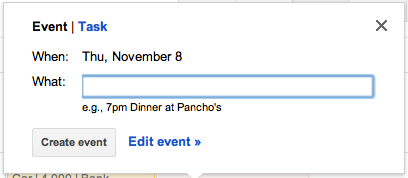 This is really important because if you don't make it a recurring event you won't get any reminders and it will also be difficult to view it all at one place a few months down the line.  You can make this event a repeating event by selecting the Repeat checkbox and then filling out the detail.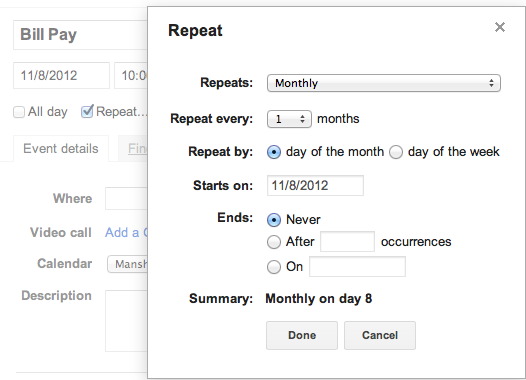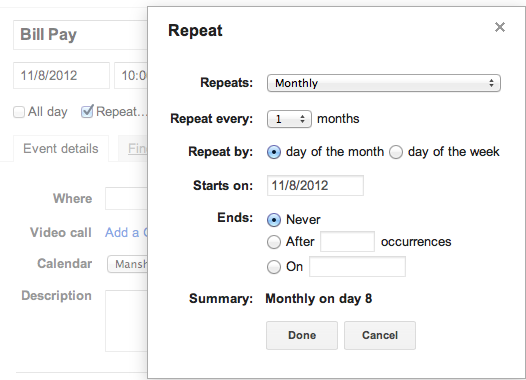 Once you enter the Calendar events like this you can very easily sum up all the expenses in the month and arrive at your monthly recurring expenses. I don't use Google Calendar for anything else, so setting it up for this was quite good for me and I'm sure it has set me up to where I don't miss any future payments just because I forgot them.