Before the financial crisis in 2008, emerging markets were very popular in the US and other developed countries, and people there wanted to take advantage of the relatively faster growth in emerging nations.
The word 'decoupling' was used quite often and it was believed that the emerging markets no longer depended on the US for their growth, and the situation in the US wasn't going to affect the markets of these countries substantially.
The financial crisis saw markets tumbling worldwide and people no longer expected emerging markets to remain isolated from the developed ones, and held that the global economy is intertwined and one can't grow in isolation from the rest of the world.
The last few years however have seen a completely different phenomenon and one that at least I haven't read about anywhere in advance. The US has outperformed the emerging markets, and the weakening currency of most of these countries has meant that it was far better for someone from India to invest in US in INR than it was for someone in the US to invest in India in USD.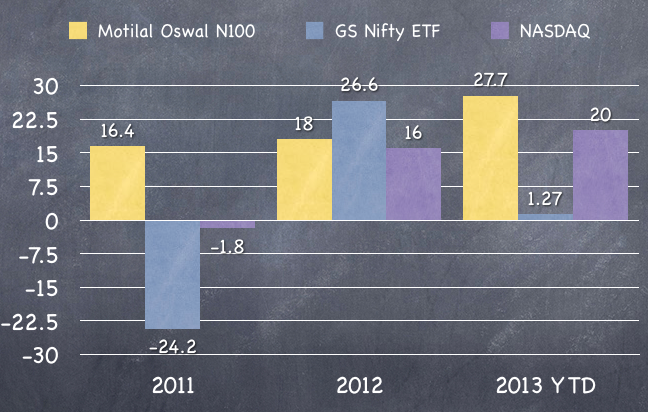 The chart above shows how you would have fared owning something like a Motilal NASDAQ ETF versus a GS Nifty ETS and I've also included figures from NASDAQ to show the depreciating Rupee has juiced up the returns.
The main shift in my thinking in the past six months or so has been that Indians need to protect themselves from the falling Rupee and real estate and gold is not the only way to do that. You can own US based funds in your portfolio and find another hedge for the Rupee and also benefit from the rising American markets.
Is this realization too late and is this the right time to buy American stocks? I think yes, the realization is late.
As far as timing is concerned it would have been ideal to predict this trend 1 or 2 years ago, and if you go US heavy right now you're exposing yourself to the risk of buying into an asset that is going at all time highs and catching up with the trend.
As a long term strategy I feel that just as a few years ago Americans were looking to emerging markets to juice up their returns, Indians now need to look to US for stability and protection of their capital, but this has to be done in a slow and deliberate manner, not as a knee jerk reaction to what has happened in the last 3 or 4 years or so.