This post is written by Shiv Kukreja, who is a Certified Financial Planner and runs a financial planning firm, Ojas Capital in Delhi/NCR. He can be reached at skukreja@investitude.co.in
RBI on March 11 issued a Circular to the authorised commercial banks to start observing the rules and regulations of Sukanya Samriddhi Yojana as per the Government of India Notification dated December 2, 2014. This circular has been marked to the Chairman & Managing Directors (CMDs) and Managing Directors (MDs) of some of the commercial banks operating in India.
These banks include most of the public sector banks, including State Bank of India (SBI), Bank of Baroda (BoB) and Punjab National Bank (PNB) and a few private sector banks also, including Axis Bank and ICICI Bank.
RBI has instructed these banks to approach Central Account Section, Reserve Bank of India, Nagpur for necessary arrangements to report Sukanya Samriddhi Account transactions with immediate effect. I think it means the RBI wants these banks to start opening accounts under this scheme without any further delays and the subscribers will not have to wait more to open their accounts. They can now approach these authorised banks to open an account.
Though it is still not clear if only these banks would act as the agency banks to open accounts under this scheme or some other banks would also join in, but it seems the following 28 banks would definitely be among all those banks authorised to open Sukanya Samriddhi Accounts (SSA).
Updated List of Banks to Open Sukanya Samriddhi Yojana Accounts
State Bank of India (SBI)
State Bank of Patiala (SBP)
State Bank of Bikaner & Jaipur (SBBJ)
State Bank of Travancore (SBT)
State Bank of Hyderabad (SBH)
State Bank of Mysore (SBM)
Allahabad Bank
Andhra Bank
Axis Bank
Bank of Baroda (BoB)
Bank of India (BoI) – Branches; Contact – 022-40919191 / 1800 220 229
Bank of Maharashtra (BoM)
Canara Bank
Central Bank of India (CBI)
Corporation Bank
Dena Bank
ICICI Bank
IDBI Bank
Indian Bank
Indian Overseas Bank (IOB)
Oriental Bank of Commerce (OBC)
Punjab National Bank (PNB) – Website Link; Contact – 011-25744370
Punjab & Sind Bank (PSB)
Syndicate Bank
UCO Bank
Union Bank of India
United Bank of India
Vijaya Bank
RBI also issued a specimen of application form and the passbook for opening an account under this scheme. Unlike the post office application form, this application form would be applicable just for this scheme only.
Here you have the specimen of the application form which the authorised banks/post offices will be using for opening Sukanya Samriddhi Accounts – Application Form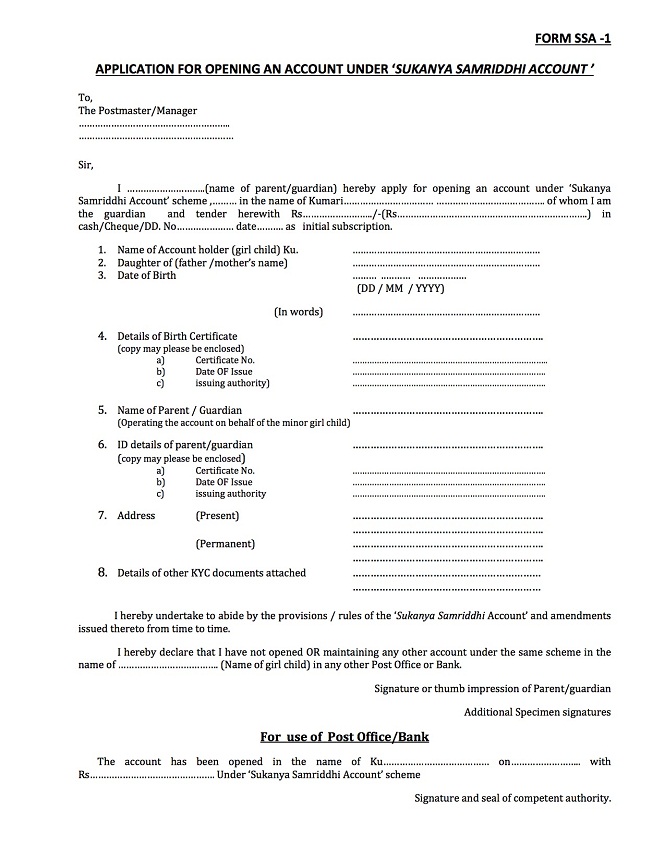 Also, here you have the specimen of the passbook which the authorised banks/post offices will be issuing to the parents/legal guardian of the girl child – Passbook
You can also refer to the following posts for the complete details about this scheme:
Sukanya Samriddhi Yojana – Tax-Free Small Savings Scheme for a Girl Child
Sukanya Samriddhi Yojana – Application Form & List of Banks to Open an Account
Sukanya Samriddhi Yojana – Calculating Maturity Value after 21 Years
Sukanya Samriddhi Yojana – Sample Filled Application Form
If any of you have anything to share or ask about this scheme, please let us know.