This post is written by Shiv Kukreja, who is a Certified Financial Planner and runs a financial planning firm, Ojas Capital in Delhi/NCR. He can be reached at skukreja@investitude.co.in
Investment sentiment in the markets has changed dramatically in the last 15 days or so, as it is becoming more and more difficult for the Modi government to get its modified land acquisition bill passed in the Rajya Sabha. Investors have started doubting the government's abilities to get other important economic bills passed, like GST Amendment Bill etc. Stocks, which were looking extremely attractive in the first week of March at higher valuations, have suddenly turned expensive at a relatively lower valuations. This is what a steep fall in stock markets could do to your investment sentiment.
Had this IPO of UFO Moviez came a few days ago, it would have got a welcome high subscription. But, now the investors have turned cautious and the company would find it difficult to attract a large number of retail investors. The company plans to raise approximately Rs. 600 crore in this Initial Public Offer (IPO). The issue got opened today, April 28th and will get closed on April 30th.
About UFO Moviez Limited & its Business
Incorporated in June 2004, UFO Moviez India Limited is a pioneer in satellite-based digital cinema distribution network and in-cinema advertising platform. As on February 28, 2015, UFO's global network spans 6,626 screens worldwide, including 4,911 screens across India and 1,715 screens across Nepal, the Middle East, Israel, Mexico and the USA.
Since the beginning of its operations, UFO has digitally delivered more than 8,800 movies in India until February 28, 2015. In fiscal year 2014, UFO Moviez digitally delivered more than 1,500 movies in 22 languages to 4,703 screens with aggregate seating capacity of approximately 2.15 million viewers across India.
Revenues of the company are diversified and come from three primary sources, (i) movie producers and distributors, for the secured delivery and screening of their movies, at approximately 52% (ii) advertisers, through in-cinema advertising, at approximately 24% and (iii) exhibitors, through equipment rental and sales for digital cinema equipment, at approximately 24%.
Increasing digitisation in the Indian exhibition sector would be a boon for companies like UFO Moviez. According to media research, Jodha Akbar, which was released in 2008, had a number of analogue prints which was double the number of digital prints. For Rajneeti, released in 2009, digital prints constituted around 60% of the total number of prints created for the movie. Films like Rockstar, Bodyguard and Singham released in 2011 with 70-80% of the total prints in digital format. Dhoom 3, released in 2013, was the first film to go completely digital.
Financials of the Company
For the financial year ended March 31, 2014, total income of the company was Rs.  421.09 crore as against Rs. 337.50 crore for the year ended March 31, 2013. The company reported profit after tax (PAT) of Rs. 46.54 crore for the financial year ended March 31, 2014 as against Rs. 33.39 crore for the financial year ended March 31, 2013.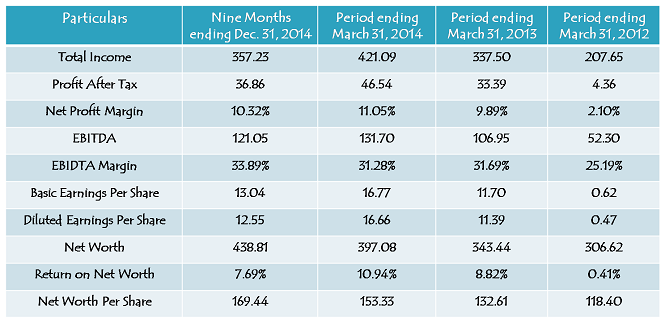 Note: Figures are in Rs. Crore, except per share data & percentage figures.
For the nine months ended December 31, 2014, its total income has been Rs. 357.23 crore and it clocked a net profit of Rs. 36.86 crore, resulting in a net profit margin of 10.32%. The company reported EBITDA margin of 33.89% for the nine months ended December 31, 2014, 31.28% for the year ended March 31, 2014 and 31.69% for the year ended March 31, 2013 respectively.
The company expects to report lower advertising revenue and EBITDA for the quarter ended March 31, 2015 as compared to the quarter ended March 31, 2014, primarily due to lower number of new blockbuster movies released during this quarter and also due to the cricket world cup 2015.

Note: Figures are in Rupees, except P/E Ratio & RONW.
What's on Offer?
UFO Moviez has fixed its price band to be between Rs. 615-625 per share. But, unlike earlier IPOs, there is no discount for the retail investors. The issue is a complete offer for sale of shares by its existing shareholders, 3i Research (Mauritius) Limited and private equity fund, Providence Equity Partners. 3i and Providence are selling close to half of their stakes in the company. UFO Moviez will not receive any proceeds in this offer.
The offer comprises of a sale of approximately 97.09 lakh shares to the investors as the offer gets fully subscribed. 35% of the issue size is reserved for the retail individual investors. At Rs. 625 per share, the selling shareholders are expected to pocket in approximately Rs. 607 crore.
Anchor Investors – UFO Moviez yesterday issued approximately 28.8 lakh shares to the Anchor Investors, namely Reliance Mutual Fund, SBI Mutual Fund, Kotak Mahindra Mutual Fund, Pinebridge Global Funds, Jupiter South Asia, Amundi Funds, Ashmore SICAV and Bharti Axa Life Insurance, at Rs. 625 per share, thereby raising Rs. 180 crore.
Bid Lot Size – Investors need to bid for a minimum of 24 shares and in multiples of 24 shares thereafter. So, a retail investor would be required to invest a minimum of Rs. 15,000 at the upper end of the price band and Rs. 14,760 at the lower end of the price band.
Objective of the Issue – As mentioned above as well, the issue is a complete offer for sale of shares by its existing shareholders and the company will not get any proceeds from this sale.
IPO Grading – The company has opted not to get its IPO graded by any credit rating agency. SEBI had made IPO grading voluntary in December 2013.
Listing – The shares of the company will get listed on both the exchanges i.e. National Stock Exchange (NSE) and Bombay Stock Exchange (BSE).
Should You Subscribe or Not?
A unique business model, highly efficient management and dominant presence in high-potential growing businesses make this company a worthy investment. But, at Rs. 625 a share, the company is seeking a valuation multiple of 36 times its annualised earnings for the nine months ending 2014-15, which I think is not worthy considering the digital technology business to be riskier and low incremental growth in FY 2014-15.
The company has grown at a really fast pace in the last 3-4 years, but whether it will be able to grow its revenues and profits at a similar pace or not, it is yet to be seen. There is a scope for listing gains, but at these valuations, the company has left very little scope for the investors to make money post listing gains. I would like to put my money in UFO Moviez at a price below Rs. 500, i.e. at a discount of 20%+ from its expected issue price of Rs. 625.