This post is written by Shiv Kukreja, who is a Certified Financial Planner and runs a financial planning firm, Ojas Capital in Delhi/NCR. He can be reached at skukreja@investitude.co.in
Reliance Jio has generated a lot of curiosity among the telecom users here in India. Almost everybody wants to have at least one Reliance Jio connection for its free calling and data services as soon as it launches its commercial operations. Reliance Jio is launching its nationwide telecom services from the coming Monday – September 5th. Rs. 50 per GB of 4G data with free voice calling, free unlimited SMS, free night data usage and free Jio App subscription is what Mukesh Ambani has promised to offer Jio subscribers.
I think this is the biggest gamble Reliance has played in recent times. Entering an already established, already struggling industry and challenging its biggest and experienced players is not an easy task. But, Reliance Industries, with its deep pockets, long-term vision and disruptive strategy in place, is ready to take a plunge in this already crowded market. But, will it able to succeed in its strategy to give a jolt to the incumbent players like Airtel, Vodafone & Idea by offering free calling and low cost data services? Let's first check what their tariff plans are and then we would analyse them further.
Postpaid Tariff Plans


Prepaid Tariff Plans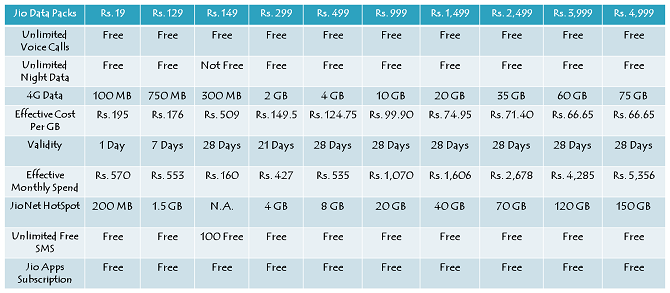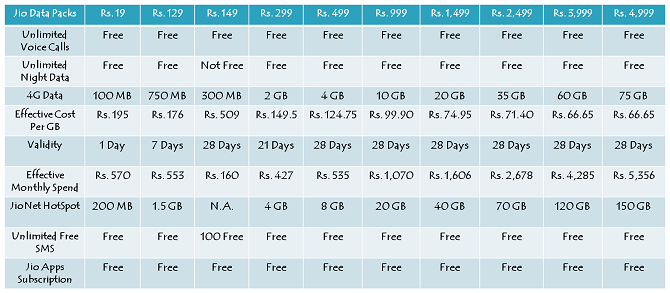 Reliance Jio Terms & Conditions
Voice calls are truly free –

you need not pay any charges for voice calls or the data used to make 4G voice calls

. However, video calls will be charged.

"Unlimited Free Night Data" will be available between

2 a.m. and 5 a.m.

Free Wi-Fi data will be available at Jio's Wi-Fi hotspots only.

All Jio services are free till December 31, 2016

, including voice calls and 4G data usage. The plans above are applicable w.e.f. January 1, 2017.

Unutilized free benefits will be forfeited at the end of validity period and not be carried forward to the next billing cycle for postpaid customers.

Prepaid packs of Rs. 19, 129 and 299 cannot be availed as a first recharge.

Students will be provided 25% additional 4G Wi-Fi data on providing valid identity card.

Prepaid tariffs are inclusive of all applicable taxes.

Applicable taxes will be extra for postpaid tariffs.

15% discount will be given to subscribers opting for e-bill and auto-debit option

for their monthly bill payments.

These plans can only be availed by customers possessing a LTE compatible handset

.
Reliance Jio Store Locator – Here is the link to locate and visit a Reliance Jio store to get a new Jio connection – Link.
You can search your nearest Reliance Jio store by entering your pincode, area or location.
Is Reliance Jio 4G data @ Rs. 50/GB for real?
While Reliance is claiming that it is going to offer 4G Wi-Fi data at Rs. 50 per GB, it doesn't seem to be the case even with its costliest plan of Rs. 4,999 per month. With Rs. 4,999 per month plan, it is costing Rs. 66.65 per GB of 4G data, which is the cheapest of all the plans on offer. However, with its other reasonable plans, it is costing around Rs. 125 per GB of 4G data (Rs. 499 plan), Rs. 100 per GB of 4G data (Rs. 999 plan) and Rs. 75 per GB of 4G data (Rs. 1,499 plan).
Best Plan for Voice Calls – It seems Rs. 149 p.m. plan is the best plan if you want to make unlimited free calls from Jio and your 4G data usage is limited up to 300 MB. In this plan, you'll get unlimited free voice calls, 100 free SMS and Jio Apps subscription worth Rs. 1,250 for free. But, you won't get any free unlimited night data or any JioNet HotSpot 4G data. In this plan, 4G data will effectively cost you Rs. 509 per GB as against Rs. 50 per GB claimed by Reliance. If you want more 4G data, you'll have to opt for other plans with higher rentals or higher commitment of Rs. 499 or above.
Comparison between Reliance Jio, Airtel, Vodafone and Idea 4G Data Plans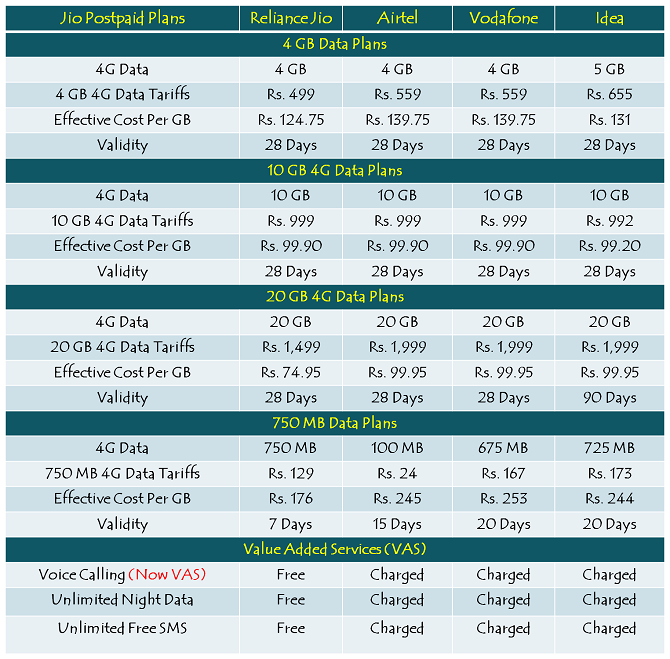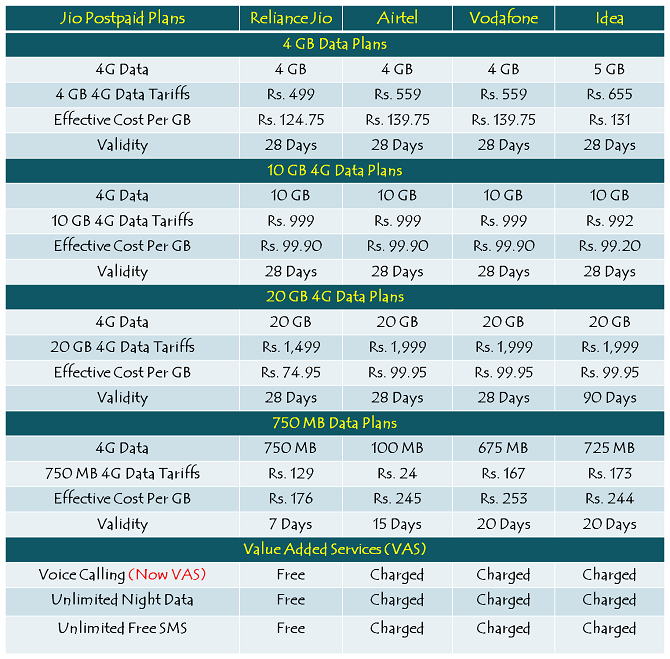 If you check the table above, it is costing Rs. 499 for 4 GB of Jio's 4G data. 4 GB 4G data from Airtel and Vodafone costs Rs. 559, while 5 GB 4G data from Idea costs Rs. 655, which shows it is not amazingly cheap with Jio. It is just 5-10% cheaper with Jio as far as data charges are concerned. Moreover, when it comes to 10 GB data, there is no difference at all between what Jio will offer and what Airtel, Vodafone and Idea already have on table.
However, it makes material difference with Jio's plan of Rs. 1,499. While it costs Rs. 1,499 for 20 GB of Jio's 4G data, the same data costs Rs. 1,999 with Airtel, Vodafone and Idea. This is 25% cheaper with Jio. Airtel, Vodafone and Idea are yet to offer mobile prepaid data of more than 20 GB, so we cannot make a comparison for those data plans here.
Voice Calls Truly Free – This is something what has been making people call Reliance Jio's entry to be disruptive for the telecom industry and its existing players. India is a country where telecom players make more than 70% of their revenues through voice calling services. By making voice calling absolutely free and promising to keep it free forever, Jio has made the incumbent players rethink their future strategy. Jio's data plans are cheaper than Airtel, Vodafone and Idea without even considering that its voice calls are absolutely free. With free voice calling and free unlimited SMS, Jio is going to hit these existing players where it hurts the most.
However, we will still have to wait & watch several things before taking our guns out and start shooting in air. There is no doubt that Reliance is offering very cheap 4G data and absolutely free voice calls, but I think we need to first test Reliance services and its LYF smartphones before dumping our existing connections. Consumers who are already using Jio services are fairly satisfied with its 4G data speed, but as far as voice calls are concerned, there are issues, probably due to interconnection issues.
LYF Smartphones – I have also been told that LYF smartphones, though cheaper, are not up to the mark and I think these days it is really important for a high end customer that his/her sim works in all the best selling smartphones, especially that phone which he/she currently carries or wants to purchase. At present, Jio sim works only with 4G LTE compatible smartphones and not even 10% of Indian consumers have such smartphones. With an ambitious target to have 90% of Indian consumers use Jio services by March 2017, Reliance is required to do everything to make its sims work in all kind of 4G compatible smartphones and also make LYF smartphones the best and the cheapest of the lot.
These are testing times, for Reliance it is testing time for its services and for incumbent players, these are testing times w.r.t. to the competition they are facing from Jio. One thing is certain that the next 6-12 months would be the most interesting period for the Indian telecom industry. How Reliance and other players act or react would set the future course for this industry. Keep your seat belts tight, this plane is surely going to give a lot of blows during this journey.