This post is written by Shiv Kukreja, who is a Certified Financial Planner and runs a financial planning firm, Ojas Capital in Delhi/NCR. He can be reached at skukreja@investitude.co.in
Stock markets are trading expensive as there is a liquidity gush right now. However, no bad news is good news for the stock markets these days. Investors have no option but to take risks and invest in stock markets as all other asset classes seem unattractive at this point in time. But, is the future as bright as it seems to be? That is something nobody knows with certainty.
US markets celebrate every bad news for their economy these days as they want US Fed to stretch its rate hike trajectory as much as possible. They fear that a faster pace of rate hikes would make people to shift their money from stocks to bonds. But, I think bad macroeconomic scenario presents a gloomy picture for the stock markets in the medium to long term and it is not something which should be celebrated. If the current economic environment demands a rate hike, then it is better to do it sooner than postpone it due to some political compulsions.
However, to avoid risks and have a consistent stream of cash flows, investors prefer safer options like fixed deposits, post office schemes, bonds or non-convertible debentures (NCDs) and one such issue will be available for subscription from 15th September. Indiabulls Housing Finance Limited (IHFL) is launching its NCDs issue of Rs. 7,000 crore which carries interest rate in the range of 8.65% to 9.15%.
You will have the option to invest for an investment horizon of 3 years, 5 years and 10 years and it will carry monthly interest option as well if you keep money with them for the next 10 years.
Here are some of the salient features of this issue:
Size & Objective of the Issue – The company plans to raise Rs. 7,000 crore from this issue, including the green shoe option of Rs. 3,500 crore. The company plans to use at least 75% of the issue proceeds for its lending and financing activities and to repay interest and principal of its existing borrowings and a maximum of 25% of the issue proceeds for other general corporate purposes.
Coupon Rate & Tenor of the Issue – The issue will carry coupon rate of 9.20% p.a. for a period of 3 years (36 months), 9.25% p.a. for 5 years (60 months) and 9.30% p.a. for 10 years (120 months). Investors will have the option to receive interest on a monthly, annual or cumulative basis.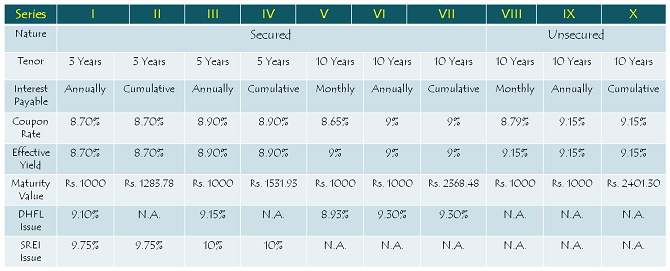 Additional 0.10% for Senior Citizens – IHFL will credit an additional 0.10% per annum to senior citizens who fall in Category IV i.e. who invest Rs. 10 lakh or less. This additional interest will be paid to those senior citizens whose name appear in the books as the bondholders on the Record Date. Such investors need to submit their self-attested copy of PAN as an additional KYC document irrespective of the mode of application, demat as well as physical.
Categories of Investors & Allocation Ratio – The investors have been classified in the following four categories and each category will have the below mentioned percentage fixed in the allotment:
Category I – Qualified Institutional Bidders (QIBs) – 20% of the issue i.e. Rs. 1,400 crore
Category II – Non-Institutional Investors (NIIs) – 20% of the issue i.e. Rs. 1,400 crore
Category III – High Net Worth Individuals (HNIs) including HUFs – 30% of the issue is reserved i.e. Rs. 2,100 crore
Category IV – Resident Indian Individuals including HUFs – 30% of the issue is reserved i.e. Rs. 2,100 crore
Allotment on First-Come First-Served (FCFS) and Basis – Subject to the allocation ratio, allotment will be made on a first-come first-served basis, as well as on a date priority basis i.e. on the date of oversubscription, the allotment will be made on a proportionate basis to all the applicants of that day on which it gets oversubscribed.
NRIs Not Allowed – Non-Resident Indians (NRIs), foreign nationals and qualified foreign investors (QFIs) among others are not eligible to invest in this issue.
Credit Rating & Nature of NCDs – CARE and Brickwork Ratings have rated this issue as 'AAA' with a 'Stable' outlook. 'AAA' rated debt instruments are considered to be the safest from credit default point of view. Series I-VII NCDs are 'Secured' in nature for which the investors have the right on certain assets of IHFL in case of any financial trouble. However, Series VIII-X NCDs are 'Unsecured' in nature and carry a marginally higher rate of interest with a difference of 0.15%.
Listing, Premature Withdrawal & Put/Call Option – IHFL NCDs will be listed on both the stock exchanges i.e. Bombay Stock Exchange (BSE) as well as National Stock Exchange (NSE). The listing will take place within 12 working days from the date the issue gets closed. There is no option to surrender these bonds back to the company for premature redemption as there is no 'Put' option embedded in the offer. However, if taken in demat form, the investors can always sell these bonds on the BSE or NSE.
Demat, Physical Application – Investors can apply for these NCDs either in demat form or physical or certificate form as it is not mandatory have a demat account to invest in these NCDs.
TDS – Interest income earned is taxable with these NCDs and the investors are required to pay tax on the interest income as per their respective tax slabs. TDS @ 10% will be deducted if these NCDs are held in physical/certificate form and annual interest income is more than Rs. 5,000. NCDs held in demat mode will not attract any TDS.
Should you invest in Indiabulls Housing Finance Limited (IHFL) NCDs?
With interest rates falling and demand for such NCDs rising, issuers are leaving no opportunities to trim down the interest rates on offer. Indiabulls Housing is offering interest rates which are lower than the rates DHFL offered last month. However, I think it is justified for IHFL to offer lower rates than DHFL as it is a bigger company with sound fundamentals and carries a better brand name as well.
But, that doesn't make these NCDs attractive to me. I think these coupon rates are lower for me to invest with a private company and I would rather invest in tax-free bonds or debt mutual funds. However, the investors, who are not liable to pay any tax on their annual income or who fall in the 10% tax bracket, can consider investing in these NCDs. Also, if you think interest rates will fall further from here, even then it makes sense to invest in such NCDs as it will result in a capital appreciation of these NCDs.
Note: As per SEBI guidelines, 'Bidding' is mandatory before banking the application form, else the application is liable to get rejected. For bidding of your application, any further info or to invest in Indiabulls Housing Finance Limited (IHFL) NCDs, you can reach us at +91-9811797407