This post is written by Shiv Kukreja, who is a Certified Financial Planner and runs a financial planning firm, Ojas Capital in Delhi/NCR. He can be reached at skukreja@investitude.co.in
Avenue Supermarts Limited, which operates a chain of 118 supermarkets under the brand name 'DMart' primarily in the Western, Southern and Central India, is all set to enter the primary markets and has launched its initial public offer (IPO) from today i.e. March 8. The company wants to raise Rs. 1,870 crore from the issue in the price band of Rs. 294-299.
At the upper end of the price band i.e. Rs. 299 a share, the company will issue approximately 6.25 crore shares representing 10.02% of the post issue paid-up capital. Ace investor Radhakishan Damani and his family members presently own 91.36% stake in the company, but they are not selling any stake in this IPO. As always, the issue will remain open for three working days to close on March 10.
Before we take a decision to invest in this issue or not, let us first check out the salient features of this IPO:
Price Band – The company has fixed its price band to be between Rs. 294-299 per share and no discount will be offered to the retail investors.
Size & Objective of the Issue – Avenue Supermarts will issue around 6.25 crore shares in this issue at Rs. 299  a share to raise Rs. 1,870 crore from the investors. Out of this amount, the company plans to use Rs. 1,080 crore for repayment/prepayment of some of its loans and redemption/early redemption of its NCDs, Rs. 366.60 crore for the construction and purchase of fit outs for its new stores and the remaining proceeds for general corporate purposes.
Retail Allocation – 35% of the issue size is reserved for the retail individual investors (RIIs), 15% is reserved for the non-institutional investors and the remaining 50% shares will be allocated to the qualified institutional buyers (QIBs).
No Discount for Retail Investors – As mentioned above also, the company has decided not to offer any discount to the retail investors.
Anchor Investors – Avenue yesterday finalised allocation of approximately 1.88 crore shares to the anchor investors @ Rs. 299 per share for Rs. 561 crore. Some of these anchor investors include Smallcap World Fund, New World Fund, Government Pension Global Fund, General Atlantic Singapore Fund, FIL Investments Mauritius, First State Indian Subcontinent Fund, Fidelity International Discovery Fund, Franklin Templeton Investment Funds, Government of Singapore, Wasatch Emerging India Fund, Goldman Sachs India Fund, HSBC India Equity Mother Fund, JP Morgan India Smaller Companies Fund, Nomura India Stock Mother Fund, Acacia Banyan Partners and T Rowe Price New Asia Fund.
Bid Lot Size & Minimum Investment – Investors need to bid for a minimum of 50 shares and in multiples of 50 shares thereafter. So, a retail investor would be required to invest a minimum of Rs. 14,950 at the upper end of the price band and Rs. 14,700 at the lower end of the price band.
Maximum Investment – Individual investors investing up to Rs. 2 lakh are categorised as retail individual investors (RIIs). As a retail investor, you can apply for a maximum of 13 lots of 50 shares @ Rs. 299 i.e. a maximum investment of Rs. 1,94,350. At Rs. 294 a share also, you can apply for 13 lots only, thus making it Rs. 1,91,100.
Listing – The shares of the company will get listed on both the stock exchanges i.e. National Stock Exchange (NSE) and Bombay Stock Exchange (BSE) within 6 working days after the issue gets closed on 8th March. March 21st is the tentative date for its listing.
Here are some other important dates after the issue gets closed:
Finalisation of Basis of Allotment – On or about March 16, 2017
Initiation of Refunds – On or about March 17, 2017
Credit of equity shares to investors' demat accounts – On or about March 20, 2017
Commencement of Trading on the NSE/BSE – On or about March 21, 2017
Financials of Avenue Supermats Limited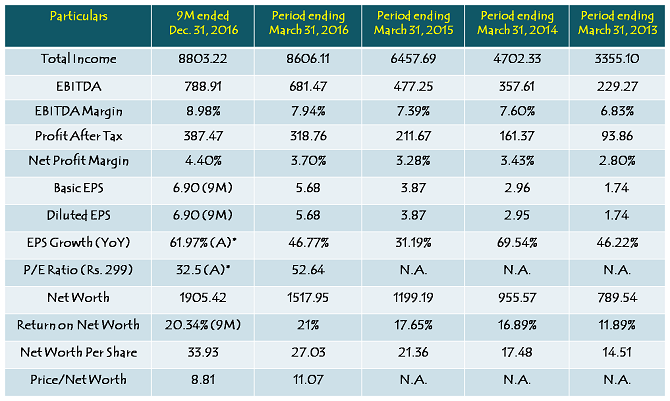 Note: Figures are in Rs. Crore, except per share data, figures in billions & percentage figures
Peer Comparison – Avenue Supermarts, Future Retail & Trent (Westside)

Should you invest in Avenue Supermarts @ Rs. 299 a share?
What I like about this company is that it operates most of its stores predominantly on an ownership model. The company usually buys land for its stores, builds them and operates these stores rather than taking premises on rentals. This way the company is not required to pay rentals for most of its stores and thereby saves a huge amount it would have to shell out on paying rentals for its leased premises. Its biggest competitors, Future Retail and Reliance Retail, operate most of their stores from leased premises and thereby pay a hefty amount in rentals.
Moreover, the company procures its goods directly from the vendors and manufacturers, thereby eliminating the costs of middlemen. The company also focuses on minimising inventory build-up through product assortment.
At its expected issue price of Rs. 299, Avenue Supermarts will have an enterprise value of close to Rs. 19,300 crore. Based on its annualised EBITDA of around Rs. 1,060 crore, it will be valued at an EV/EBITDA of 18.21 times. Its listed peer Future Retail currently trades at an EV/EBITDA of 24.5 times, which makes this issue relatively more attractive.
At Rs. 299 a share, the company is valued at 32.5 times its expected FY 16 annualised earnings and 8.81 times its net worth. These valuations are not cheap. But, then the way the company has been growing and its profitability and margins have improved in a healthy manner over all these years, the issue doesn't seem expensive from medium to long term perspective. As the sentiment is positive for the issue as well as for the stock markets, it looks extremely safe and attractive from listing gains point of view as well.
However, undue exuberance is the only thing I am worried about in this IPO. Investors are underinvested in the stock markets right now. A sharp recovery in the stock markets post demonetisation gloom has left all of us surprised. Most investors are still sitting on the sidelines waiting for the markets to correct. They are grossly disappointed with their less than potential investment in stocks. Cash balances are huge, but opportunities are limited for that cash to get deployed.
In this case, though the company is highly efficient and the issue is good, but then it is made out by the brokers and analysts that it would be a multibagger stock on the listing day itself. That is why I expect a huge oversubscription for this issue. That might result in some kind of euphoria as the stock gets listed on the stock exchanges. I would advise the investors to not feel euphoric about it and take this opportunity to book their profits on the listing day itself. However, everything else is fine with this issue and I would advise my clients and other investors to subscribe to it.