This post is written by Shiv Kukreja, who is a Certified Financial Planner and runs a financial planning firm, Ojas Capital in Delhi/NCR. He can be reached at skukreja@investitude.co.in
HUDCO IPO is opening today for subscription. I covered the details of this IPO on Friday. Here is the link for some of its general details – HUDCO IPO – May 2017 Issue
So, now comes the turn of the most important aspect of this IPO and that is, whether one should invest in it or not? Let's begin to analyse it by checking its financials and other aspects.
HUDCO operates in two broad segments – housing finance and urban infrastructure finance. It has a loan portfolio of Rs. 36,385.82 crore as on December 31, 2016, of which 30.86% are housing finance loans and 69.14% are urban infrastructure finance loans. Housing finance loans, which is branded as HUDCO Niwas, is further categorised into social housing – EWS and LIG borrowers being the ultimate beneficiaries, residential real estate – middle-income and high-income group of society being the ultimate beneficiaries, and retail finance.
Under Urban Infrastructure Finance, HUDCO provides loans for projects relating to water supply, roads and transport (including railways and ports), power, emerging sectors including SEZs, industrial infrastructure, gas pipelines, oil terminals and telecom sector projects, and other commercial and social infrastructure.
Financials of HUDCO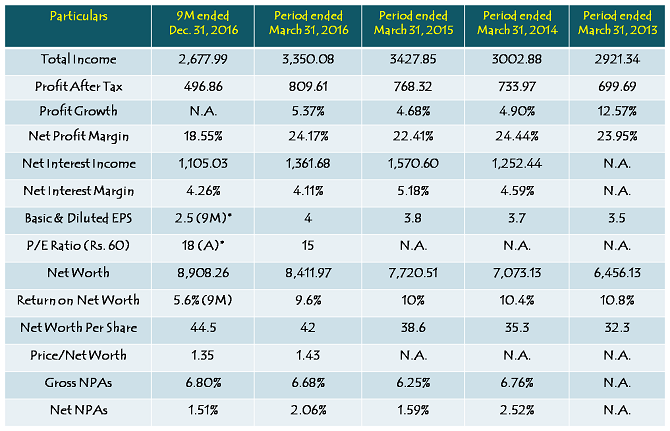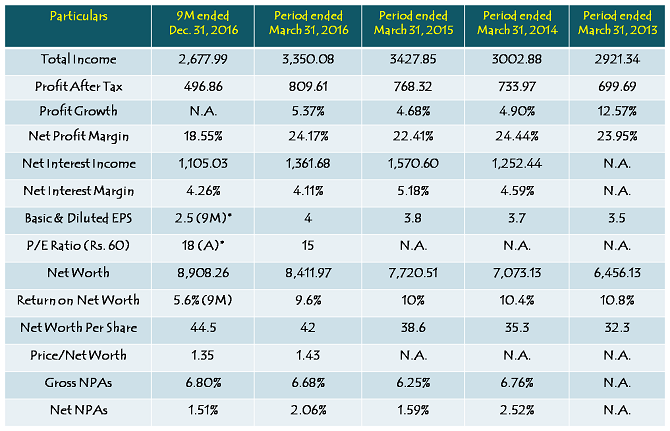 Note: Figures are in Rs. Crore, except per share data & percentage figures
Should you invest in HUDCO IPO @ Rs. 58 a share?
Personally, I have many reasons to avoid this issue and the most important of them are – size of the issue, growth of the company in the past few years, and an irrational exuberance around this issue. I mean why people want to invest only in the HUDCO IPO today? Even if somebody can convince me about the company's future growth and the size of the issue being not too small, that's ok, but I am still very confident that it would get oversubscribed to the tune of at least 15-20 times in the retail investors' category, which makes allotment highly unpredictable for me. And, even if I get lucky in the lottery system of allotment, I would not get more than 200 shares allotted. And, even if it gets listed at Rs. 90 a share (which I think is highly unjustified), I would make only Rs. 6,000-7,000 on listing. So, I don't want to get indulged in such kind of mad rush for such a tiny gain. I think it is time to find out some hidden gems, which are not in the market spotlight as of now, but have a good potential to carry higher growth and provide higher returns.  
Pricing in this issue, if not expensive, is not cheap either. At Rs. 60 a share and a discount of Rs. 2 for the retail investors, I think the issue is fairly valued at 17-18 times PE ratio and 1.3 times its book value, and not greatly attractive as the market participants are claiming it to be. As you can check from the table above, the company reported a PAT of Rs. 699.69 crore for FY 2012-13, and that has grown to just Rs. 809.61 crore during FY 2015-16. With a PAT of Rs. 496.86 crore in the nine-month period ending December 31, 2016, it seems the company would report a degrowth in its profits for the previous financial year.
HUDCO has reported a profit growth of 12.57%, 4.90%, 4.68% and 5.37% from FY 2012-13 to FY 2015-16, but it is still seeking a PE ratio of 17-18 times, which is on a higher side from PEG (Price Earnings over Growth) perspective.
HUDCO's net interest margins (NIMs) are also seeing a decline in the past few years, from 4.59% in FY 2013-14 and 5.18% in FY 2014-15, it has fallen to 4.11% in FY 2015-16 and 4.26% in the nine-month period post that. Moreover, despite of the fact that the company stopped sanctioning new social housing and residential real estate loans to entities in the private sector in March 2013, its gross NPAs and Net NPAs are still elevated at 6.80% and 1.51% respectively.
There are many public sector companies which offer better growth opportunities and are priced even more attractively as compared to HUDCO. I think there is an unnecessary euphoria around it as it is an IPO. IPOs in such euphoric times have been given such kind of hype in the past as well. But, the investors would do well to keep their heads steady and invest in some of the already listed, professionally managed, reasonably priced companies as compared to HUDCO.
This issue could still earn you some decent listing gain, but that would happen only due to a change in the investors' sentiment post BJP's UP poll win and big jump in the indices in the last 3-4 months. But, I want to ask, why do you need to participate in a lottery system in which the probability of getting allotment is too low and the fundamentals of the company are yet to show any signs of improvement?