This post is written by Shiv Kukreja, who is a Certified Financial Planner and runs a financial planning firm, Ojas Capital in Delhi/NCR. He can be reached at skukreja@investitude.co.in
After IRB InvIT successfully raising Rs. 4,300 crore from the investors, one more InvIT fund is knocking your doors to raise Rs. 2,250 crore in the price band of Rs. 98-100. This fund is already open for subscription since Wednesday i.e. May 17th and will get closed by today evening.
IRB InvIT got listed on the stock exchanges today and had a very boring first day of listing amid an eventful day in the stock markets. Unlike expectations of some healthy listing gains, IRB InvIT quickly moved into the negative territory and touched a low of Rs. 99.75 before moving up again and finally closing at Rs. 101.80.
IndiGrid InvIT, launched by its sponsor Sterlite Power Grid Venture Limited, is the second such InvIT and here we have certain details about its Initial Public Offer (IPO).
What are InvITs and where your money will be invested?
As mentioned in my last review of IRB InvIT Fund, InvITs are investors' pooled investments in infrastructure projects. InvITs are similar to mutual funds structurally, as they would have a trustee, a sponsor, an investment manager and a project manager. However, InvITs are practically similar to ETFs or exchange traded funds. Like ETFs, InvITs will also get listed and traded on the stock exchanges and the investors will be allotted units of the same against their investments.
To begin with, IndiGrid InvIT Fund will initially acquire 2 projects – Bhopal Dhule Transmission Company Limited (BDTCL) and Jabalpur Transmission Company Limited (JTCL), from its sponsor – Sterlite Power Grid Ventures Limited. These two projects have a total network of 8 power transmission lines of approximately 1,936 circuit kms and two substations having 6,000 MVA of transformation capacity across 4 states – Madhya Pradesh, Chhattisgarh, Gujarat and Maharashtra.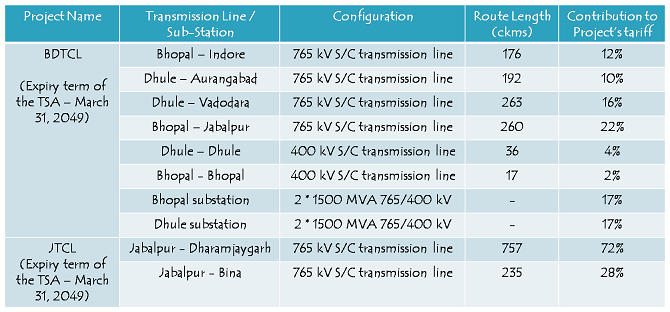 Pursuant to the "Right of First Offer" (ROFO), IndiGrid InvIT has a right of first offer in respect of eight inter-state power transmission projects, having a transmission network of 21 power transmission lines of approximately 4,831 circuit kms and five substations, with a transformation capacity of 6,630 MVA.
Issue Details of India Grid InvIT Fund
Price Band – India Grid has fixed its price band to be Rs. 98-100 per unit.
Minimum Investment – Investors are required to apply for a minimum of 10,206 units of this fund i.e. Rs. 10,20,600 or Rs. 10.206 lakh.
Trading Lot Size – These units will trade in the lots of 5,103 units.
Size & Objective of the Issue – India Grid plans to raise Rs. 2,250 crore via a fresh issue of its units in the price band of Rs. 98-100. These proceeds will be utilised to provide loans to the existing two projects of this InvIT – BDTCL and JTCL. This loan facility will carry an interest rate of 13% per annum, which could be reset on an annual basis. In turn, BDTCL and JTCL will utilize the proceeds to repay or pre-pay their debt availed from banks and other financial institutions.
Credit Rating – IndiGrid has been given a corporate credit rating 'AAA/Stable' by CRISIL, 'IND AAA'/Stable by India Ratings and "IrAAA" (IR triple A) with stable outlook by ICRA.
Allocation to Individual Investors – 25% of the issue size is reserved for the non-institutional investors. Rest 75% is for the institutional investors, including FPIs, insurance companies, mutual funds etc.
Anchor Investors – IndiGrid on Tuesday finalised allocation of approximately 10.12 crore units to the anchor investors @ Rs. 100 per unit for Rs. 1,012.44 crore. Some of these anchor investors include BNP Paribas Arbitrage, Deutsche Global Infrastructure Fund, Schroders Asian Asset Income Fund, Future Fund Board of Guardians (managed by RREEF America LLC), Reliance Nippon Life Insurance, National Westminster Bank PLC, Discovery Global Opportunity (Mauritius), and Kotak Mahindra Old Mutual Life Insurance, among others.
Listing – These units will get listed on both the stock exchanges i.e. National Stock Exchange (NSE) and Bombay Stock Exchange (BSE) within 12 working days after the issue gets closed on 19th May.
Sources of Returns for Investors
Dividend Income – The InvIT Regulations provide that not less than 90% of net distributable cash flows of each Project SPV are required to be distributed to the Trust in proportion of its holding in each of the Project SPVs. Further, not less than 90% of net distributable cash flows of the Trust shall be distributed to the Unitholders. Such distributions are required to be declared and paid to the unitholders at least once every six months in a financial year.
Based on management communications, dividend yield from this fund are expected to be in the range of 12-15%. Such cash flows as dividend would be tax-free for the investors.
Capital Appreciation – Though you should not expect equity kind of capital appreciation or volatility in returns with this fund, it is quite possible to have capital gains/losses in case of high/low demand for these units, especially from the institutional investors.
Tax Treatment of InvIT Investments
Dividend Income distributed by the Trust is exempt in the hands of the unitholders.
Long Term Capital Gains (LTCG) would be applicable if the units are held for more than 3 years and it would be exempt from tax provided STT has been paid on sale of such units.   
Short Term Capital Gains (STCG) would be applicable if the units are sold before completion of 3 years and it would be calculated at 15% provided STT has been paid on sale of such units.
Interest Income paid, if any, would be taxable in the hands of the unitholders.
Financials of IndiGrid InvIT Projects – BDTCL & JTCL

(Note: All figures are in Rs. Crore)
Should you invest in IndiGrid InvIT IPO at Rs. 98-100?
IRB's InvIT fund got listed on the stock exchanges today. As against an expected listing gain of Rs. 5-8 a unit, it received a muted response from the institutional investors as well as high net worth individual investors and got listed at its issue price of Rs. 102. It touched a high of Rs. 105 and a low of Rs. 99.75 before finally closing at a price of Rs. 101.80 a unit i.e. a very minor discount to the issue price of Rs. 102.
These InvITs are new products in the markets and unlike equities, carry limited scope of high returns in the long run. At the same time, these funds are not as safe as fixed deposits (FDs) or debt mutual funds and carry several kind of risks in the long term. As these funds are expected to generate 10-13% annual returns for their investors, I think individual investors should not go overboard with these InvITs as of now and wait for their quarterly/half yearly performance and payout first before committing their hard earned money.
As compared to IRB's InvIT fund, projects under IndiGrid InvIT fund carry a longer tenure of 35 years and has more secured income stream due to its long term transmission service agreements (TSAs). As mentioned above, IndiGrid InvIT Fund is expected to acquire 8 more projects out of the remaining 9 projects from its sponsor Sterlite Power Grid over the next few years, which is expected to result in higher cash flows over the next few years.
However, it is not for the short term investors. Patience is key here and only long term investors with an investment horizon of more than 3-5 years should invest in this fund for a risk-reward matrix falling somewhere between debt funds and equity funds.