This post is written by Shiv Kukreja, who is a Certified Financial Planner and runs a financial planning firm, Ojas Capital in Delhi/NCR. He can be reached at skukreja@investitude.co.in
Central Depository Services (India) Limited (or CDSL), a 50.05% subsidiary of the Bombay Stock Exchange (BSE), has launched its initial public offer (IPO) from June 19 in the price band of Rs. 145-149 a share. The company is expected to raise Rs. 524 crore in this issue and the same will remain open for the next two days only to close on June 21.
This IPO is actually an offer for sale by some of CDSL's existing shareholders, BSE, State Bank of India (SBI), Bank of Baroda and The Calcutta Stock Exchange, and that is why, the company is not going to get any money for any of its expansion plans or to retire any of its debt. Its other shareholders, HDFC Bank, Standard Chartered Bank, Canara Bank, Bank of India and Union Bank of India, are not selling any stake in this IPO.
CDSL derives its revenues from a multiple sources – issuer charges, transaction charges, IPO/corporate action charges, ECAS charges, e-voting charges, user facility charges, and many other services. It also earns a large part of its revenues from its investments in tax-free bonds and debt mutual funds.  
Before we take a decision to invest in this issue or not, let us first check out the salient features of this IPO:
Price Band – The company has fixed its price band to be between Rs. 145-149 per share and no discount is getting offered to the retail investors.
Size & Objective of the Issue – CDSL will issue around 3.52 crore shares in this issue at Rs. 149  a share to raise Rs. 524 crore from the investors. Out of this amount, the company plans to use crore for repayment/prepayment of some of its loans and redemption/early redemption of its NCDs, crore for the construction and purchase of fit outs for its new stores and the remaining proceeds for general corporate purposes.
Retail Allocation – 35% of the issue size is reserved for the retail individual investors (RIIs), 15% is reserved for the non-institutional investors and the remaining 50% shares will be allocated to the qualified institutional buyers (QIBs).
No Discount for Retail Investors – As mentioned above also, the company has decided not to offer any discount to the retail investors.
Anchor Investors – CDSL on Friday finalised allocation of approximately  crore shares to the anchor investors @ Rs. 149 per share for Rs.  crore. Some of these anchor investors include Abu Dhabi Investment Authority, FIL Investments (Mauritius) Limited, Goldman Sachs India Limited, SBI Magnum Tax Gain, ICICI Prudential Dividend Yield Equity Fund and ICICI Prudential Value Fund – Series 6.
Bid Lot Size & Minimum Investment – Investors need to bid for a minimum of 100 shares and in multiples of 100 shares thereafter. So, a retail investor would be required to invest a minimum of Rs. 14,900 at the upper end of the price band and Rs. 14,500 at the lower end of the price band.
Maximum Investment – Individual investors investing up to Rs. 2 lakh are categorised as retail individual investors (RIIs). As a retail investor, you can apply for a maximum of 13 lots of 100 shares @ Rs. 149 i.e. a maximum investment of Rs. 1,93,700. At Rs. 145 a share also, you can apply for 13 lots only, thus making it Rs. 1,88,500.
Listing – The shares of the company will get listed only on the National Stock Exchange (NSE), as the Bombay Stock Exchange (BSE) holds a majority shareholding in the company pre-IPO and as per the SEBI regulations, a stock exchange and its subsidiaries cannot get listed on its own exchange. The listing will happen within 6 working days after the issue gets closed on 21st June. June 30th is the tentative date for its listing.
Here are some other important dates after the issue gets closed:
Finalisation of Basis of Allotment – On or about June 29, 2017
Initiation of Refunds – On or about June 29, 2017
Credit of equity shares to investors' demat accounts – On or about June 29, 2017
Commencement of Trading on the NSE/BSE – On or about June 30, 2017
Financials of CDSL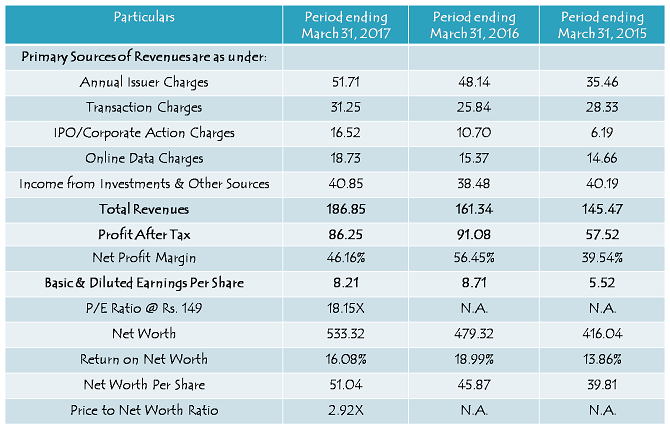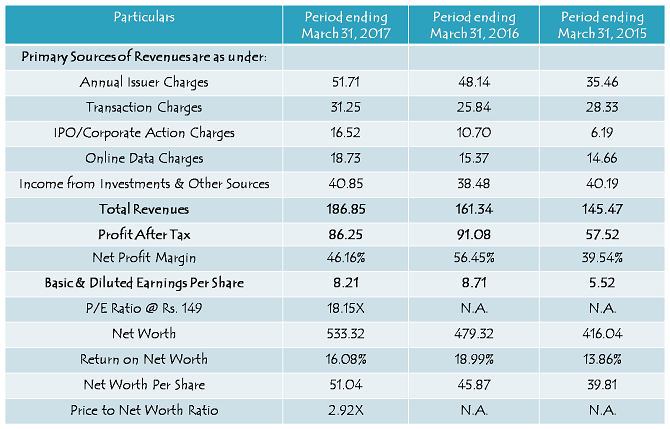 (Note: Figures are in Rs. Crore, except per share data & percentage figures)
Comparison of CDSL & NSDL

Should you invest in CDSL IPO @ Rs. 149?
At Rs. 149 a share, CDSL IPO is priced at 18 times its FY 2016-17 earnings and 2.92 times its net worth as on March 31, 2017, which seems fairly valued to me. In terms of market share, CDSL has been an outperformer, despite NSDL being a dominant player as far as use of technology is concerned. But, that is something CDSL has been doing at the cost of operating revenues and/or margins. It has grown at a steady pace all these years, but I would call it a dull show as the company has not been able to grow its revenues, profits and margins in line with its growth in market share.
Going forward, the business is expected to grow rapidly as the market sentiment has changed dramatically in the last 5-6 months and is expected to remain buoyant going forward as well. But, as the SEBI regulations limits extraordinary price changes by these depositories, I expect CDSL to grow at a relatively moderate pace only. No fireworks are expected in its operating revenues going forward and thus, would advise investing in it just for the listing gains only and not for medium to long-term wealth creation.