This post is written by Shiv Kukreja, who is a Certified Financial Planner and runs a financial planning firm, Ojas Capital in Delhi/NCR. He can be reached at skukreja@investitude.co.in
Edelweiss Retail Finance Limited, a company acquired by Edelcap Securities in 2012, is launching its public issue of secured and redeemable non-convertible debentures (NCDs) from the coming Wednesday, March 7. The issue will offer an effective yield of 9.25% for 10 years, 9% for 5 years and 8.75% for a period of 3 years from deemed date of allotment with monthly and annual interest payment options. The issue is scheduled to remain open till March 22, unless the company decides to close it prematurely due to oversubscription or due to any other reason mentioned in its offer document.
Size & Objective of the Issue – Edelweiss Retail plans to raise Rs. 500 crore from this issue, including the green shoe option of Rs. 250 crore. The company plans to use at least 75% of the issue proceeds for its lending activities and to repay its existing loans and up to 25% of the proceeds for general corporate purposes.
Coupon Rate & Tenor of the Issue – The company has decided to issue its NCDs for a duration of 3 years, 5 years and 10 years. For 3 years, the company is offering 8.75% p.a. payable annually and 8.42% p.a. payable monthly. For 5 years, the coupon rates are 8.65% p.a. and 9% p.a. and for 10 years, these rates are 8.88% p.a. and 9.25% p.a. respectively.


Minimum Investment – Investors need to apply for a minimum of ten bonds of Rs. 1,000 face value in this issue i.e. an investment of Rs. 10,000 at least.
Categories of Investors & Allocation Ratio – The investors have been classified in the following four categories and each category will have the below mentioned percentage fixed in the allotment:
Category I – Institutional Investors – 20% of the issue i.e. Rs. 100 crore
Category II – Non-Institutional Investors – 10% of the issue i.e. Rs. 50 crore
Category III – High Networth Individuals (HNIs) – 20% of the issue i.e. Rs. 100 crore
Category IV – Retail Individual Investors & HUFs – 50% of the issue i.e. Rs. 250 crore
Allotment will be made on a first-come first-served basis, as well as on a date priority basis i.e. on the date of oversubscription, the allotment will be made on a proportionate basis to all the applicants of that day on which it gets oversubscribed.
NRIs Not Allowed – Non-Resident Indians (NRIs), foreign nationals and qualified foreign investors (QFIs) among others are not eligible to invest in this issue.
Credit Rating & Nature of NCDs – CRISIL and ICRA have rated this issue as 'AA' with a 'Stable' outlook. As mentioned above, these NCDs will be 'Secured' in nature.
Listing, Premature Withdrawal & Put/Call Option – These NCDs will get listed on both the stock exchanges i.e. Bombay Stock Exchange (BSE) as well as National Stock Exchange (NSE). The listing will take place within 12 working days after the issue gets closed. Though there is no option of a premature redemption, the investors can always sell these bonds on the exchanges. The company too does not have the option to 'Call' these NCDs during the tenure of these NCDs for which they are issued.
Demat & TDS – Demat account is not mandatory to invest in these bonds as the investors have the option to apply these NCDs in physical form as well. Also, though the interest income would be taxable with these bonds, NCDs taken in demat form will not attract any TDS.
Financials of Edelweiss Retail Finance Limited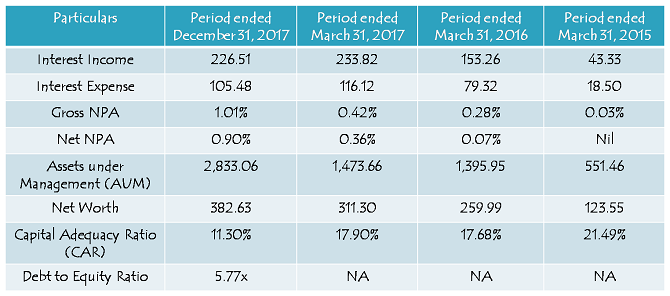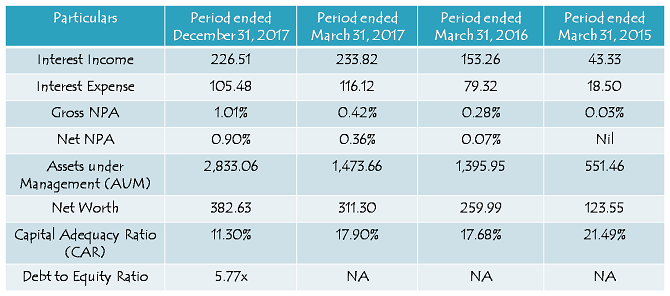 (Note: Figures are in Rs. Crore, except percentage figures & Debt to Equity Ratio)
Should you invest in Edelweiss Retail Finance NCDs?
Like I expressed my views about SREI Infrastructure Finance NCDs last week, for this issue too, I think the interest rates on offer fall at least 50 basis points (or 0.50% p.a.) short of my expectations. Despite of the fact that the interest rates this issue is carrying are still higher than almost all of the bank fixed deposits, these rates are not attractive enough for me to put my money in these NCDs. In a rising interest rate scenario, these companies should have offered higher rates in order to compensate higher risk they carry and also to make up for higher expected rates in future.
But, in the absence of a better alternate investment option, where should we invest our money? If you think that the worst of demonetisation and GST implementation is behind us and our macroeconomic numbers will improve from hereon, then probably it is time that we should move our money to either medium-term debt funds or long-term gilt funds. However, if you have a view that our economic recovery is still somewhat far from the desired levels, then it would be better to stay invested in short term funds, liquid funds or bank FDs.
However, investors, with an appetite to absorb somewhat higher risk and who have a view that the bond yields have peaked in the short term, can consider investing in this issue, but only for 3 years or 5 years. Investing for 10 years with a private issuer should be best avoided.
Application Form – Edelweiss Retail Finance NCDs
Note: As per SEBI guidelines, 'Bidding' is mandatory before banking the application form, else the application is liable to get rejected. For bidding of your application, any further info or to invest in Edelweiss Retail Finance NCDs, you can reach us at +91-9811797407