This post is written by Shiv Kukreja, who is a Certified Financial Planner and runs a financial planning firm, Ojas Capital in Delhi/NCR. He can be reached at skukreja@investitude.co.in
Post Budget 2018, Indian stock markets have turned volatile. It is not just the re-introduction of the LTCG tax, but also the global jitters which have sent our markets into a tailspin. But, as the money is still chasing a few good quality stocks and there is a dearth of investment options in other asset classes as well, the companies have resumed knocking our doors to raise money for their future expansions.
In this week alone, three companies have launched their initial public offers (IPOs) and one such company is Bandhan Bank, whose IPO opened for subscription yesterday and will get closed on Monday, 19th of March.
What's on Offer?
This initial public offer (IPO) of Bandhan Bank comprises of a sale of approximately 11.93 crore shares to the investors. It is a mix of fresh issue of approximately 9.77 crore shares by the bank and an offer for sale of 2.16 crore shares by International Finance Corporation (IFC).
35% of the issue size is reserved for the retail individual investors (RIIs) i.e. approximately 4.17 crore shares out of 11.93 crore shares on offer, 15% is reserved for the non-institutional investors and the remaining 50% shares will be allocated to the qualified institutional buyers (QIBs).
Bandhan Bank has fixed its price band to be between Rs. 370-375 per share. There is no discount for the retail investors though. Here are other salient features of this IPO:
Bid Lot Size & Minimum Investment – Investors need to bid for a minimum of 40 shares and in multiples of 40 shares thereafter. So, a retail investor would be required to invest a minimum of Rs. 15,000 at the upper end of the price band and Rs. 14,800 at the lower end of the price band.
Maximum Investment – Individual investors investing up to Rs. 2 lakh are categorised as retail individual investors (RIIs). As a retail investor, you can apply for a maximum of 13 lots of 40 shares in this IPO i.e. a maximum investment of Rs. 1,95,000.
Objective of the Issue – As per the new bank licensing guidelines issued by the RBI, Bandhan Bank was required to get itself listed on the stock exchanges within 3 years from the date it commences its business operations. So, in order to comply with such guidelines, the bank has undertaken this issue. Moreover, Bandhan will raise Rs. 4,473 crore from this issue and the company plans to use the proceeds to augment its Tier-I capital base.
Listing – The shares of the company will get listed on both the stock exchanges i.e. National Stock Exchange (NSE) and Bombay Stock Exchange (BSE) within 6 working days after the issue gets closed on 19th March. Here are the important dates after the issue gets closed:
Finalisation of Basis of Allotment – On or about March 22, 2018
Initiation of Refunds – On or about March 23, 2018
Credit of equity shares to investors' demat accounts – On or about March 26, 2018
Commencement of Trading on the NSE/BSE – On or about March 27, 2018
Financials of Bandhan Bank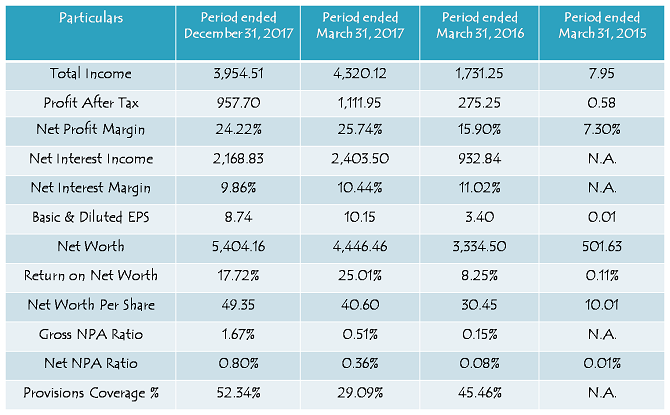 Note: Figures are in Rs. Crore, except per share data & percentage figures.
For the financial year ended March 31, 2017, Bandhan Bank reported a total income of Rs. 4320 crore as compared to Rs. 1,731 crore it reported during financial year 2015-16, registering a growth of 149.57% in the last one year. The bank reported profit after tax (PAT) of Rs. 1,112 crore for the financial year ended March 31, 2017 as against Rs. 275 crore for the financial year ended March 31, 2016, posting a growth of 304% CAGR.
Bank's net interest margins (NIMs) are the most impressive at 10.44% in FY 2016-17, which have fallen marginally to 9.86% during 9-months ended December 31, 2017. However, its asset quality has also deteriorated somewhat, but given the market scenario, it is still well within investors' comfort zone.
Should you subscribe or not?


Note: Market Caps and Market Prices are dated March 15, 2018. Book Values are of March 31, 2017. EPS have been annualised taking 9-month EPS as on December 31, 2017.