Thinksoft Global Services has recently posted its draft prospectus for filing an IPO. Here is an overview of Thinksoft Global IPO.
Thinksoft Global: Business of the Company
Thinksoft Global is an IT player that operates in the niche area of software testing in the Banking, Financial Services and Insurance (BFSI) vertical. Thinksoft is an early entrant in the field of software testing and has about 10 years of experience in the BFSI domain in testing.
They have 508 employees as on February 8, 2009. It is also ISO 27001:2005 and 9001:2005 certified.  IT service providers generate their revenue by charging customers for the consultants working on their projects. Such consultants can be located offshore or onsite. Presently, the company generates 59.41% of its revenues from its onsite activities and it expects this to go to 55% in the future.
The company provides the following services to its customers:
1. Functional Testing
2. Performance Testing
3. Test Automation
4. Requirements Documentation
The company also offers the New Testing Quadrant tool that enables financial executives evaluate software testing alternatives. This tool gives a two dimensional view and measures software testing vendors on the following two measures:
Methodology of Testing
Orientation to Executing Software Testing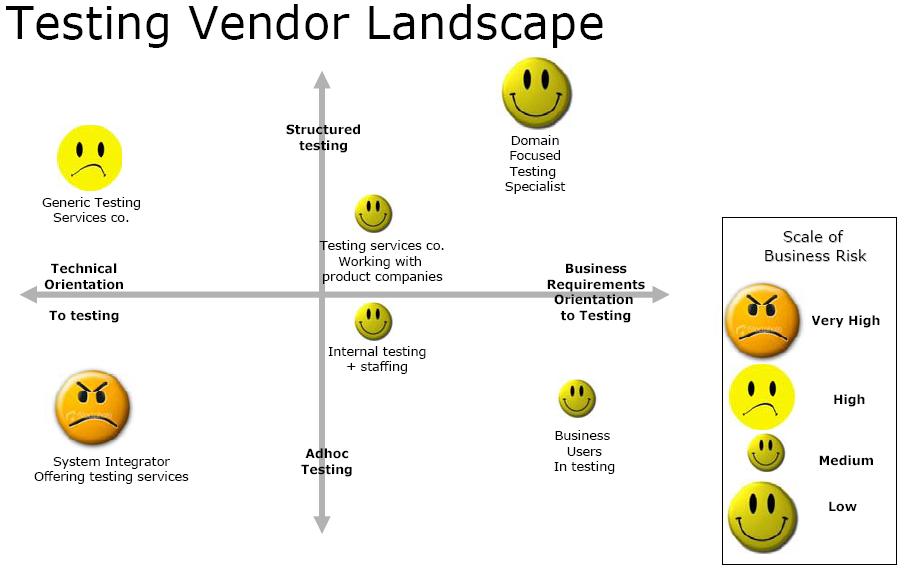 The top customers of Thinksoft include the following companies:
Citigroup
ABN AMRO
Morgan Stanley
Deutsche Bank
Metlife
Bank of Muscat
State Bank of India
ICICI Bank
EurIndia: a Gibraltar based fund, owns 31.2% of Thinksoft and invested in it in 2000.
Thinksoft Global: Key Risks
Thinksoft is heavily dependent on European customers with as much as 58% of its revenues for 2008 coming from European based clients.
Thinksoft is also quite heavily dependent on a few customers with the top customer making up as much as 25% of its revenues for 2008 and the top 10 customers accounting for 94.85% of its revenues for 2008.
Thinksoft plans to incur substantial capital expenditure to the tune of Rs.1609.34 lakhs in Fiscal 2009 and 2010. This expenditure is planned with the expectation of growing business and if the business doesn't grow as expected, then this will be a drag on profitability.
The company is a relatively smaller player in a market which is filled with older, more established and much bigger players than Thinksoft itself.
Thinksoft Financials
For the year ended March 2008, the turnover of the company was Rs.6,997.38 lakhs which rose from Rs. 5,300.22 lakhs in 2007 and Rs.3,463.12 in the year before. The net profit for 2008 was Rs. 934.07 lakhs which rose from Rs.807.55 lakhs in 2007 and Rs.368.35 lakhs in the year before.  The net profit margin for the latest year is 13.34%
The diluted EPS for the last three years has been Rs.12.55, Rs.11.28 and Rs.5.21.
Thinksoft generated 87% of its revenue on the basis of Time and Material contracts for the half year ended September 30, 2008. The remaining came from Fixed Price Contracts. Time and Material Contracts are contracts in which a customer agrees to pay the vendor for the number of days the project runs and this protects the vendor from project slippages and delays.
This is just a draft filing and the price band at which the company wishes to sell its stock is not disclosed yet.