for the employee reservation part of its offer.
Forgive the mis-leading headline but the Coal India IPO opened today, and as expected, there was a lot of excitement in the media about its subscription numbers.
Reading through the headlines I felt the IPO must have done quite well on the first day itself, but on closer look, I found nothing  spectacular about these subscription numbers.
So, I thought I'd go the other extreme and with a little use of selective statistics create a headline which is eye catching, true to an extent but not really reflective of the underlying reality.
It's true that most retail investors participate on the last day, and that as the momentum builds this issue may be over-subscribed by up to 10 times, but that hasn't happened yet, so instead of speculating on what could happen, I thought I'd take a look at the current subscription numbers, and show you how they are mostly dull.
As long time readers know, a certain percentage of stock is reserved for different categories of investors, so I will show you the Coal India IPO subscription numbers as they stand at the end of day 1 broken out into the different categories.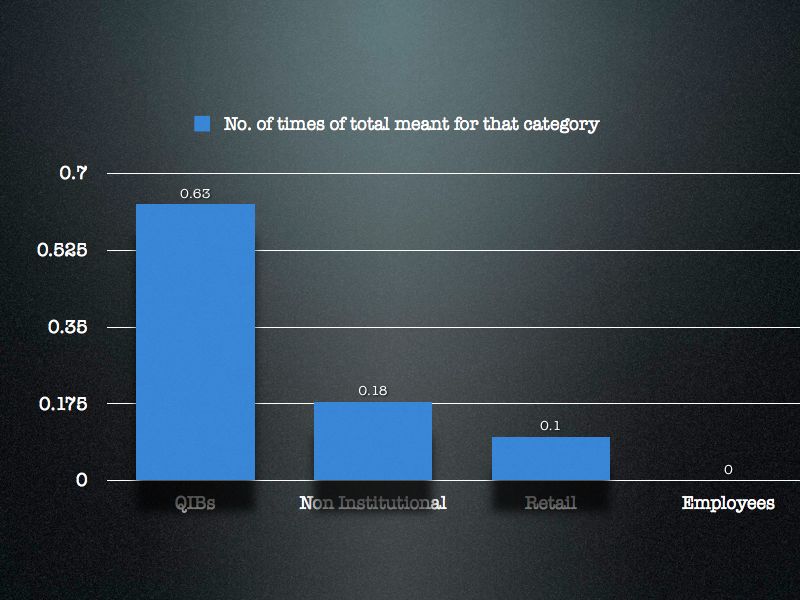 All data from NSE.
As you can see the QIBs are the ones that have taken a good position on day 1, but the responses from other categories is just about what any other IPO would expect, so really there's nothing much to see here.
If you are not familiar with the categories, and how the headline over-subscription number most often reported is the sum of all categories, and is not entirely relevant for retail investors read my earlier post on over-subscription numbers that I did during the NHPC IPO.
Oh, and I almost forgot, here is how the shares are reserved among different categories.