After looking at what constitutes India's major exports, and India's major imports – let's now look at India's major trading partners.
The three charts we will look at in this post are the top 15 countries that India exports to, the top 15 countries that import from India and the trade balance that India has with its top 15 trading partners. This data is for 2010 – 11 and taken from the Commerce Ministry website.
Let's start with exports, and here are the top 15 countries that India exports to along with their percentage share in total exports for 2010 – 11.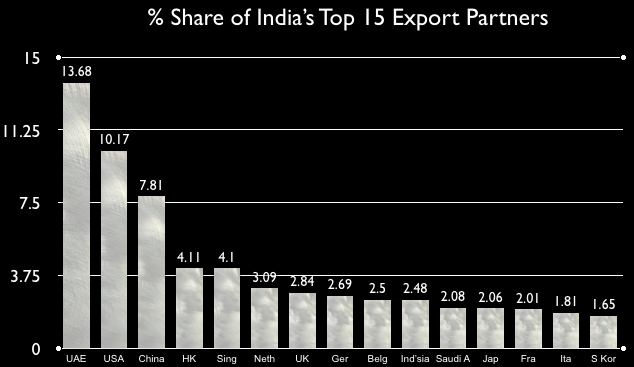 One of the more interesting things in this chart is that if you were to combine China and Hong Kong they will take second place displacing USA. The thing that you don't see in this chart is the growth rates, and while the US growth rate was 30.78%, UAE was 43.3% – that of China was 68.8%. In a few years time – these two combined could easily become India's biggest export market.
Now, let's take a look at the top 15 countries that India imports from.
China's presence at the top probably doesn't surprise anyone, and that a lot of oil producing countries are littered in the list is also expected.
To me, the most interesting one there was Iran. With the recent embargoes by US and EU, and no clarity on how India will pay Iran for their oil – expect to read about this a lot more in the coming days.
Now, let's take a look at the total trade balance data. A positive number shows that India exports more than it imports to the country (trade surplus), and a negative number shows that India imports more than it exports (trade deficit).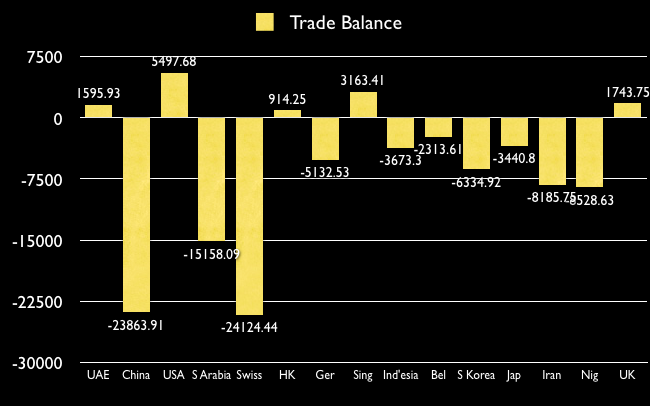 The big thing in this chart is that India runs the biggest deficit with Switzerland and not with China! I don't know what these imports constitute and if it's because of an inordinate amount of gold imports from Switzerland. I will have a future post on that.
Other than that – the one thing that occurred to me was that China seems to have a lot of exports to all the oil producing countries and they seem to have strategically developed export markets in countries that they know they will have to import from because of oil, and that seems to be something unique to them; certainly not something that you see with India.