Life has many simple pleasures, seeing your child grow into a responsible and confident adult is one such unbeatable pleasure of life. A lot of effort, love and time goes into the development of your child. However, the importance of education reigns supreme when it comes to the ability to face the world and to be financially independent.
Higher education, vocational courses etc. will be the ones playing an important role in your child's future. The rise in the cost of education makes it logical and wise to start investing early on to meet these goals for your children.
Understand your Need/Goal
If you wish to opt for the best child plan for your kid's education, it is imperative that you set your investment goals right. There are few factors influencing the amount you will need in the future and thus the amount you need to start investing now.
See the example below to understand how your child's education goal is defined:
Example: Vijit and Vani are about 30 years of age. Vaibhav, their son, is three years of age. Vijit and Vani discuss that average amount of money needed for a good higher education is approximately Rs. 10 Lakh. Since the higher education expenses usually start at the age of 18, Vaibhav's higher education goal can be estimated as: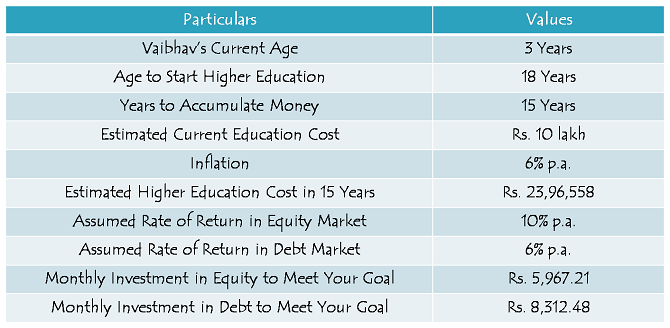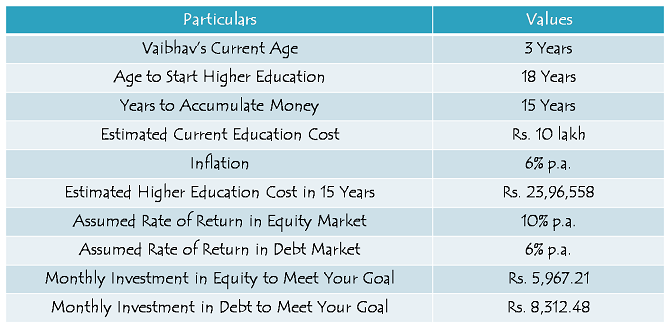 How to Estimate Ideal Investment Amount for Your Goal?Conclusion: You may invest in safe debt funds or bonds, or risky equities as per your risk appetite. Accordingly, your monthly investment amount will change for the same goal. Ideally, it is recommended that you opt for a balance between the two, or even better change the balance in favour of safer debt fund as you near the goal.
Simply check the ratio between your target amount of expense and given theamount in the table multiply the estimated future cost of the goal to achieve your target investment amount.
Investment Options Available
The financial goal you have set out to achieve will be achieved through the investment options available in the child plan. Most insurers provide at least three different investment options to their investors, these are:
Ø  Diversified Equity Funds
Ø  Diversified Debt/Gilt Funds
Ø  Liquid or Money Market Funds
If your goal is more than five years away, it is better to use equity funds for investment. However, if your goal is more than ten years away, as in the case of Vijit above, you can select higher risk equity funds to improve your overall returns. Of course, provided such investment option is available in the child plan.
Some insurers like ICICI Pru Life, offer eight different funds to choose from in their child plans.
Portfolio Management
Another factor that you may consider is the management of a portfolio of the child plan. That is, you start with a higher equity exposure in the beginning, and as you approach the maturity, your equity investments are slowly converted to the safer debt funds.
Usually, you will make the investment choice at the time of purchase and decide the ratio of equity and debt investment. You can even put all your investment in equity or only in fixed income funds.
This managed equity-debt ratio has two significant advantages over fixed portfolio investment:
Your investment value is relatively stable as you get close to maturity regardless of the equity market movement.

You need not bother about reducing your equity exposure manually.
Some insurers call this facility "Lifecycle Based Portfolio Strategy".
Note: Just in case you are looking for a child plan for a lumpsum investment, make sure to check for automatic transfer feature, which allows you to put all the funds in a money market fund and then transfer a fixed amount each month into one or more equity funds. This is the best way to enjoy rupee cost averaging even when investing a lumpsum amount in a child plan.
Additional Benefits & Covers
Additional benefits may include all or some of the following:
Ø  Premium Waiver
Ø  Accidental Death/Disability Benefit
Ø  Loyalty Additions & Wealth Boosters
The premium waiver is allowed if the policyholder dies within the policy term. Best child plans will:
– Pay the sum assured under the life cover opted to the nominee
– Continue to allocate units in the investment funds as if the contributions are still going on
– Pay the accumulated corpus for the kids' education goal at maturity as was intended in the beginning
Insurer's Claim Settlement Ratio
You have already checked most of the features and benefits of the best child plans. However, it is also important to see that the insurer is financially sound and has a proven track-record of processing claims promptly. This can save your loved ones from much trouble in case of an untoward incident.
You can check the claim settlement ratio and solvency ratio for the insurers on IRDA's (Insurance Regulatory Authority of India) website. Claim settlement ratio above 95% and solvency ratio above 2.5% is considered good for life insurers.
How to Buy?
Nowadays, like most other products and services child plans can also be bought online. In fact, it is far easier to compare and buy these plans directly through insurer's website. You do not have to deal with the paperwork, and you can complete your application at the time and place of your convenience. In case you need any assistance 24×7 chat and call assistance is available to help you out with your application for the best child plan.