India is a country of savers. We, by nature, spend more time in saving money by availing offers or discounts, as compared to putting more efforts to earn extra amount of money. Saving money is a good habit, but not always and not everywhere. Sometimes, to save money, we end up buying an inferior product or service and regret on our decision later. Buying a car insurance is also one of those activities where many a times we do commit mistakes while choosing one, because a policy with lowest premium is not always the best one.
However, it is not easy either to pick the cheapest and the best of the lot. Buying a car insurance policy for your vehicle can be tricky unless you are proficient in choosing the right policy cover. Follow the below checklist to buy the right car insurance in India.
Types of Car Insurance
Generally, car insurance policies available in the market can be broadly segmented under the following two heads:
Third-Party Liability Insurance:

It covers losses or damages caused to a third-party. As per Indian laws, it is mandatory to have a third-party liability insurance to ply your vehicle on roads.

Comprehensive Plan:

It is a preferred option by most car owners as it offers comprehensive coverage, covering both 'own damage' as well as 'third-party loss or damages'. In addition, it offers an extensive coverage against various perils, including natural disasters like earthquake, cyclone, etc.

Factors that Determine Premium Rates
Your car insurance premium depends on various factors, like:
Vehicle-Related Risks:

Model, make and fuel type of your car are a few parameters which decide your car's insurance premium rates. As there are higher chances of receiving frequent claims in case of vehicles like SUVs and commercial vehicles, insurers levy high premium rates.
Location-based Risks:

Premium also depends on the registration area. Usually, premiums will be high if you live in the urban area or near a densely-populated area. Similarly, if your area is more prone to theft, the insurance company will charge a high premium.
Tips for Cutting your Insurance Premium Rates
Go for Voluntary Deductibles:

Mainly, the deductible is the amount that a policyholder has to pay before the insurer makes any payment. If you agree to settle petty claims for small damages from your pocket, the insurer can give you affordable premium rates.
Avail No Claim Bonus (NCB):

Insurers reward such policyholders who do not make a single claim in a policy year. This benefit is called No Claim Bonus (or NCB) and helps you lower your premium rates. Even if you sell your vehicle, this NCB can be transferred to your new insurance policy, and you can get affordable premium rates on a new policy.
Install Anti-Theft Equipments:

If your car is equipped with enhanced security features, including anti-theft alarms and immobilizers, there is a low probability of your vehicle to get stolen. As a result, insurers reward owners of such cars with low premium rates. However, these security features should be approved by the Automotive Research Association of India (ARAI).
Riders for your Car Insurance
Most of the car insurance companies offer an array of riders to give you more out of your motor insurance policy at a little extra cost. Some of these riders are as under:
Zero-Depreciation Cover:

Even a comprehensive policy doesn't offer complete coverage because, at the time of any claim, the insurer deducts the depreciation value. However, a nil-depreciation cover or zero depreciation policy guarantees the full claim amount with zero depreciation deduction.
Here's how it works:


Engine Coverage Rider:

As an engine repair cost can run in lakhs, it makes sense to go for an engine coverage rider, which covers damages to an engine due to water stalling, oil leakage, etc.
Roadside Assistance Cover:

You can avail numerous important services if you have a roadside assistance cover which can help you in case you have an accident or your car breaks down in the middle of the road. Some of the services covered under this rider are – breakdown support over the phone, battery jump start, flat tyre, the arrangement of arental vehicle, arrangement/supply of fuel, message relay and arrangement of accommodation.
Personal Accident Cover:

It ensures the financial security to your family in the event of a disability or in the case of your unfortunate demise. Some insurers extend the cover to your co-passengers as well.
Vehicle Replacement Cover:

Under normal car policies, when the car repair cost is more than 75% of its value or if it gets stolen, the insurer considers it as a total loss. Which means, the total claim amount received from the insurer would be less than the actual market value of the vehicle. But, if you have a vehicle replacement cover, you will get the claim amount which will be equivalent to the market value of the new vehicle, and enough to replace your old vehicle.
Rental Reimbursement:

Once your vehicle is sent to a network garage for repairs, managing without one can be daunting. Either you would have to carpool or take public transport for commuting, and in both the cases, it means, incurring extra expenses. However, if you have a rental reimbursement rider, the insurer will pay a fixed 

daily allowance

for the number of days the vehicle is in an authorised garage or as mentioned in the policy document, whichever is lesser.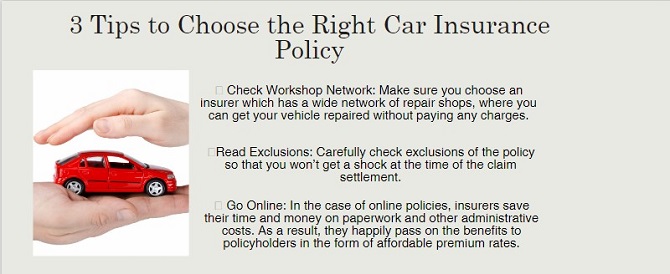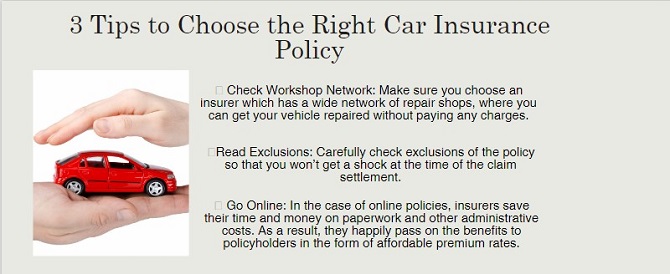 Areas where you can go wrong while buying a policy:
Opting for Lower Insured Declared Value (IDV) for your Car:

Many a times, to trim premium rates, people often lower the Insured Declared Value (IDV) of their vehicles. However, the insurer will settle claims only on the basis of your vehicle's

IDV

, which means you will have to pay a part of the claim amount from your pocket. It defeats the entire purpose of buying the insurance. Therefore, always go with the correct IDV of your vehicle to get the maximum benefit from your insurance policy, even if it means shelling out a little extra money as premium.
Policy Lapse:

Though every insurer gives a grace period to renew the policy after the due date, it is inevitable to get your policy renewed on time. You can't run the risk of driving your vehicle without insurance. Moreover, you will also lose benefits and discounts in case your policy gets lapsed.
Claim Settlement Ratio:

While buying a car insurance, check the claim settlement ratio of an insurer which is a yardstick to measure the number of claims settled by the insurer. The higher the claim settlement ratio, the higher the chances of a claim being settled.
One should keep all the above points in consideration while choosing a car insurance policy. We wish you a safe and secure journey in your 'insured' vehicle!