This post is written by Shiv Kukreja, who is a Certified Financial Planner and runs a financial planning firm, Ojas Capital in Delhi/NCR. He can be reached at skukreja@investitude.co.in
After SREI Infrastructure Finance, Edelweiss Retail Finance and Muthoot Finance, SREI Equipment Finance has decided to launch its issue of non-convertible debentures (NCDs). The issue will open for subscription from April 25th and carry interest rates in the range of 8.50% to 9.60% per annum. These NCDs will be issued for a period of 400 days, 3 years, 5 years and 10 years.
The company plans to raise Rs. 1,000 crore from this issue, including the green-shoe option of Rs. 500 crore. These NCDs have been rated 'AA+' by Brickwork Ratings and SMERA and are 'Secured' in nature. The issue is scheduled to close on May 16, but it is highly unlikely that it will remain unsusbcribed till then.
Before we decide whether to invest in this issue or not, let us quickly check some of its salient features:
Size & Objective of the Issue – Base size of this issue is Rs. 500 crore, with a green-shoe option to retain an additional Rs. 500 crore, thus making it a Rs. 1,000 crore issue. The company plans to use at least 75% of the issue proceeds for its lending activities and to refinance its existing loans and up to 25% of the proceeds for general corporate purposes.
Coupon Rate & Tenor of the Issue – The issue will carry a coupon rate of 8.75% p.a. payable on a monthly basis, 9.10% p.a. payable annually and on a cumulative basis for a period of 3 years. For 5 years, these rates stand at 9% payable monthly and 9.35% for annual and cumulative options. The rates on offer are the highest for 10 years – 9.20% payable monthly and 9.60% payable annually or on a cumulative basis.
As you can check from the table below, these rates are effectively higher than all the issues that came in the last 2-3 months.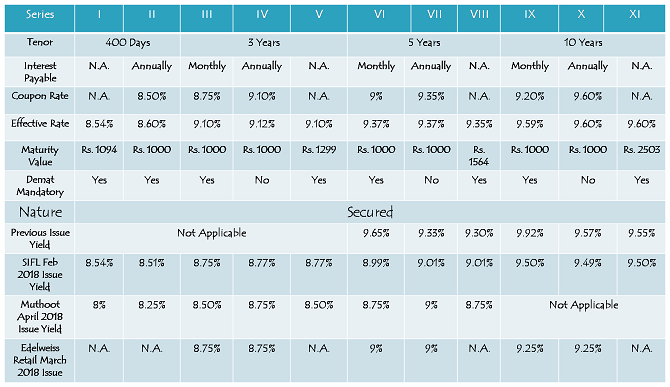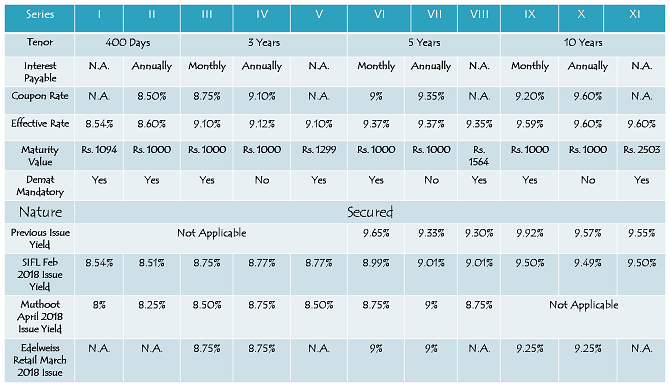 For Category I and Category II investors also, these NCDs carry the same rate of interest as it is for Category III investors.
No Additional Coupon for Shareholders, NCD Holders, Senior Citizens or Employees – Unlike its previous issue, the company has decided not to offer any additional coupon to the shareholders or NCD holders or the employees of the company or its parent company, and senior investors as well.
Minimum Investment – Investors are required to subscribe to at least ten units of these NCDs, thus making it a minimum investment of Rs. 10,000.
Categories of Investors & Allocation Ratio – The investors have been classified in the following three categories and each category will have the below mentioned percentage fixed in the allotment:
Category I – Institutional Investors – 20% of the issue i.e. Rs. 200 crore
Category II – Non-Institutional Investors – 20% of the issue i.e. Rs. 200 crore
Category III – Individuals Investors & HUFs – 60% of the issue i.e. Rs. 600 crore
Allotment will be made on a first-come first-served basis, as well as on a date priority basis i.e. on the date of oversubscription, the allotment will be made on a proportionate basis to all the applicants of that day on which the issue gets oversubscribed.
NRIs Not Allowed – Non-Resident Indians (NRIs), foreign nationals and qualified foreign investors (QFIs) among others are not eligible to invest in this issue.
Credit Rating – Rating agencies, Brickwork Ratings (BWR) and SMERA have rated this issue as 'AA+' with a 'Stable ' outlook. Debt instruments with such a rating are considered to have a high degree of safety regarding timely payment of interest and principal.
Secured NCDs – Unlike its previous issue which offered 'Unsecured' NCDs, this issue carries NCDs which are 'Secured' in nature i.e. in case of any default on its payment of interest or principal, the bondholders will have the right on certain assets of the company.
Listing, Premature Withdrawal & Put Option – These NCDs will get listed only on the Bombay Stock Exchange (BSE) and the listing will take place within 12 working days from the issue closure date.
Demat Mandatory except Series IV, Series VII and Series X NCDs – Investors need to have a demat account to apply for these NCDs, except Series IV, Series VII and Series X. Notably, these NCDs will pay interest rates on an annual basis.
TDS – Interest income earned on these NCDs is taxable and the investors are required to pay tax on it as per the respective tax slabs they fall in. TDS @ 10% will be deducted if these NCDs are held in physical/certificate form and annual interest income is more than Rs. 5,000. NCDs held in demat mode will not attract any TDS.
Should you invest in SREI Equipment Finance NCDs?
Financials of the company have improved over the past 12-24 months. The company reported profit after tax (PAT) of Rs. 181.98 crore for the nine-month period ended December 31, 2017, which is higher than its financial year 2016-17 profit of Rs. 148.84 crore. Net interest margin (NIM) as well as net profit margin, both have seen a healthy growth during this period. On the asset quality front too, the company has done well to consistently contain its gross NPAs and Net NPAs. Gross NPAs have fallen from 4.97% in 2014 to 1.99% in 2017. Net NPAs too have fallen from 4.07% to 1.39% in the same period.
Financials of SREI Equipment Finance Limited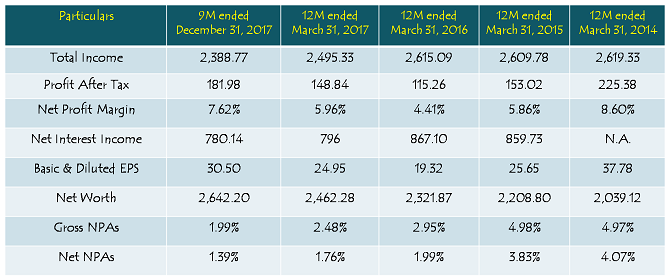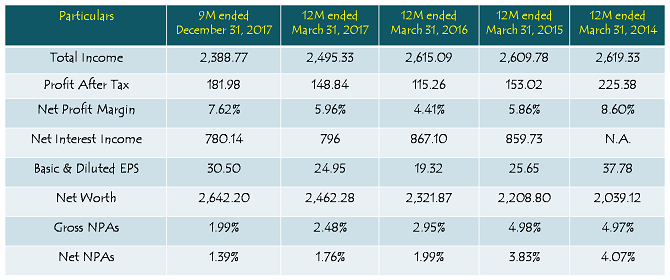 (Note: Figures are in Rs. Crore, except per share data & percentage figures)
These NCDs are not for everybody. Risk-averse investors and those who fall in the 30% or 20% tax bracket should avoid investing in them. Also, I think 10 years is a long period to invest with a private company. Investors, with an appetite of taking some risk and who fall in the lower tax brackets, can consider investing in these NCDs for a period of 400 days, 3 years or 5 years. You should consider subscribing for the 10-year option only if you have full faith in the company's future prospects and also, if you think that the interest rates are going to fall going forward.
Out of the eleven options available, I would personally prefer Series VII, the 5-year annual interest payment option, as I would like the interest to get reinvested at 9% on a monthly basis and credited to my bank account at least once in a year.
Application Form – SREI Equipment Finance NCDs
Note: As per SEBI guidelines, 'Bidding' is mandatory before banking the application form, else the application is liable to get rejected. For bidding of your application, any further info or to invest in SREI Equipment Finance NCDs, you can reach us on +91-9811797407