A house loan repayment has two components – principal and interest – and both of these components are treated differently for tax benefit calculation purposes.
The principal amount is covered under Section 80C and has a Rs. 1 lakh limit. In order to claim the tax benefit under 80C the house should already be constructed, and should be a residential property.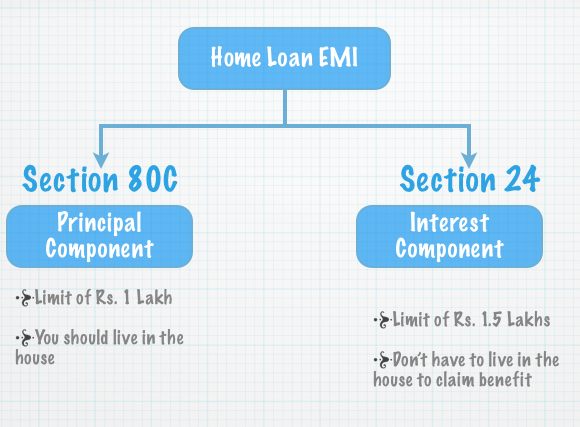 Section 24: Tax Benefit on the Interest On Home Loan
The interest on the home loan is treated differently, and Section 24 deals with the tax aspect of the interest on house loan repayment.
The maximum limit under this section is Rs. 1,50,000 and you don't have to actually live in the house to claim this benefit.
The interest payment is deducted from your taxable income and thus reduces your tax liability. There is no limit on the number of houses you can claim this as well as the location of the houses. The only limit is Rs. 1,50,000 on the whole amount.
There are special conditions like when you get the loan disbursed before the construction of the house and pre – EMI interest and Raag has covered these aspects in a lot of detail in his post about tax benefits of a home loan which you can read if you were interested in those details.
Correction: An earlier version of the article stated that the 80C deduction is only available if you are living in the house. CA Karan Batra notified me that you don't have to live in the house to claim deduction. Apologies for the mistake.