This post is written by Shiv Kukreja, who is a Certified Financial Planner and runs a financial planning firm, Ojas Capital in Delhi/NCR. He can be reached at skukreja@investitude.co.in
JM Financial Credit Solutions Limited, a venture between JM Financial Limited holding 50.01% and INH Mauritius holding 48.62%, is going to launch its issue of Non-Convertible Debentures (NCDs) from the coming Monday i.e. May 28, 2018. The company plans to raise Rs. 750 crore from this issue, including the green shoe option of Rs. 450 crore.
These NCDs will carry coupon rates in the range of 9.11% to 9.75%, resulting in an effective yield of 9.24% to 9.74% for the retail individual investors. The issue is scheduled to close on June 20, unless the company decides to foreclose it.
Before we take a decision whether to invest in this issue or not, let us first check the salient features of this issue.
Size & Objective of the Issue – Base size of the issue is Rs. 300 crore, with an option to retain oversubscription of an additional Rs. 450 crore, making the total issue size to be Rs. 750 crore. The company plans to use the issue proceeds for its lending and financing activities, to repay interest and principal of its existing borrowings and other general corporate purposes.
Coupon Rate & Tenor of the Issue – The issue will carry coupon rate of 9.25% p.a. for a period of 38 months, 9.50% p.a. for 60 months and 9.75% p.a. for 120 months. These rates are applicable for annual interest payment only. Monthly interest payment option is available only with 60 months and 120 months tenors, and coupon rates for these periods have been fixed at 9.11% p.a. and 9.34% p.a. Respectively.


Categories of Investors & Allocation Ratio – The investors have been classified in the following four categories and each category will have the below mentioned percentage fixed in the allotment:
Category I – Qualified Institutional Bidders (QIBs) – 20% of the issue i.e. Rs. 150 crore
Category II – Non-Institutional Investors (NIIs) – 20% of the issue i.e. Rs. 150 crore
Category III – High Net Worth Individuals (HNIs) including HUFs – 30% of the issue is reserved i.e. Rs. 225 crore
Category IV – Resident Indian Individuals including HUFs – 30% of the issue is reserved i.e. Rs. 225 crore
Allotment on First Come First Served Basis – Subject to the allocation ratio, allotment will be made on a first-come first-served basis, as well as on a date priority basis, i.e. on the date of oversubscription, the allotment will be made on a proportionate basis to all the applicants of that day on which it gets oversubscribed.
NRIs Not Allowed – Non-Resident Indians (NRIs), foreign nationals and qualified foreign investors (QFIs) among others are not eligible to invest in this issue.
Credit Rating & Nature of NCDs – ICRA and India Ratings have rated this issue as 'AA' with a 'Stable' outlook. Moreover, these NCDs will be 'Secured' in nature.
Listing, Premature Withdrawal – These NCDs will get listed only on both the Bombay Stock Exchange (BSE). The listing will take place within 12 working days after the issue gets closed. Though there is no option of a premature redemption, the investors can always sell these NCDs on the stock exchanges.
Demat A/c. Mandatory – Demat account is mandatory to invest in these NCDs as the company is not providing the option to apply for these NCDs in physical or certificate form.
TDS – Though the interest income would be taxable with these bonds, NCDs taken in demat form will not attract any TDS. The investor will have to pay tax on the interest income while filing his/her income tax return. TDS @ 10% will be deducted if these NCDs are held in physical/certificate form and annual interest income is more than Rs. 5,000.
Should you invest in JM Financial Credit Solutions NCDs?
JM Financial Credit Solutions Limited is a relatively new company with a strong promoter background. The company reported revenues of Rs. 103.73 crore during FY 2014-15, Rs. 788.36 crore in FY 2016-17 and Rs. 959.93 crore in FY 2017-18. Profit after tax (PAT) of the company has grown from Rs. 48.80 crore in FY 2014-15 to Rs. 277.25 crore in FY 2016-17 and Rs. 328.29 crore in FY 2017-18.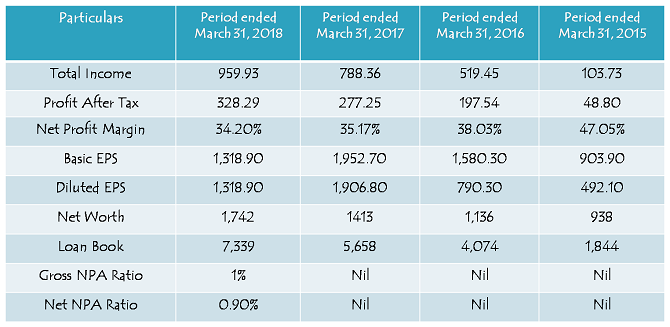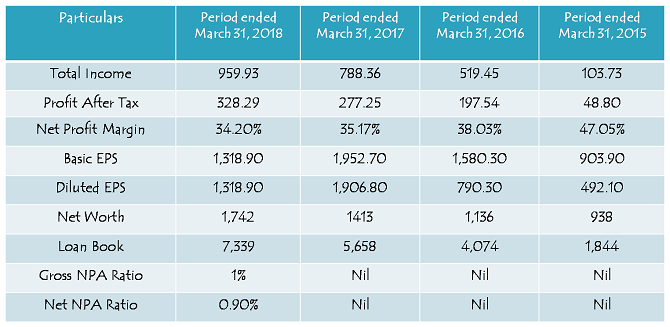 Note: Figures are in Rs. Crore, except per share data & percentage figures.
Loan Book as on March 31, 2018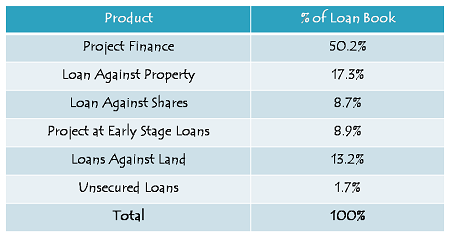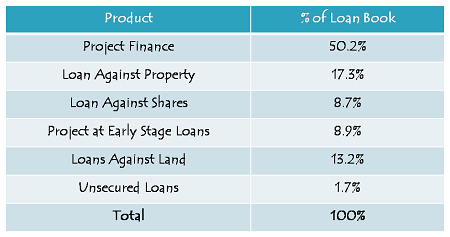 The company has been able to grow its loan book from Rs. 1,844 crore in FY 2014-15 to Rs. 5,658 crore in FY 2016-17 and Rs. 7,339 crore in FY 2017-18. As mentioned in the table below, 50.2% of its loan book is of project finance, 17.3% loan against property, 8.7% loan against shares, 8.9% project at early stage loans, 13.2% loans against land and 1.7% unsecured loans.
This issue has been rated 'AA' as compared to DHFL's issue which is rated 'AAA'. That is because DHFL is a much larger and stable company with a long history of being a loan financier as compared to JM Financial Credit Solutions. There is a coupon rate differential of just 0.50% p.a. for 5 years and 0.65% p.a. for 10 years. So, if somebody trusts the the JM Financial group and its management and wants to reap the benefits of its growth story going forward, then I think investing in its shares would be a better option rather than investing in its subsidiary's NCDs.
Risk-averse and tax-exempt investors, however, can consider investing in these NCDs for a period of 38 months or 60 months, preferably with monthly or annual interest payment option.  
Application Form of JM Financial Credit Solutions NCDs
Note: As per SEBI guidelines, 'Bidding' is mandatory before banking the application form, else the application is liable to get rejected. To invest in these NCDs, bidding of your application form or any further info, you may contact us at +91 – 9811797407