iShares S&P GSCI (GSG) ETF is a fund that aims to track returns of a particular S&P index (S&P GSCI Index) that represents a diversified set of commodities.
The iShares GSG ETF holds future contracts, which track the value of the commodities held in the S&P GSCI Index.
Underlying Index: S&P GSCI Index
In order to understand how the iShares GSG ETF will move, you need to know the underlying assets of the index it tracks.
So, here is the breakup of the futures contract currently included in the S&P GSCI with their percentage dollar weights on February 27th 2009:
WTI Crude Oil: 33.74%
Brent Crude Oil: 12.38%
Natural Gas: 5.91%
RBOB Gas: 4.82%
Wheat: 4.66%
Corn: 4.57%
GasOil: 4.33%
Heating Oil: 4.16%
Gold: 3.72%
Live Cattle: 3.69%
Soybeans: 3.04%
Copper: 2.66%
Aluminum: 2.35%
Sugar: 2.19%
Lean Hogs: 1.89%
Red Wheat: 1.00%
Cotton: 0.99%
Coffee: 0.90%
Feeder Cattle: 0.68%
Primary Nickel: 0.61%
Zinc: 0.55%
Cocoa: 0.42%
Silver: 0.40%
Standard Lead: 0.36%
As you can see, this index is heavily weighted towards oil and gas, which form about 65% of the total assets.
The prospectus explains that the index is calculated in the following manner:
The quantity of each of the contracts included in the S&P GSCITM is determined on the basis of a five-year

average, referred to as the "world production average", of the production quantity of the underlying commodity as published by the United Nations Statistical Yearbook, the Industrial Commodity Statistics Yearbook and other official sources.
This means that unless there is a substantial change in the output of any of these commodities – there won't be a substantial change in the composition of this index.
Operating History and Performance
iShares GSG ETF has an operating history from June of 2006 and its investing pool has grown from $7.35 million in June 2006 to $466.23 million at 31st December 2008.
The iShares GSG ETF has a management fee of 0.75% and has a beta of 0.98 with the S&P 500. The trust has returned -21.80% since inception.
The iShares GSG ETF tracks the return of its underlying index by investing its funds in the long positions future contracts on the S&P GSCI Excess Return Index, called CERFs.
Here is a look at its price movement since inception.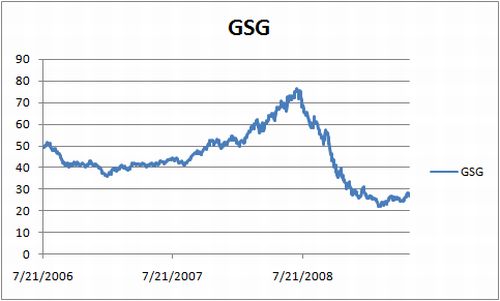 Conclusion
Most investors stumble upon the iShares GSG ETF, when they are looking for a fund that will help them invest in commodities.
Different people have different things in mind when they think of commodities, some think of precious metals like gold and silver and others think of copper and zinc. But, the underlying index of GSG weighs heavily towards Oil and Gas.
So invest in this fund, only if you were looking for an investment vehicle that tracks the price of oil and gas for the most part.
If you had a specific commodity in mind (other than oil), then you may want to pass this ETF and look for something that invests in the specific commodity (or commodity class) you had in mind.