The minimum amount that you can invest in the Reliance Infrastructure Fund is Rs.5,000, so first make sure that you have allocated that much to your mutual funds.
To do that, login to your account, click on Equity –> Modify Allocation.

After that, add funds in the third row – "Mutual Funds, IPO, Tax, Insurance & Others". You can do this by entering the amount you wish to invest in the "Amount" text box. After entering the amount, click on "Submit".
You will see the message – "Your Allocation is Complete".

Now click on Mutual Funds –> FMP / NFO
Now, based on your preference, you can select the Dividend or the Growth Plan and select on Purchase or SIP. If you want to set up a Systematic Investment Plan, click on SIP.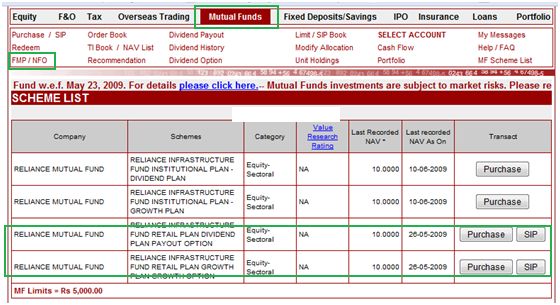 When you click on SIP, the following screen will appear and you can enter in the months you want to set this up for and the amount for that. After entering the amount, click on "Proceed for Confirmation" button and on the next screen confirm your transaction. The next screen also gives you an option to modify or confirm your transaction.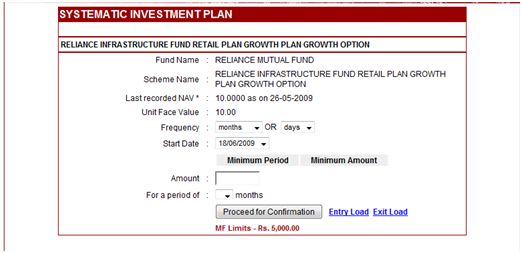 These are the steps you need to take if you want to invest in the Reliance Infrastructure NFO using ICICI Direct. If you want to read about the details of this NFO, click here.
Disclosure: I will not be applying for this mutual fund.
This site has regular features about IPOs, FDs and other investment ideas, if you would like to get that content by email, please click here.