After writing about the IIFL Nifty ETF last week – I realized that the Nifty index fund list needs to be updated as there are a few more index funds based on the Nifty that have been launched since then.
I started researching Nifty ETFs and mutual funds in India, and found that there were indeed quite a few. Goldman Sachs Nifty ETF is by far the biggest one in them at assets under management of about Rs. 650 crores or Rs. 6.5 billion, and that also shows that Index funds or Index ETFs have not really caught on in India.
In fact some Nifty index funds are really struggling with the Quantum Index fund and Taurus Index Nifty fund managing funds of just over a crore.
The competition in this space is quite intense and that has led to lowering of costs but I still see a lot of index funds charging over a percent and there is really no reason to opt for them at all.
Here is a chart of the assets under management of the various funds.
As you can see Goldman Sachs Nifty Index Fund is ahead by a big margin, but if you look at the returns of these funds then you will see that the returns are not that different because all of them track the same index and are invested similarly.
Here is a chart that shows their returns for the last 3 years.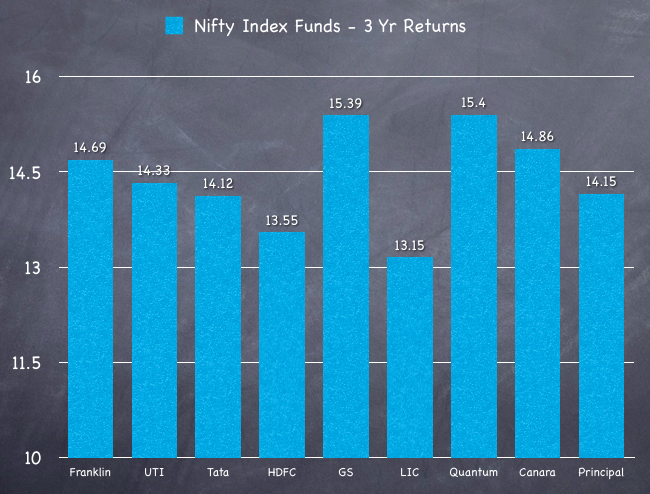 As you can see Quantum did the best, and Goldman Sachs Nifty BeeS came a close second. When you compare the returns data with the volumes data – GS Nifty BeeS comes out to be a pretty good option in this space.
The only other thing of interest in these index funds and ETFs are the expense ratio, and instead of a separate chart – I will include it here in this table that has all of the above data as well.
All the data has been sourced from Value Research, and I will continue to update this list from time to time. If you know of any fund that is missing here then please let me know and I will update that information as well.