ICICI Pru iAssure Single Premium Plan is a product that lets you pay only one insurance premium, and in return gives certain guaranteed returns as well as provides a life cover.
The iAssure plan is covered under section 80C, and while the brochure says the deduction amount is limited to 20% of the sum assured – I think this is another way of saying the amount of the premium you pay will be eligible for deduction.
I think the 20% figure comes from the fact that you can either get 125% of your premium as sum assured, or you could get 500% of your premium as sum assured.
This is an important point, and if you happen to buy the policy you should confirm with the people who are selling this.
This plan doesn't get any tax benefit under section 10(10D).
ICICI Pru iAssure Single Premium Life Cover
This policy gets you a life cover and that depends on your age. If you are less than 55 years of age then the policy gives you a life cover of 5 times the premium, and if you are more than 55 years of age then the policy covers only 1.25 times the premium.
You can't take the policy if you're 80 or older and the policy comes with two maturity periods – 5 and 10 years.
You should be at least 18 years of age when the policy matures so based on the policy you take – you should be either 10 or 13 years of age.
The minimum premium is Rs. 20,000 and while I didn't see any mention of a maximum limit – since one of the key characteristics of this plan is that you get 80C benefits – I think it will probably not make sense to take a premium that makes you go over the limit.
ICICI Pru iAssure Single Premium Guaranteed Maturity Benefit
At the time of maturity you get an amount which they call the guaranteed maturity benefit. The guaranteed maturity benefit is a number / factor that's multiplied with your premium to decide how much money you will get at maturity.
This number / factor depends on the following things:
Maturity term: Other things being equal the factor will be higher for a ten year maturity period than a 5 year one.
Age: They have 3 different slabs for age – completed 35 years, 45 years and 55 years, and the younger you are – the higher is the factor.
Premium: The premium you pay also affects the factor – and the higher the premium – the better it is.
Reference Rate: They calculate a reference interest rate based on the prevailing interest rate, and the higher the rate – the better it is.
They must have some tables, or an equation of some sort that uses all these factors and gives you the factor to multiply the premium, but I couldn't find this on the website.
So, you will need to ask about this factor if and when you purchase the policy. The brochure did have an illustration so let me take that as an example here.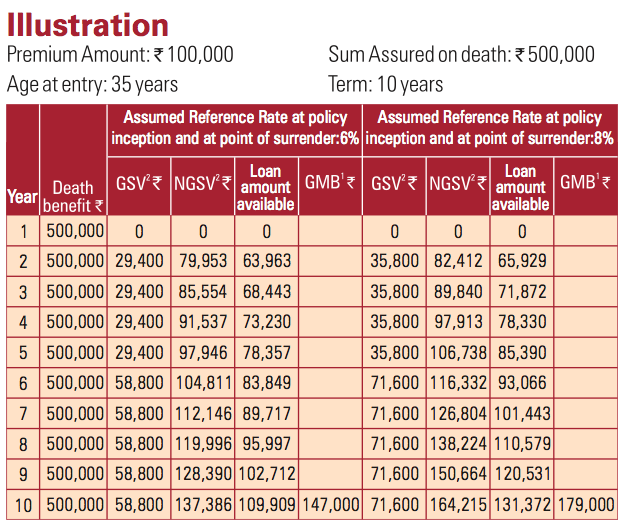 Premium: Rs. 1 lakh
Entry Age: 35 years
Term: 10 years
Reference Rate: 6% or 8%
The document shows that for this kind of policy the guaranteed maturity benefit will be Rs. 1,47,000 if the reference rate is 6% and Rs. 1,79,000 if the reference rate is 8%. Now, keep in mind that I don't know if the current reference rate is actually 6% or 8% or a number lower or higher.
The next step is to see what rate of return you need to get to this amount yourself. I find that you need 4% compounded yearly to generate about 1,47,000 and 6% compounded annually to generate Rs. 179,000.
These returns look quite similar to the ICICI Guaranteed Savings Insurance Plan we looked at yesterday, and when I think about these two plans  – the thing that strikes me is that in this plan you have to pay the premium only once a year so you know that you will get the 80C benefit. Under the other plan, if Direct Tax Code kicks in then you may not get any tax benefit at all.
Also, in this plan you know the guaranteed maturity benefit well in advance so at the time of talking to them you can ask them what the numbers are at various premium levels.
Then you can easily compare that maturity benefit to how much return you need to generate on your own and find out if this interests you or not.