I was really surprised to read today that the government has banned the duty-free import of high-end flat screen (LCD/LED) plasma television sets  effective August 26th in a bid to save the falling Rupee.
From about the middle of July when the RBI introduced unusual steps to squeeze out liquidity from the system, the Rupee has been falling even more rapidly, and it is clear to anyone watching that none of these steps are working. The Rupee has fallen about 5.50% from that time and is surely headed towards 65 to a Dollar if they continue with these measures.
Most of the steps the government or the RBI has taken since July have had unintended consequences, and these problems are only going to be exacerbated if they don't decide to dump this approach.
Disallowing people from bringing in televisions as a piece of luggage would hardly put a dent in the Current Account Deficit, but it will give an incentive to find ways to work around the system which is similar to the fears about gold smuggling that have risen recently.
These are all regressive steps that take us back to the pre 91 era that brought India to its knees and will do the same thing again if we don't give up this path.
The problem with India's CAD and Fiscal Deficit (Read: What are the twin deficits?) are not new, and the problems are not caused by something going wrong in the global economy or the work of speculators against India. I wrote about this more than a year ago, and the same holds true now.
All the steps that have been taken so far are aimed at somehow stopping USD from going out of the country but nothing is being done to promote exports or tourism.
I've met a lot of European tourists in Goa who find it extremely difficult to follow complex Indian visa laws and have to shorten their stay as a result of that. Easing visa laws is a very easy way to encourage tourism and get more money coming in the country. This is just one example, but there are surely others too.
Another key thing for the central bank and the government is to look at the global markets and compare the steps they are taking with the situation overall. I made a chart of how various currencies have behaved against the Dollar since the beginning of the year, and you can see that most of them have not done very well.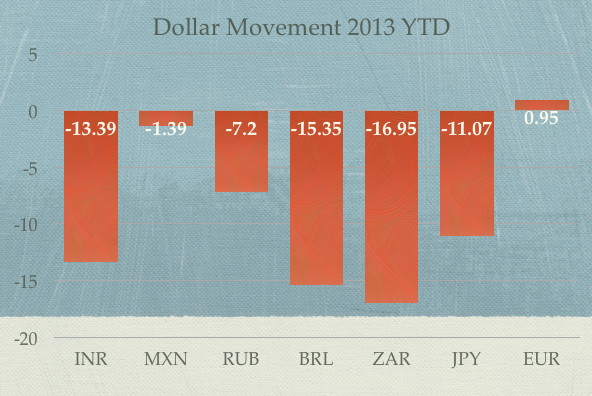 India is not an isolated case, and taking these knee jerk measures makes it look like the government and RBI is running out of ideas and will take no time to go back to the pre 91 era and that will surely scare away both FDI and FII investments.
A look at the present steps makes it feel like we are creating a crisis where there is none.