LIC announced its second online product a few days ago, which is its online term insurance plan called LIC's e-Term Plan.
LIC introducing an online term plan must be a bitter sweet feeling for the private players who already offer online term plans. While it validates the product they originally came up with, and shows it to be a lucrative enough market for LIC to enter in; I don't think they are too thrilled about a competitor like LIC coming up with a product in direct competition to them.
They can take solace from the fact that LIC's online term plan, while being cheaper than its offline version (Amulya Jeevan II) is still more expensive than private player's online term plans, and in some cases, considerably so.
I did a quick comparison for a 40 year old who wants a Rs. 2 crore cover for 20 years, and used Max Life as a proxy for the private player as that's a good company with decent prices, and you can see the results below.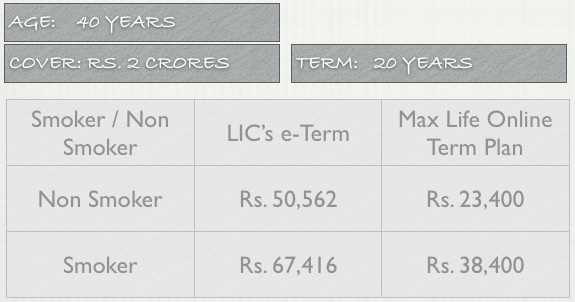 As you can see, there is considerable difference in prices between the two plans, and if I were to personally take an insurance plan right now, it would be from a private player the online way, however I understand that not everyone feels this way, and some people are far more comfortable with LIC or companies like SBI Life.
This is a good option for them, and I'd definitely go for the LIC online plan instead of the offline plan if you have already made up your mind about buying insurance from LIC.
If not, then you will be well advised to look at other options like Max Life which are cheaper and essentially offer the same thing.
I say that they offer the same thing because as long as you are declaring everything correctly, there is no reason for a denial and there are several private players with a settlement ratio of over 90% which is quite a high number, and does inspire confidence.
That being said, I'm glad LIC has launched this online term plan as competition is always good for the customer, and the people who don't want to try private players can take advantage of LIC's lowered rates by choosing this plan.
This is a fairly simple plan so I'm not going into any details about it but if you have any questions then please leave a comment and I'll try to answer them, and here is a link to a video instruction that Manish did which explains how to buy this plan.