As the ICC Cricket World Cup 2015 inches towards the knockout stage, like a lot of other people, I was interested to see who India is likely to play in the quarterfinals, and assuming they win the quarterfinals, who will they play next?
Almost everyone knows that India will play Bangladesh in the quarterfinals next Thursday but when you look at the list of matches that have already been decided that can be slightly confusing.
The best World Cup schedule that I've seen is on Cricbuzz and if you look at it right now, you will see that they show that all the Pool A quarter finalists have their venues fixed but no one from Pool B has theirs fixed. This nonplussed me a little because if anything, the position of India as Pool B toppers is secured more solidly than any other team (except New Zealand) in Pool A so how are their venues fixed already?
It is easy to partly deduce that answer as the host having their venues fixed, but what of the rest?
It turns out that in order to facilitate people booking tickets and making travel arrangements, ICC decided the dates and places where the hosts will play their matches were they to reach the quarterfinals. In addition to that, they took the two next highest ODI ranked teams in Pool A (at the time) which were Sri Lanka and England and decided their venue in advance as well. If these two were not to make the quarter finals, then the next two teams would take their places.
This way the date and the venues of the quarterfinalists of Pool A was decided, and then ICC had the usual formula of the number one team of pool A playing the number four team of pool B, and so on.
So, the quarter finals go like this.
Quarter-final 1 – A1 v B4
Quarter-final 2 – A2 v B3
Quarter-final 3 – A3 v B2
Quarter-final 4 – A4 v B1
The above list is the one that has been talked about so far and that is the one that confused me a little because if you see the matches already decided then they don't fit the list above.
Since the actual dates are as follows:
Wed 18 March: Sri Lanka vs TBD
Thu 19 March: Bangladesh vs TBD
Fri 20 March: Australia vs TBD
Sat 21st March: New Zealand vs TBD
If you see the two lists above, the New Zealand quarter final is the last one according to date, but according to the first list it is actually Quarter Final 1 since they are A1.
Essentially, this little confusion is what spurred me to write this post because you need to know if QF 1 is the one that's earliest or the one with A1 v B4 to determine who India meets in the semi final (assumption duly noted).
The answer to my question is fairly obvious: that for the purposes of determining the semi finalists the position in the group and not the calendar dates will be used.
The semi finals will be held as follows:
Semi-final 1 – winner QF1 (A1 v B4) v winner QF3 (A3 v B2)
Semi-final 2 – winner QF2 (A2 v B3) v winner QF4 (A4 v B1)
Semi Finals: India v Australia?
According to the list above, India will play Semi Final 2 after beating Bangladesh in quarter finals (assumption duly noted again). Winner of QF2 will most likely be Australia after they beat whomever comes in their way. I say whomever comes in their way because Pool B is very close right now, but none of the teams who can come in number 3 look good to beat Australia.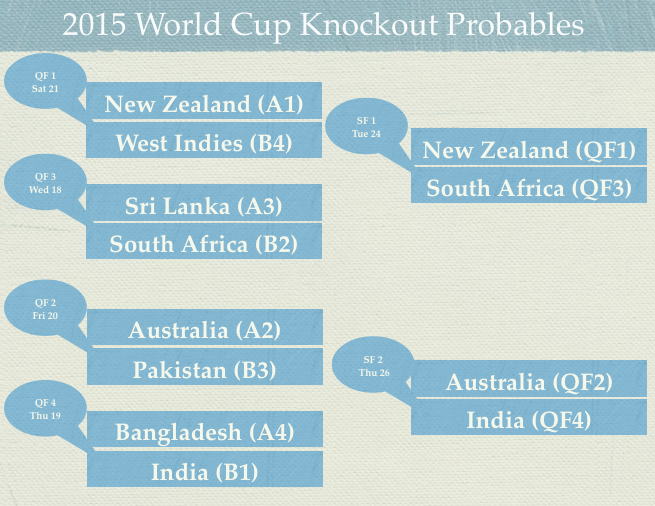 Let's make some assumptions, and see who may come in where in the two groups.
First, the simple pool. Here is what the standings of Pool A will most likely look like.
New Zealand (After beating Bangladesh)
Australia (After beating Scotland)
Sri Lanka
Bangladesh (After losing to NZL)
Now, the hard one, Pool B.
India
South Africa (With a huge win against UAE and a high NRR)
Pakistan (With a moderate win against Ireland)
West Indies (With a win against UAE)
The difference in the NRR (Net Run Rate) between Pakistan and South Africa is so high that it doesn't look like Pakistan can finish second in Pool B so they will either be third or if they lose to Ireland, fourth or out of the knockout. So in all likelihood, Pakistan, Ireland or West Indies will be third or fourth and it is really unlikely that they go past New Zealand and Australia in the quarter finals.
So then, it comes down to a semi final between Australia and India – are you ready for it?