This post is written by Shiv Kukreja, who is a Certified Financial Planner and runs a financial planning firm, Ojas Capital in Delhi/NCR. He can be reached at skukreja@investitude.co.in
After a prolonged period of lull in the IPO market, sentiment has been gradually improving towards these fresh issues of shares in the last one year or so. A large number of companies have hit the primary markets this year and most of them have remained successful in rewarding their shareholders with healthy listing gains as well as maintaining those gains.
In this series of IPOs, RBL Bank, formerly known as Ratnakar Bank Limited, has also hit the dalal street to get itself listed on the stock exchanges and raise approximately Rs. 1,213 crore from the investors. The issue has already got opened on Friday, August 19th and will remain open for two more days to close on August 23rd.
What's on Offer?
This initial public offer (IPO) comprises of a sale of approximately 5.39 crore shares to the investors. It is a mix of fresh issue of approximately 3.7 crore shares by the bank and an offer for sale of 1.69 crore shares, primarily by Beacon India Private Equity Fund, GPE (India) Ltd., Elephant India Finance Private Limited, Gaja Trustee Company Private Limited and Capvent India Private Equity Fund.
35% of the issue size is reserved for the retail individual investors (RIIs) i.e. approximately 1.89 crore shares out of 5.39 crore shares on offer, 15% is reserved for the non-institutional investors and the remaining 50% shares will be allocated to the qualified institutional buyers (QIBs).
RBL Bank has fixed its price band to be between Rs. 224-225 per share. There is no discount for the retail investors though. Here are other salient features of this IPO:
Anchor Investors – Anchor Investors have already subscribed around 1.62 crore shares at Rs. 225 per share, thus investing Rs. 364 crore in the offer. Anchor investors include Merrill Lynch Capital Markets Singapore, Goldman Sachs India Fund, Government Pension Fund Global, FIL Investments Mauritius, GMO Emerging Domestic Opportunities Fund, Auburn Limited, HSBC Global Investments Fund, Reliance Capital, HDFC Prudence Fund, SBI Mutual Fund and Nomura Funds Ireland among others.
Bid Lot Size & Minimum Investment – Investors need to bid for a minimum of 65 shares and in multiples of 65 shares thereafter. So, a retail investor would be required to invest a minimum of Rs. 14,625 at the upper end of the price band and Rs. 14,560 at the lower end of the price band.
Maximum Investment – Individual investors investing up to Rs. 2 lakh are categorised as retail individual investors (RIIs). As a retail investor, you can apply for a maximum of 13 lots of 65 shares in this IPO i.e. a maximum investment of Rs. 1,90,125.
Objective of the Issue – RBL will raise Rs. 832.50 crore from this issue and the company plans to use the proceeds to augment its Tier-I capital base, lending book and investment portfolio and to comply with RBI's Basel III norms and other guidelines. RBL also wants to enhance its visibility and brand name among its existing and potential customers with this listing.
Listing – The shares of the company will get listed on both the stock exchanges i.e. National Stock Exchange (NSE) and Bombay Stock Exchange (BSE) within 6 working days after the issue gets closed on 23rd August. Here are the important dates after the issue gets closed:
Finalisation of Basis of Allotment – On or about August 26, 2016
Initiation of Refunds – On or about August 29, 2016
Credit of equity shares to investors' demat accounts – On or about August 30, 2016
Commencement of Trading on the NSE/BSE – On or about August 31, 2016
Financials of the Company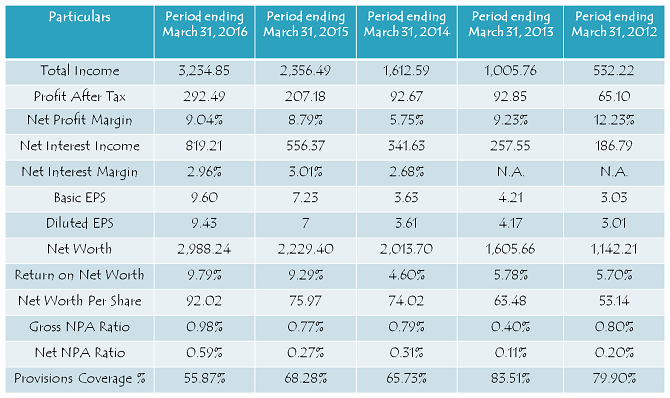 Note: Figures are in Rs. Crore, except per share data & percentage figures.
For the financial year ended March 31, 2016, RBL Bank reported total income of Rs. 3,234.85 crore as compared to Rs. 532.22 crore it reported during financial year 2011-12, registering a growth of 57.02% CAGR during this period. The company reported profit after tax (PAT) of Rs. 292.49 crore for the financial year ended March 31, 2016 as against Rs. 65.10 crore for the financial year ended March 31, 2012, posting a growth of 45.59% CAGR.
Bank's net interest margins (NIMs) were 2.68% in FY 2013-14, which improved to 3.01% in FY 2014-15, but declined to 2.96% during the last financial year. Asset quality has deteriorated somewhat, but given the market scenario, it is well within investors' comfort zone.
Should You Subscribe or Not?
Ever since the new management team has taken over the operations of the bank in FY 2011-12, its financials have been consistently improving over this period of four years or so. The bank has shown a consistently high and healthy growth in its operational performance, despite the industry facing a tough time in growing their businesses and keeping their asset quality problems in check. RBL has done both these job fairly well during this period.


At Rs. 225 per share, the bank is valued at a price to book value (P/BV) of 2.45 times and price to earnings (P/E) of 23.44 times. If the bank is able to grow its EPS by 40% this year as well, then its offer price of Rs. 225 per share would look distinctly attractive at an estimated P/E ratio of 16.74 times and P/BV ratio of around 1.95 times.
As the market sentiment is fairly positive at this point in time, this IPO looks extremely attractive from listing gains point of view. Also, if the bank is able to successfully grow its lending book and keep a check on its asset quality in a similar manner as it has been, I think this bank has a potential to easily provide more than 50% returns in the next 12-24 months. However, the investors should keep a close eye on its growth numbers with a bigger base and also its asset quality metrics. Any slowdown in growth or deterioration in asset quality should warrant a change in the long term strategy of investors.